new york tyrant
Patricia Lockwood created an illustration of one line from Sean Kilpatrick's The All Encompassed Drowned.
James McGirk wrote a reflection on Czar Gutierrez's Bombardier.
Mike Meginnis wrote a comprehensive analysis of the assembly of New York Tyrant 3.2.
We had a live chat with New York Tyrant editor Giancarlo DiTrapano. Sorry you missed it. Drinking was involved, as was music by The Smiths, and many unsolved mysteries were solved.
Alex V. Cook wrote a reaction to the letter Breece D'J Pancake wrote but did not send to his mother before his 1979 suicide.
On the Google Group, we've been talking about matters of gender, women's writing, why women don't submit, how to read experimental work and Matt Bell's An Index of How Our Family Was Killed. There's more, but you have to join to know.
Speaking of Matt Bell, next we are reading the November issue of The Collagist, which debuts on 11/15. At the end of the month, we'll do a live chat with Matt and who knows what will happen.
Have you ever wanted to pick an editor's brain about the how, why, and what of a given issue?
Tomorrow you will have that chance when the Literary Magazine Club talks with Giancarlo Ditrapano, editor of NY Tyrant, right here, on this very website. The time? 8 PM EST. Come with questions and we'll have a grand old time. You simply need to show up. Around 8 PM, a post with a chat forum will appear like magic.
Any questions, or want to know more about the Literary Magazine Club? Get in touch.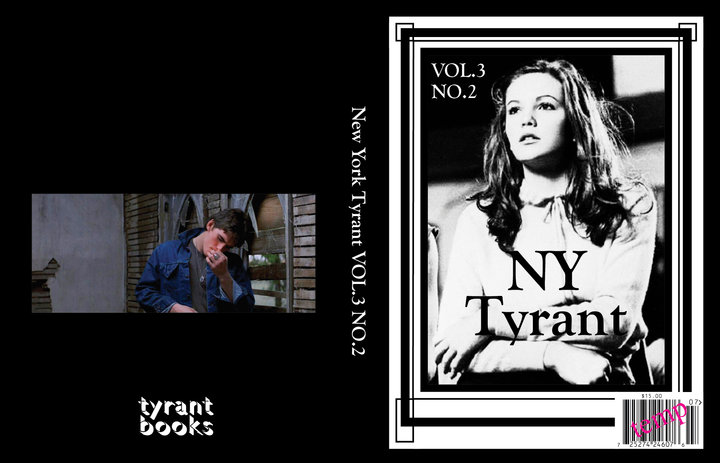 A note on the brand new issue of NYT from editor Giancarlo Ditrapano:
New York Tyrant 8 (Vol.3, No.2) is available for preorder. The book went to press today and will be back and ready to ship in two weeks. Not to blow my own horn (and I can do that, you know), but this is a pretty solid issue. Sam Lipsyte, Ken Sparling, Noy Holland, Breece D'J Pancake, an interview with Padgett Powell, Daryl Scroggins, two beautiful pieces by Brandon Hobson, Andy Devine, Ken Baumann, Sean Kilpatrick, Michael Kimball, more drawings (one sampled below) from Atticus Lish, and a shit ton of other great writers. The theme of this issue turned out, unintentionally, to be knives. Lots of knives in these stories. I swear I don't do this shit on purpose.

A couple issues ago, we made the Tyrant 300 pages long. We are now back to a better length, less than 200 pages. I hate when journals get all bulky and are just too intimidating to even get through half of the stories. We'll be having a launch party within the next couple of weeks so I'll keep you updated on that. But until then, please go get your copy of the new Tyrant. Buy a subscription. Okay, here's a deal. If you buy a 4 issue subscription or the larger 8 issue, we will throw in a copy of Brian Evenson's novella Baby Leg. And if you buy a copy of the new Tyrant in the next 5 days, we will include a copy of Tyrant Books' latest release, Firework by Eugene Marten. I've never done this discount/sale thing before but it feels good and right. No it doesn't. It sucks and it hurts.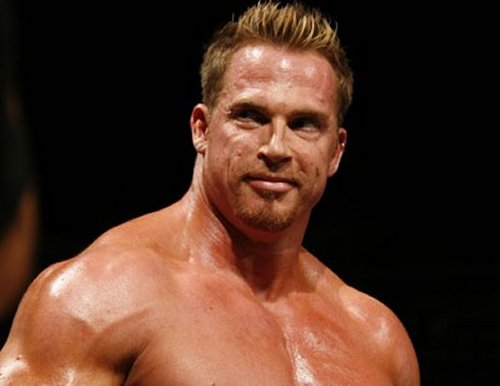 Tyrant Books is participating in ParkLit again this summer and our event is TONIGHT at 6:30! Oh no, that's really short notice, but anyway, you should come. Susan Froderberg and Eugene Marten will be reading, and Gordon Lish will be doing the introductions.
The reading is supposed to take place outdoors, it being ParkLit and all, but it looks like it's going to rain, so the event has been moved to upstairs of the Russian Samovar (russiansamovar.com) on 52nd between 7th and 8th Ave, which is a really gorgeous room with lots of leather and marble and they have all kinds of vodka. And not all kinds like Smirnoff or Belvedere, but all kinds like apple and horseradish.
Some info on the readers:
Susan Froderberg (published several times in the Tyrant under the name S.G. Miller) has a novel, Old Border Road, coming out this December by Little, Brown. Her stories have also appeared in Conjunctions, Antioch Review, Prairie Schooner, Alaska Quarterly, and Massachusetts Review.
Eugene Marten is the author of In the Blind and Waste. Tyrant Books is releasing his third novel, Firework, on June 25th.
Hope to see you all there!
love and kisses,
Gian
Nick Antosca
—
Tyrant Books gets a writeup. Check out that list.  Thus far, he has scheduled for fall publication How Much of Us There Was by Michael Kimball, which was originally released in 2005 by HarperCollins UK; and for spring 2011, Read the Child This Book or He Will Suffer by Blake Butler. Lincoln Dahl by Sam Michel will be published in either spring or fall 2011.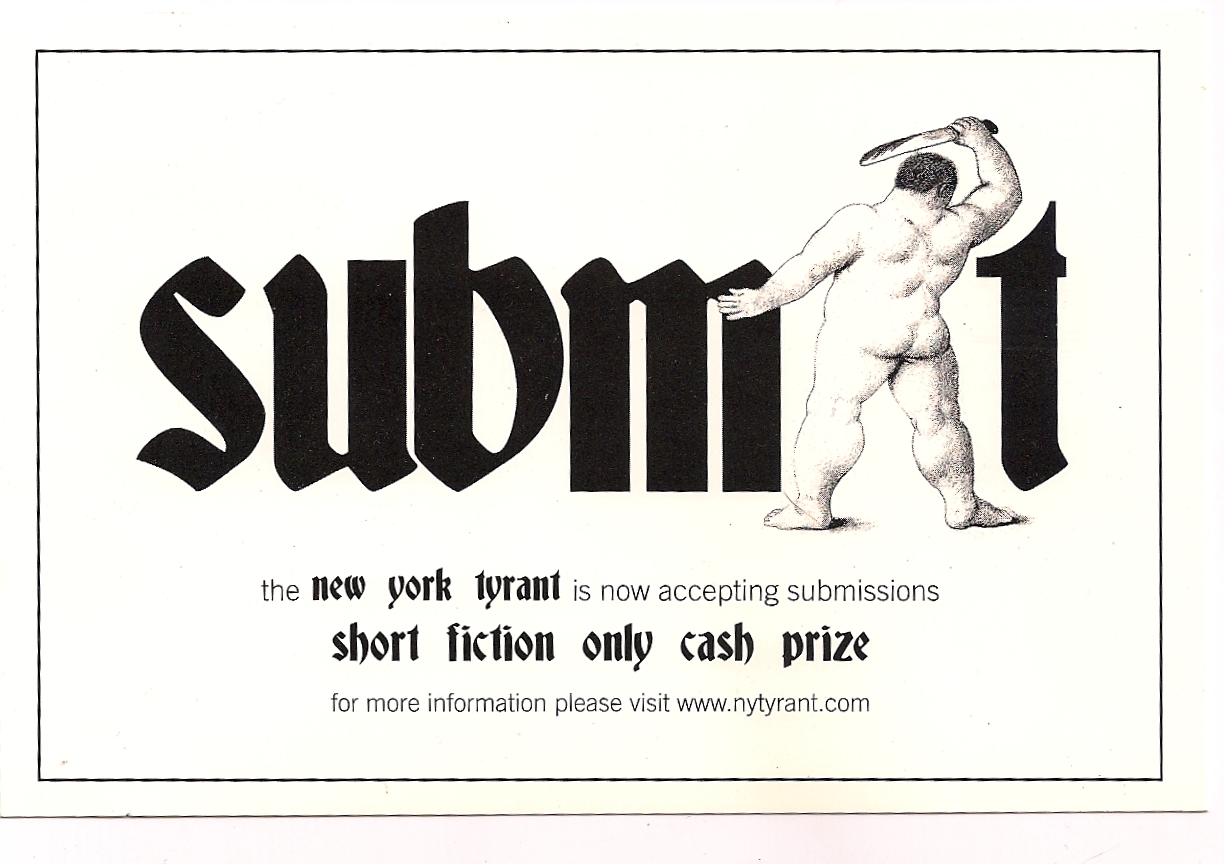 The Tyrant Giancarlo Ditrapano sends a word:
Hullo. The New York Tyrant has opened submissions again. I know, I know. It's been awhile, but hold off on giving me shit before I have a chance to explain. See, I have this huge fear of submissions readers. Besides pieces suggested from friends, I am the only reader I have. That's a bad idea, I know. The reason why I won't take on any readers is due to the fear that they might pass over something good. I mean, I know I don't have magic eyes or anything but what if something really great got passed up? To avoid this I've always had a small submissions window in order to not get too bogged down and forced to make hasty decisions. I mean, staring down a pile of slush and saying, "I'm fixing to end you, you mother," and then going at it and throwing them so fast into the rejection pile that you never really have a chance to read their name, well, it ain't so fair. You'd be lucky if I even got past your title. Sometimes even the first name is as far as I'd get ("There is no way I am publishing another fucking Thomas this year, sorry!"). That would be terrible. Then I would be at the bar later on, drunk, doing drugs in the bathroom with someone I don't even like and I'd be telling them, "Yeah, I went through like 200 submissions today." And he'd be, "That's impossible." And I'd be, "No, it isn't, I'll show you. How much of that is left? Let's go back to mine and I'll show you." And we'd go back to mine and I'd say, "See!" and he'd say the slush pile looks like I didn't really go through it but just kind of moved it to the side a bit. And he'd be right. And I'd be sad. And you'd be cheated.

But I met someone though. I took a class on plumbing this summer and met someone I think I can trust. Luke Goebel. He'll be handling the direct submissions for now. Great guy. Plus, he lives a magical kind of life. The other day he was swimming with dolphins in fucking Hawaii (sounds cheesy but you just know it isn't cheesy at all once you're doing it) and an hour later was rejecting submissions for me. I need that kind of sunny extension of myself because I'm a fucking mess. It's freezing cold in New York, my apartment is getting smaller (it really is!), and I am almost done smoking all of the non-menthol cigarettes in Hell's Kitchen. I can no longer read the labels on my prescriptions ("Wait, is that even my name?") and I'm thinking about shaving my head. I need a man in Havana (nonsense). I need a Marlow (not nonsense).

So, you still mad? Cool. Submissions are open. Please put it inside me. submissions@nytyrant.com

P.S. Check our submissions page first. There are only like two rules.

P.P.S. Disregard the cash prize thing on postcard. Shit's old.
Uncategorized /
17 Comments
January 12th, 2010 / 12:26 am
Word is there are already only about 100 copies of this new magic object left available for sale, so you might wanna do a snatch it, New York Tyrant 7, featuring fiction by: Alex Balk, Blake Butler, Erich Hintze, Danni Iosello, Brian Kubarycz, Christopher Kennedy, Joseph Cardinale, Jason Schwartz, Greg Mulcahy, Luca Dipierro, Rachel B. Glaser, Atticus Lish, Ken Baumann, G. David Schwartz, Peter Gajdics, Peter Markus, Shane Jones, Conor Madigan, Scott Indrisek, Harry Cheadle, Joshua Furst, Michael Kimball, Giovanni Pico della Mirandola.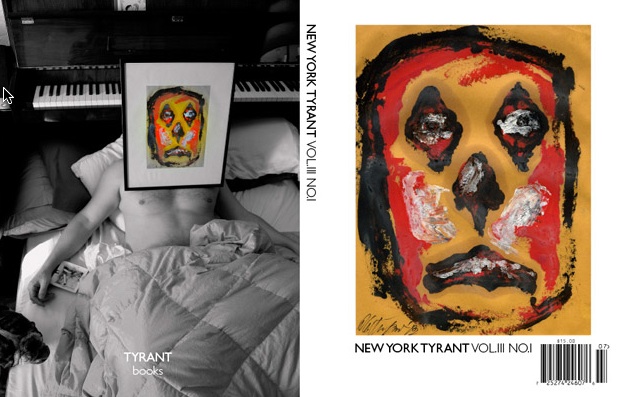 Also, for those in NY: Issue Project Room event: 12/11 @ 8:00pm – Littoral Series: New York Tyrant with Phillip Stearns, readings by Eric Hintze and Eugene Marten.
Uncategorized /
2 Comments
December 3rd, 2009 / 4:42 pm
If you are in New York and miss this, you're nuts: This Saturday (November 21st) starting at 9:00 at Fontana's Bar (Eldridge between Broome and Grand), a party for the new 7th issue of New York Tyrant, as well as the release of the first edition in Tyrant Books, a limited edition hardback book called Baby Leg, by the master Brian Evenson. Hardback, linen cover with bronze emboss and Brian has also dipped his hands in blood and fingerprinted the covers.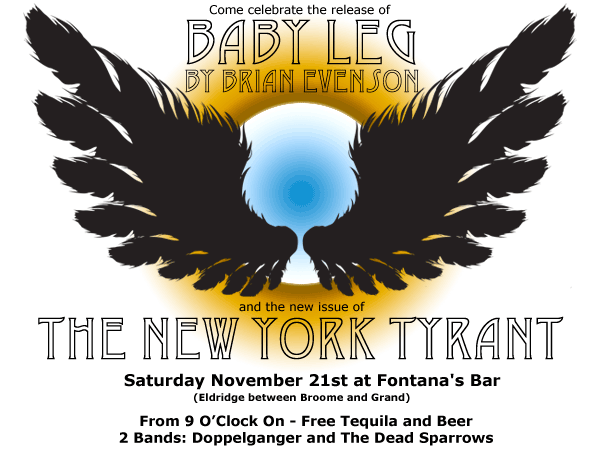 If that wasn't enough, there is an open Bar (tequila and beer), plus two bands (Doppelganger and Dead Sparrows).
Luca Dipierro strikes again, this time with a trailer for the forthcoming new issue of New York Tyrant. Beautiful and creepy. Rumor is the Greek writing says, "I tried to warn you but you won't listen."
Rumor also is this issue is, at least in part, the 'rape' issue. Hold on.
Uncategorized /
4 Comments
September 10th, 2009 / 10:13 am