Wednesday, July 7th, 2010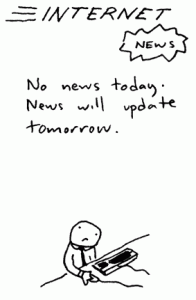 Robert Lopez has started putting up guest posts on his blog for Kamby Bolongo Mean River. All posts are titled 'No News Today.' Seems like more will be forthcoming. I've added it to my google reader & you should add it to yours. It is one of the only blogs that guarantees to be newsless, unless you are somehow still reading Gawker. Here is the first one from Sam Ligon:
There are reports of startling news from the recent or distant past. Something about oil or a flood somewhere. Something about a military leader being dismissed or named emperor. Something biblical, maybe, involving slaughter and men lying with beasts. Nothing has been confirmed by reliable sources. It's all very unclear, people, and shaded by gossip, rumor, innuendo. Therefore, and as always, there is no news today.