Scott Garson
Here is Garson's Silt. If you would like to have the full PDF of NY Tyrant 8 so you can participate in this month's LMC discussions, get in touch with me. But still, when you buy a literary magazine, an angel gets its wings so consider buying a copy.
I will not dishonor Scott Garson's story by writing something longer than he did. There is no insightful analysis in my post, just appreciation. I read it many times, and that is the mark of good work that is so short. I will read it again many times.
My favorite bit: "… hummed in the jaundicing keys of tube lights." Tube lights are the death of us all and the word jaundice makes me shiver.
SPOILER ALERT! Skip this paragraph if you have not read the piece yet … The end was also snazzy (snazzy is not the right word, but I just felt like saying that): "Were you not also looking to get solved?" Ah, yes, I was looking to get solved. Thank you.
So I do not gush too much, I have a serious problem with one thing. "Public relations specialist" should not be capped. It is an outrage. How dare you, sir.
I have no answers, only questions. Did anyone else enjoy this piece as much as I did? Elaborate. Share your favorite line. If not, why? And what's up with that title?
You can preorder Scott Garson's American Gymnopédies from Willows Wept Press. Apparently, there are only 28 copies left. I think some of these pieces in the book appeared in Unsaid and The Collagist and elsewhere. Go to The Collagist to read a few. Go also to ArtVoice to read one. And, over at Garson's Fictionaut page is "Houston Gymnopédie" and "D.C. Gymnopédie," which shortly afterward appeared in Sojourn: A Journal of the Arts.
Sometimes the streets of Houston do stink, I must admit, and one of my favorite things about D.C. is the way it appears on a map.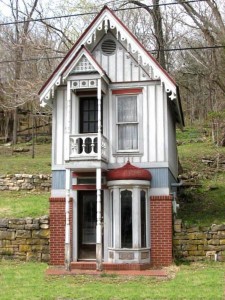 Scott Garson has posted the Wigleaf Top 50 little stories for 2009. Darlin' Neal, the selecting editor, writes in her introduction:
In choosing the final fifty, I looked for story. I looked for some sort of sense of completion, some sort of narrative movement. What drew me were shapes that offered more than a trick, more than a scene that cries to go on, more than a one-note joke. I discovered pieces, ends in themselves that take my breath away with sorrow or resonant laughter, leave me with lingering memories.
I'm not going to list any names here because I don't want to type the names out, and I'd feel like I ought to list all fifty names. Many of the names on the list are no surprise (not a bad thing), and there are a few stories on the list from some old pros as well.
New this year (correct me if I'm wrong?) is the long list, the two hundred stories that Scott sent on to Darlin' Neal to judge. I like having this list and the Top 50; both are a good map of what's happening right now, a good reading list for those who haven't caught up yet, like me.
So yes, congratulations to the Top 50ers, and thanks to Scott Garson and Darlin' Neal for their time/effort.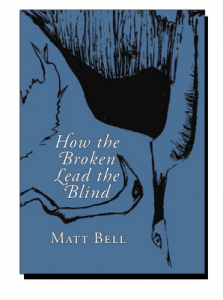 Willows Wept Press has revealed the cover of the first book in what promises to be a solid catalog. Matt Bell's How The Broken Lead The Blind anchors the press and is due to be printed this month. To fully appreciate the artwork by Christy Call, you can see a wraparound cover here.
You can preorder it at the website for $10. Get on it quickly, as there are only 100 copies to be printed.
And look out for the next Willows Wept book, Scott Garson's Vercingetorix.