sleepingfish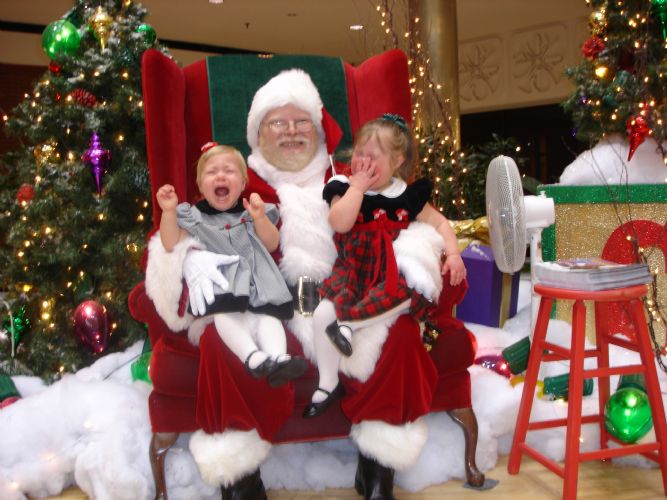 1. Iambik offers a free audio Q/A slash talk with Gordon Lish re: creation, editing, Beckett, Ginsberg, Tao Lin (for real), and various etc., in corollary with the release of his audio books.
2. Cinematheque Press has published a limited edition run of Peter Markus's classic The Moon is a Fish in a limited edition of 84, with all proceeds going to support the InsideOut Literary Arts Project in Detroit.
3. If you haven't been following Sleepingfish's vol iX sequence, you have some reading to do, including new short pieces by Robert Lopez, Jack Boettcher, Elisa Misto, and more more.
4. I got my mom Sebald's Rings of Saturn and Brautigan's Trout Fishing in America/The Pill versus the Springhill Mine Disaster/In Watermelon Sugar and J. Robert Lennon's Pieces for the Left Hand for xmas. I disagree with Adam: books are the only gift I usually actually end up doing something with beyond the day it arrives.
What books did you get people? What did/will you get?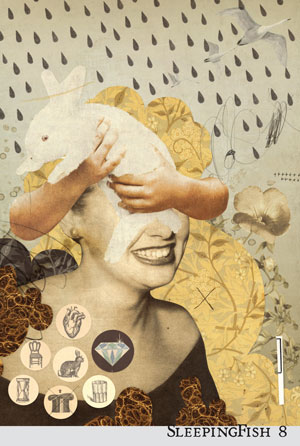 Sleepingfish 8 is out now, edited by Gary Lutz and Derek White, featuring literary text objects by: Ryan Call, Anna DeForest, Sasha Fletcher, Nina Shope, Rachel May, David McLendon, Eugene Lim, The Brothers Goat, Lito Elio Porto, Adam Weinstein, Diane Williams, Dennis Cooper, Elliott Stevens, Tim Jones-Yelvington, Alec Niedenthal, Amelia Gray, Matt Bell, Eduardo Recife, David Ohle, Evelyn Hampton, Émilie Notéris, Ottessa Moshfegh, Cooper Renner, Christine Schutt, M. T. Fallon, Daniel Grandbois, Julie Doxsee, Terese Svoboda, Blake Butler, Stephen Gropp-Hess & Ali Aktan Aşkın.
$12, with excerpts online, including music and textual collage.
Uncategorized /
32 Comments
January 3rd, 2010 / 1:41 pm
Blake Butler
—
The 8th issue of Sleepingfish, coedited by Derek White and guest Gary Lutz, is now open for electronic submissions.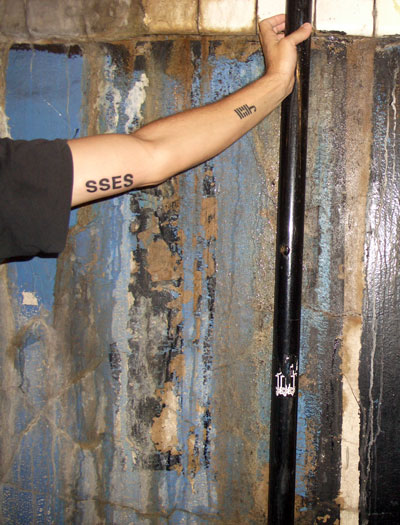 I've never actually met Derek White in person, but I have read a few issues of sleepingfish and I've got a small stack of Calamari books next to my ugly reading chair that need to be read. I did email him once to buy a few books from him this summer right before he moved out of the country. I also emailed him to say that I had liked the novel excerpt he had sent to Phoebe (we had finalized our Fall 2008 issue, my last issue as Fiction Editor, and so I was absentmindedly shuffling through our drawer of submissions and recognized his name and read the thing – had I been around for another issue, it would have been cool to publish). The novel in question? Marsupial. Now Derek lives in Narobi, Kenya with his wife, Jess. The following are some questions I emailed him, and he was kind enough to take some time to respond. Thanks, Derek.
1) In July, you posted at 5cense a 10 day countdown to your move to Narobi. I thought that your paragraph on 'space' was really interesting. You wrote, "I'm more about adapting to or exploring public space, not creating my own personal space. Jess is too. Adaptation is key, as is yearning for a new backdrop." Based on what I've read on your various blogs, it looks like you've adapted well to the public spaces of Narobi. I'm curious though, could you share a little bit about your personal space? Any photos? Journal entries? Thoughts?
Funny you should ask. When I received this I was posting a piece about just this topic.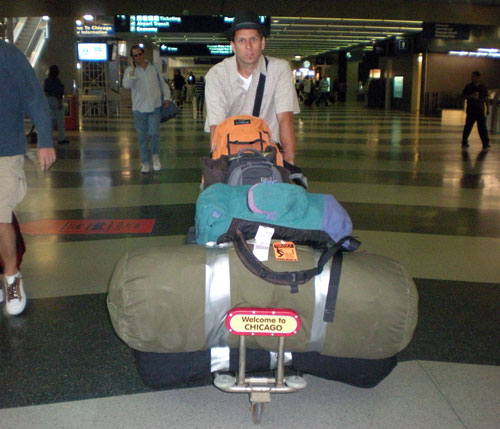 [Derek's blog post is long, but well worth the read]
2) Having left the print remains of Calamari in Michigan with Peter Markus, you shifted publication of sleepingfish to an online format. What have you found different or exciting about that shift? And what do you miss about print, about holding sleepingfish in your hand?
"Print remains." I like that. I'm picturing carcasses collected in brother Markus' fruit cellar (where the books are literally living). I miss book objects. That was the biggest sacrifice I had to make moving here. But as far as literary journals, even before I moved here I considered putting Sleepingfish online. It's cheaper and more timely, and gives more visibility to the writers, which in the end is probably the most important thing about lit mags is showcasing people's works. You also have more flexibility with formatting online, not that I have taken advantage of that flexibility yet, but you have less constraints on posting color art, videos, sound, longer pieces, etc. And rather than have an "issue," I like the idea of being able to post pieces on a revolving and evolving basis. It's also a more environmentally sound model, no paper, no postage, and none of the consequences that come with it. It's a cleaner more efficient way of doing things, but yes, nothing beats the feel and smell of paper.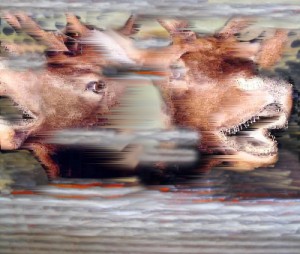 So, Mean Week is one day in and I had so much fun already we've decided to make Mean days an institution here. In an attempt to keep the spurs on, Monday from here on out at HTML Giant will be known as Mean Monday. So you got Mean Monday and Boobs Friday (which, in other news, Kendra Grant Malone has now been upgraded to official Tits Editor, a round of applause please…), and as further things progress further things will progress.
That doesn't mean Mean Week is being cut short: hardly so, we're just getting started.
That means Lieutenants Malone and Maday and Call and Jones (upon his return) need to come out from behind their mother's skirt and talk some mess, all damn it. You can talk about me mean if you want, but spit some fire for shit's sake!
In the meantime as well, good things should be continued to be pointed out in the midst of the mean, so while I'm at it let me point you toward the firsts nodes in the most recent incarnation of the newly digital SLEEPINGFISH from Calamari Press, which is now operating in web content format with its head relocated to finer shores (and is currently seeking submissions, which you can find info on at their site).
The first update of the e-Fish contains two excellent pieces of fiction, SNOW by J.A. Tyler, which is an excerpt from a novel that will be coming out in the near future, as well as SUGAR by James Reich from the band Venus Bogardus, each of which set the bar for the high promise that the new electronic zzzFish will be sure to entail.
Shit, I feel weird being totally nice during Mean Week.
Derek, I hope you get bit on the ass by a tumored goat.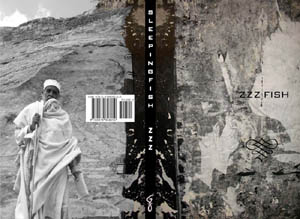 Reading period is now open for the next issue of Sleepingfish, which in its new African incarnation will be web-based, a nice node on the face of internet's reading life.
From editor Derek White:
Having relocated recently to Nairobi, the next issue might have more of a Kenyan or African slant, but not necessarily so. I do however encourage international writers, and writing that takes place outside of the contemporary American psyche, or in fictional places altogether. Despite this skew, Sleepingfish will still retain it's same skewed aesthetic. If you are not familiar with this aesthetic, please browse some back issues or the recent print issue.
It will be nice to see how the translation occurs, and hopefully we will develop ex-American scourge from the new bruise. Yummy. Send some words, etc.
Uncategorized /
Comments Off

on Sleepingfish Goes Sliced
September 28th, 2008 / 2:50 pm