word riot
11. Paula Bomer book. Mike Young book. Word Riot. Pre-order special ends Dec 1. I reckon you better.
14. From Paper Cuts.
Audience Q: How do you know when you're getting better?

Lorrie Moore: Maybe you don't.

Audience Q: How do you know when you've found the right ending?

One of the Brooklyn guys named Jonathan: Maybe you don't.
5. internet stunts versus blurbs: is there a difference? (Or how do I get Tao Lin's name into this post?)
77. My computer crashed two days ago. Do you back up your writing? How and how many times? Any horror stories like when Hadley lost all of Hem's stories on the train, etc?
Yo!  Word Riot, publisher of me (oh and some other folks, like Mike Young and Paula Bomer and Kevin Sampsell), is having a contest.  THREE contests.  Poetry, flash fiction and short story.  The winner of each will receive half the contest money (from their respective individual contest, I assume) and be published in the WR 10th anniversary anthology. They've also opened up submissions for the WR 10th anniversary anthology from authors previously published on the site. More info here: http://www.wordriot.org/archives/2019.  I just got a galley of Paula Bomer's book Baby this week and I'm gonna read it ASAP, like as soon as I finished this amazing Aldous Huxley book The Devils of Loudun that I got from the library.  (Read this shit, it's so good!)
Roxane Gay
—
Jackie Corley, publisher and editor of Word Riot, offers sound advice for would-be publishers.
5. Aaron Burch interview at new Word Riot. Glow like lung tattoos.
I don't know. I think one of the interesting things of having been writing stories for a good handful of years now is looking back at stuff and seeing what recurs and finding those fascinations that you weren't really aware of. I guess I could say something like I believe, often, you have to be taken apart, by yourself or something else, and then be put back together to really grow/change/etc., and so I guess that was kind of what the book became about, though that's the answer I put together just now for this interview; I've certainly never thought of it that prescriptively before, nor was it an intention when working the book.
1. You can buy Andy Warhol's turtleneck.The same people will sell you Martian Meteorites and Madonna's appointment books.
February 1999: Pick up dog at daycare. Do crunches. Run LONG! Select polymer for breast cone. Step into groove. Drink 3 ounces lemon juice. Tell Pepsi Co. to go fuck themselves. Wax.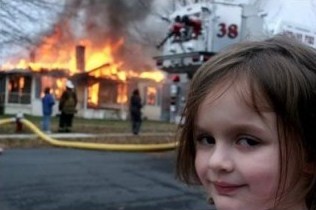 7. If every single poem you wrote was published in mags would you gather those poems and send out the mss? Aren't they already out in the world?
213. Prime Number Magazine is open for submissions starting now. You miss 100% of publications you never submit to, blar me, rosy tunnel, etc.
Jackie Corley has announced a Published For A Day event.
Published For a Day – Monday, June 7

Participating Writers: TBA
Do you have an atrocious novel sitting on your hard drive? Do you have an awesome short story collection you want to expose hard and fast like the town pervert? Well, step right up…
Monday, June 7 will be "Published For a Day" day on Word Riot. We will post an entry with links to downloadable PDFs of novels and book length short story collections (at least 25k words) that will be available for one day and one day only: 12 a.m. -11:59 p.m. on Monday, June 7.

Rules, Regulations, Bull Shit

1. This is open to writers who have been previously published in Word Riot or any of the following sites (in no apparent order – let me know of any I should have included in the comments):
3:AM Magazine, Anderbo, Collagist, decomP, Dogplotz, Electric Lit, Eyeshot, Hobart, Identity Theory, JMWW, Keyhole, Laminantion Colony, Necessary Fiction, No Colony, NOÖ, NYTyrant, Pank, Pindeldyboz, Monkeybicycle, mudlucious, Opium
2. Upload the PDF to your server. If you don't have a server, email us the PDF and we will upload it to Word Riot. Email information in the format below to jcorley AT gmail DOT com by 10 p.m. on Sunday, June 6:

Subject: Published For a Day

Novel Title by Author Name
File Link:
Previous Publications: [Must have at least one publication credit from list above]
Summary: [Under 250 words. Make it sexy. You want people to download you.]
3. Any PDFs uploaded to Word Riot will be deleted on June 8. The links will die on June 8, as well.

Readers: Download all you like on June 7. There are no other rules for you.