Ryan Call
New Hobart WebContent and MiniBook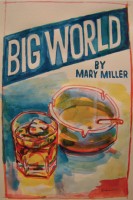 You probably already got this info in your email. Hobart just posted new content at their website: stories by Ravi Mangla, Lindsay Hunter, V. Ulea, and Sara O'Leary. Also, there is an interview up: our own Matthew Simmons asked questions of Michael Kimball. This new issue is the first curated by new web editor Stephany Aulenback. Hooray!
Also, the people at Hobart's minibooks division have officially announced their next release: Mary Miller's Big World. Congratulations to everyone on another successful thing.
They'll have more details soon about ordering info.
Tags: hobart, mary miller
4 Comments