Sean Lovelace
Sarki on Lish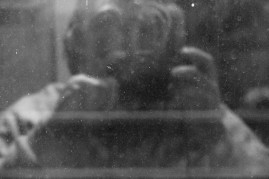 M Sarki with an interesting defense (I guess) of Gordon Lish at EWN. I found the intrigue here in Sarki, not in Lish (not so riveting to revisit the Carver thing). Not sure I've seen such reliance on another in judging an individual work. Sarki sends his poems to Lish via mail then gets a YES, NO, or SO SO written on the poem. Sarki writes:
But after so many years of working with him I pretty much have a feel for what he'll like and what he won't. I get mostly a Yes these days.
Sarki sends every poem he writes to Lish. This post by Sarki implies he evaluates his own work exclusively by Lish's response. Do other writers have one reader who sits in appraisal? Or maybe this is a device for Sarki. A "reader" to write to, an envelope to fold the poems within and send away. Sarki says he treats the relationship like Lish is a literary magazine (The actual magazine no longer exists) and it seems Sarki knows exactly what the literary magazine would publish, the type of stuff it likes, how to get the YES. This post led me to questions. 1.) What if Lish died, or refused Sarki's work? 2.) What if he just said NO every time? 3.) If he said NO, would Sarki change his own writing style/form/way to try for that slippery YES? Or would he just stop writing poems? On and on. The larger questions aren't about Sarki and Lish. I am picking at the idea of audience, of editor (even if your own hemisphere of brain) as present when the writer is working, at within and without. Do you gesture to an editorial eye, while writing? Anyway, the relationship obviously works for Sarki.
I wouldn't trade him or his hard tyrannical ways for anybody, even if it meant I would never be published again.
Sarki says you can publish his poetry manuscripts, maybe.
I still have at least one more, maybe two, manuscripts waiting for a publisher, but I haven't sent them anywhere, and nobody's asked.  But for the record, if you're good, I honor all requests.
Seems fair. But you will not edit the MSS if you publish them. He only works with Lish.
BTW, Sarki's hub posts are often solid. This one. And I think his poems (I have read) are tight little engines (here and here). Were these written, sent to Lish, stamped with a YES, then sent along into the world?
I assume so.
Tags: Emerging Writers Network, gordon lish, M Sarki, the quarterly
41 Comments