January 30th, 2012 / 8:01 am
Film
A D Jameson
The 248 Best Movies of 2011
Here's a very nifty site collecting "year-end best of" lists for 2011 (in albums, songs, movies, and books). The movies section includes lists made by individual critics like Andrew O'Hehir, A.O. Scott, J. Hoberman, Jonathan Rosenbaum, Kenneth Turan, Manohla Dargis, Roger Ebert; artists like Dennis Cooper and John Waters (there's a pairing!); organizations like the A.V. Club, the AFI, and various critics circles; and journals like Cahiers du Cinéma, Film Comment, and Sight & Sound (whose own top 10 list is a compilation of 100 critics). Well … that's a lot of data! What story can we tell from all of it?
I consider life an excuse to use Microsoft Excel, so (yes) I copied all of the lists into a spreadsheet, then condensed it. I wanted to see which films got named the most. In doing so, I ignored the actual rankings (e.g., 1st, 10th), and I included all honorable mentions. My goal was just to see which recent movies critics are picking as noteworthy. (I also did this a couple of weeks ago, but the movies section of that site hasn't been updated since 13 Jan, so I don't think I missed anything.)
I ended up with 248 titles—which, curiously, is almost exactly the same number we saw last week (246, that being the number of films that had box office returns in the US in 2011). However, these lists are very different. (Angels Crest doesn't make an appearance—although Sucker Punch, believe it or not, actually will.) (Remember, also, that the IMDb lists 8077 features as having been released in 2011 [the count decreased by 66 titles in the past week], so we're still dealing with only a fraction of the films that sprang into the world fully formed last year. And all of my usual caveats apply, in particular the one about how feature films are once again standing in for all of cinema.)
Let's start with the films that got mentioned the most
(the format is "Title – Director: # of mentions"):
The Tree of Life – Terrence Malick: 37 mentions
A Separation – Asghar Farhadi: 29
Certified Copy – Abbas Kiarostami: 29
Drive – Nicolas Winding Refn: 25
Hugo – Martin Scorsese: 25
Uncle Boonmee Who Can Recall His Past Lives – Apichatpong Weerasethakul: 23
Melancholia – Lars von Trier: 21
Margaret – Kenneth Lonergan: 20
Meek's Cutoff – Kelly Reichardt: 19
Mysteries of Lisbon – Raoul Ruiz: 18
Poetry – Lee Chang-dong: 18
Take Shelter – Jeff Nichols: 18
The Descendants – Alexander Payne: 18
Now, whatever you or I or anyone we know thinks of these thirteen new films, they are the ones that critics, collectively, are the most interested in. They're receiving the most praise. The Tree of Life is far and away leading the pack; it's easily the must-see film of 2011 (critically speaking). It might even be safe to say that a film critic can't afford to miss it, or have an opinion about it. (I thought it was remarkable yet unsuccessful, as did my colleague, Jeremy.) (Actually, Jeremy despised it.)
After Tree, the titles get somewhat more interchangeable. People who care about movies presumably don't have to see all of them—I myself have seen four of them, including Tree—but these are the films that critics are claiming matter. (I feel some amount of compulsion to see them — I feel like I should see them. Or most of them. No way am I watching The Descendants.)
It's worth pausing to note that only three of these thirteen films (Tree, Hugo, Payne's) were nominated for the Best Picture Oscar. OK, four: A Separation was nominated for Best Foreign Language Film. I think it's safe to count this as evidence that the Academy of Motion Picture Arts and Sciences is more than a little out of step with the majority of English-language film critics.
After that, critics most liked:
Tinker Tailor Soldier Spy – Tomas Alfredson: 16 mentions
A Dangerous Method – David Cronenberg: 15
The Artist – Michel Hazanavicius: 15
The Interrupters – Steve James: 15
The Skin I Live In – Pedro Almodóvar: 15
Bridesmaids – Paul Feig: 14
Weekend – Andrew Haigh: 14
Martha Marcy May Marlene – Sean Durkin: 13
Moneyball – Bennett Miller: 13
The Future – Miranda July: 13
Tuesday, After Christmas – Radu Muntean: 12
Incendies – Denis Villeneuve: 11
Le Quattro Volte – Michelangelo Frammartino: 11
Midnight in Paris – Woody Allen: 11
The Arbor – Clio Barnard: 11
Nostalgia for the Light – Patricio Gusmán: 10
Rise of the Planet of the Apes – Ruper Wyatt: 10
We Need to Talk About Kevin – Lynne Ramsay: 10
Three more Best Picture nominees appear (The Artist, Midnight in Paris, Moneyball), bringing the Academy a bit more in line with a larger critical consensus.
After that:
Contagion – Steve Soderbergh: 9 mentions
Le Havre – Aki Kaurismäki: 9
Shame – Steve McQueen: 9
Film Socialisme – Jean-Luc Godard: 8
Of Gods and Men – Xavier Beauvois: 8
Terri – Azazel Jacobs: 8
House of Pleasures – Bertrand Bonello: 7
J. Edgar – Clint Eastwood: 7
Senna – Asif Kapadia: 7
Super 8 – J.J. Abrams: 7
The Adventures of Tintin – Steven Spielberg: 7
The Autobiography of Nicolae Ceauşescu – Andrei Ujica: 7
The Trip – Michael Winterbottom: 7
A Brighter Summer Day – Edward Yang: 6
Beginners – Mike Mills: 6
Bellflower – Evan Glodell: 6
Cave of Forgotten Dreams – Werner Herzog: 6
Margin Call – J.C. Chandor: 6
Pina – Wim Wenders: 6
Tabloid – Errol Morris: 6
13 Assassins – Takashi Miike: 5
City of Life and Death – Lu Chuan: 5
Harry Potter and the Deathly Hallows, Part 2 – David Yates: 5 [this was the top-grossing film last year both in the US and worldwide]
Jane Eyre – Cary Fukunaga: 5
Putty Hill – Matt Porterfield: 5
The Clock – Christian Marclay: 5
The Turin Horse – Béla Tarr & Agnes Hranitzky: 5
To Die Like a Man – Jaão Pedro Rodrigues: 5
Win Win – Thomas McCarthy: 5
Young Adult – Jason Reitman: 5
And, finally, here are the remaining films. Since our present interest is critical consensus, I've cut the 120 films that received only one vote—although Steve Roggenbuck should be pleased to know that Justin Bieber: Never Say Never has a fellow champion out there!
Attack the Block – Joe Cornish: 4 mentions
Aurora – Cristi Puiu: 4
Carnage – Roman Polanski: 4
Once Upon a Time in Anatolia – Nuri Bilge Ceylan: 4
Outside Satan – Bruno Dumont: 4
Project Nim – James Marsh: 4
Rango – Gore Verbinski: 4
Road to Nowhere – Monte Hellman: 4
The Strange Case of Angelica – Manoel de Oliveira: 4
Warrior – Gavin O'Connor: 4
We Were Here – David Weissman: 4
Winnie the Pooh – Stephen J. Anderson: 4
Black Swan – Darren Aronofsky: 3
Buck – Cindy Meehl: 3
Coriolanus – Ralph Fiennes: 3
Essential Killing – Jerzy Skolimowski: 3
Into the Abyss – Werner Herzog: 3
Kill List – Ben Wheatley: 3
Love Exposure – Shion Sono: 3
Source Code – Duncan Jones: 3
The Girl with the Dragon Tattoo – David Fincher: 3
The Help – Tate Taylor: 3
The Mill and the Cross – Lech Majewski: 3
The Time that Remains – Elia Suleiman: 3
This is Not a Film – Jafar Panahi & Mojtaba Mirtahmasb: 3
Tyrannosaur – Paddy Considine: 3
War Horse – Steven Spielberg: 3
A Screaming Man – Mahamat-Saleh Haroun: 2
Cold Weather – Aaron Katz: 2
Crazy, Stupid, Love – Glenn Ficarra: 2
Detective Dee and the Mystery of the Phantom Flame – Tsui Hark: 2
Fast Five – Justin Lin: 2
Final Destination 5 – Steven Quale: 2
Foreign Parts – Verena Paravel & J.P. Sniadecki: 2
Higher Ground – Vera Farmiga: 2
Historias extraordinarias – Mariano Llinás: 2
I Saw the Devil – Kim Ji-woon: 2
I'm Glad My Mother Is Alive – Claude Miller & Nathan Miller: 2
If a Tree Falls: A Story of the Earth Liberation Front – Marshall Curry & Sam Cullman: 2
In the Family – Patrick Wang: 2
Kaboom – Gregg Araki: 2
Leap Year – Anand Tucker: 2
Mildred Pierce – Todd Haynes: 2
Miss Bala – Gerardo Naranjo: 2
Mission Impossible: Ghost Protocol – Brad Bird: 2
My Joy – Sergei Loznitsa: 2
My Perestroika – Robin Hessman: 2
Petition – Zhao Liang: 2
Policeman – Nadav Lapid: 2
Polytechnique – Denis Villeneuve: 2
Rampart – Oren Moverman: 2
Rubber – Quentin Dupieux: 2
Seeking the Monkey King – Ken Jacobs: 2
Silver Bullets – Joe Swanberg: 2
Submarine – Richard Ayoade: 2
Sucker Punch – Zack Snyder: 2 [I told you this was in there!]
Target – Alexander Zeldovich: 2
The Fighter – David O. Russell: 2
The Guard – John Michael McDonagh: 2
The Kid with a Bike – Jean-Pierre and Luc Dardenne: 2
The King's Speech – Tom Hooper: 2
The Lincoln Lawyer – Brad Furman: 2
The Princess of Montpensier – Bertrand Tavernier: 2
Tomboy – Céline Schiamma: 2
True Grit – Joel & Ethan Coen: 2
United Red Army – Koji Wakamatsu: 2
We Have a Pope – Nanni Moretti: 2
… What can we say about these 128 movies?
Obviously, size matters to some degree. All of the top movies received theatrical releases in Europe and/or the US. By way of contrast, Jafar Panahi's This Is Not a Film—a home video that the director (who's under house arrest) made illegally and then had smuggled into Cannes—has not been widely seen, so it's no surprise it didn't end up on too many year-end lists. (You can watch an excerpt of the 75-minute-long feature at YouTube.)
That said, size only matters so much. Since I love nothing more than analyzing data, I went ahead and used Box Office Mojo to look up the finances for the top thirty-one films listed here, and well as for the nine films nominated for Best Picture. The results are illuminating.
First, here's the box office data for the top thirteen films (note that you can click through all of these images to see less squished versions—note also that some of these films are still out in theaters [but our present concern is how well they've already done]):

Obviously, a film doesn't need a huge release or huge returns to impress critics. Just look at Margaret (which, as you might recall from last week, was one of the lowest-grossing movies of 2011). Mysteries of Lisbon also barely played US theaters, and hardly did better overseas, and yet it's won numerous accolades. (The fact that its director, the legendary Raúl Ruiz, died soon after its release, no doubt pushed many critics to rate it highly).
These conclusions are further borne out in the data for the next eighteen films (#'s 14–31):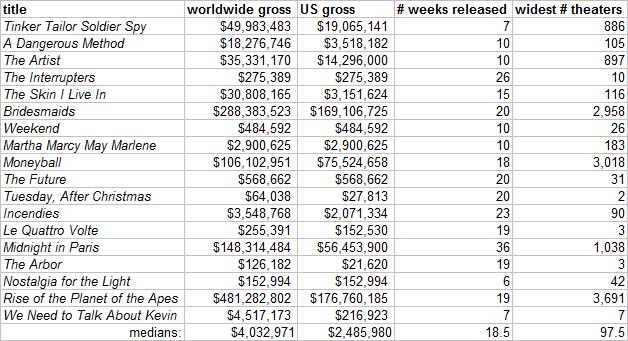 Once again, we see a mix of films big and small (although bigger films are starting to creep in). Some of these films—The Arbor, Tuesday, After Christmas—are very small.
Looking at these results, I have to say I'm surprised that neither Bridesmaids nor Rise of the Planet of the Apes was nominated for Best Picture. Both were popular with audiences and with critics (click here and here for their respective Rotten Tomatoes data); Rise was the 11th highest-grossing film in the US last year; Bridesmaids the 14th. There was also a campaign to get Andy Serkis nominated for Best Supporting Actor for his motion-capture performance in Rise. Surely one or both of them could have replaced, say, Extremely Loud & Incredibly Close (which no one seems to like) and/or The Help, which was more popular with audiences than with critics. (It was the 13th highest-grossing film.) None of these films stands a chance of winning the prize, mind you, but adding more populist films that critics like would lend more legitimacy to the contest, as well as stir interest. (There was even room for one more film to be nominated this year!) (Bridesmaids did get nods for Best Supporting Actress and Original Screenplay, while Rise got nominated for Best Visual Effects—the Andy Serkis Campaign's consolation prize, I guess.)
Finally, here's the data for the Oscar Best Picture nominees:

What a difference! Our median US gross just increased by 4000%, compared to the top thirteen films! (It increased by 2100% when compared with the next eighteen.) The Tree of Life notwithstanding, there's obviously a minimum amount of profit required for entry here, an amount well into the tens of millions of dollars. (This makes it even more perplexing why Extremely Loud was nominated, as right now it doesn't look incredibly close to earning back its production budget of $70+ million—not to mention whatever Warner Bros. spent on advertising.) (Why didn't The Girl with the Dragon Tattoo receive its spot? It did OK with audiences and critics, made money, and won five other nominations. And Fincher did very well last year with The Social Network. Curious…)
Well, so the Oscars are like the Ferengi: inscrutable, and mostly concerned with profit—la-di-da. (But now we have some data to throw at our friends and family members!)
What's much more interesting is when you try estimating how many people have seen each of these films, and how that factors into critical success.
For instance, Margaret scored extremely well with critics (#8, 20 mentions), despite grossing only $46,495. Meaning that, despite the fact that fewer than 5000 people saw it during its four-week theatrical run, those people really liked it. (Word about it eventually also got out, despite the lack of advertising, Oscar campaigns, or the benefit of a Cannes premier.) And it may be that they were just the right people to see it—but, impressive.
By this logic, it can be argued that a film like Poetry (#11, 18 mentions) must be something to really try and catch: it managed to remain in US theaters for 30 weeks—from February–August 2011—until about 35,600 people saw it, most of them liking it. (It won the Best Screenplay Award at Cannes last year, as well as several other awards; I wonder why it wasn't nominated for Best Foreign Picture?)
Anyway. Hopefully this post, like my last few, has given a bit more perspective to the utterly vast number of films that came out last year, as well as suggested a few more that might be worth seeing. (I'm more determined now to see Margaret, and will also probably check out Poetry; I'm also more tempted to see both Rise of the Apes and Bridesmaids.)
And A Separation is playing right now in Chicago, at the beautiful Music Box, if anyone out there would like to go …
Tags: cinema
11 Comments