Seth Oelbaum
Action, Yes
A couple of days ago, the latest installment of Action, Yes made its debut.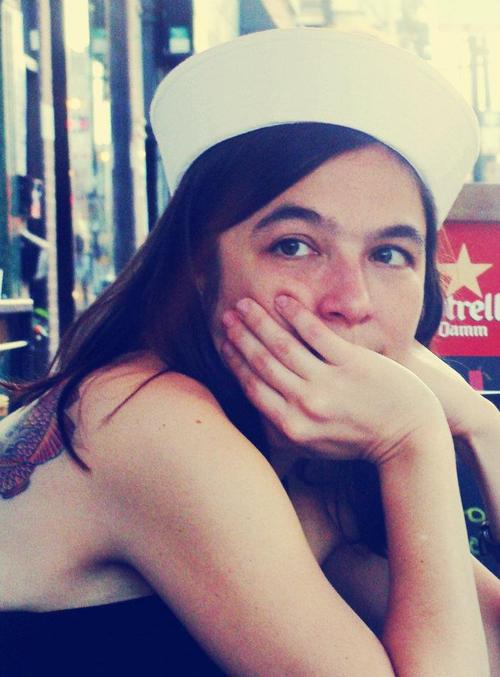 For those of you who aren't already aware, Action, Yes is the online journal wing of Action Books, a pugnacious press operated by Johannes Göransson and Joyelle McSweeney, who happens to be the reigning brunette bombshell of 21st-century poetry.
Also, Action Books has published one of the most outrageous collections of poetry ever — a collection that manipulates language to enchanting extremes. This bold book is entitled Maxium Gaga. Its author is Lara Glenum.
Back to this edition of Action, Yes… it has many notable participants. I'm going to supply some of them with outfits.
First, I'll dress the editors, Carina Finn and Jiyoon Lee.
Carina is a bratty princess, which is why she'll wear these sassy silver jumper shorts with an ostentatious striped sweater underneath.
Jiyoon is a wonderfully pretty warmonger, like Mulan. She'll adorn this all black number. It's perfect for riding horses on because Barack Obama is, as always, wrong: we still need war horses!
Now I'll dress a few of the contributors. I'll start with Elizabeth Franklin, a beautifully moody boy-girl. She'll make a marvelous mercurial housewife very soon. She'll need these warm clothes for when she must pick up a few things at the grocery store in the dead of winter.
Tim Jones-Yelvington does not need me to dress him. He can quite obviously dress himself.
Ben Fama is a boy. I'd rather dress his girl, Monica McClure. I think this pink dress and hat would compliment Monica's splendidly swarthy complexion.
Steve Roggenbuck is a boy too. But if Steve Roggenbuck was a girl (like if he had the parts that girls possess) then he'd be the Queen of Alt Lit, so he should wear this voluminous Marchesa gown.
Tags: Alt Lit, Ben Fama, carina finn, elizabeth franklin, Jiyoon Lee, joyelle mcsweeney, lara glenum, Monica McClure, steve roggenbuck, Tim Jones-Yelvington
2 Comments
November 11th, 2012 / 2:46 pm steve roggenbuck—
November 14th, 2012 / 11:20 am Tim Jones-Yelvington—

Well of course I can dress myself but I still need the designers to send me samples.