steve roggenbuck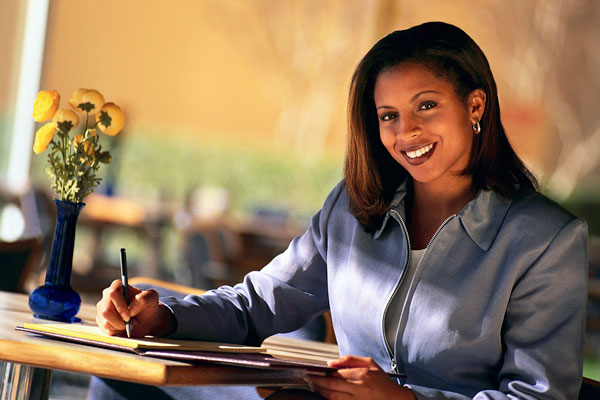 Wrote about Tao Lin for Hobart.
Exchanged emails with Tao about what I wrote.
Tao cut and pasted part I'd written about Zac Zellers and Marie Calloway and wrote beneath it "this seems funny to me."
Replied with a paragraph in which I described Zac Zellers as the "Where's Waldo" of Ann Arbor.
19 mins later got email from Tao saying "you should write something about this and send it to me."
A couple of days ago, the latest installment of Action, Yes made its debut.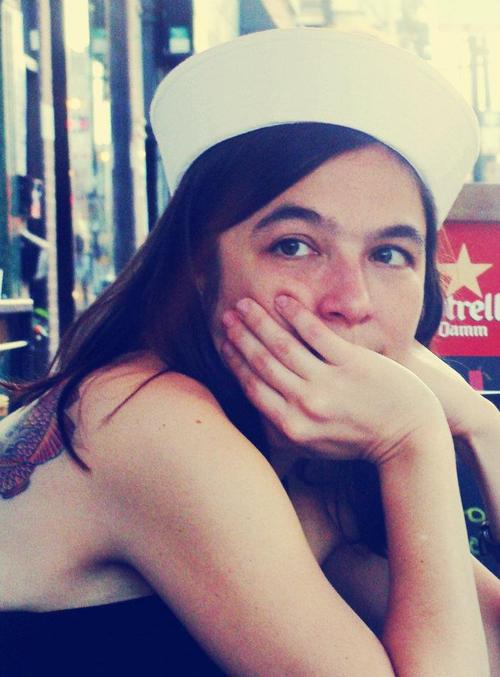 For those of you who aren't already aware, Action, Yes is the online journal wing of Action Books, a pugnacious press operated by Johannes Göransson and Joyelle McSweeney, who happens to be the reigning brunette bombshell of 21st-century poetry.
Also, Action Books has published one of the most outrageous collections of poetry ever — a collection that manipulates language to enchanting extremes. This bold book is entitled Maxium Gaga. Its author is Lara Glenum.
Back to this edition of Action, Yes… it has many notable participants. I'm going to supply some of them with outfits.
First, I'll dress the editors, Carina Finn and Jiyoon Lee.
Zachary German's web presence was one I once compulsively checked-on for updates, that I consistently enjoyed, intriguing and funny, and now his web presence is gone, mostly, because he wanted it to go away.
Adam Humphreys's new documentary, Shitty Youth, which shares a name with German's possibly defunct "radio show"/podcast, portrays German as a willfully difficult or potentially alienating person socially who is very attuned to style and taste, the author of one novel, Eat When You Feel Sad, which got good attention and praise, who has released almost no writing since, in part because much writing, including his own, is not up to his very high standards.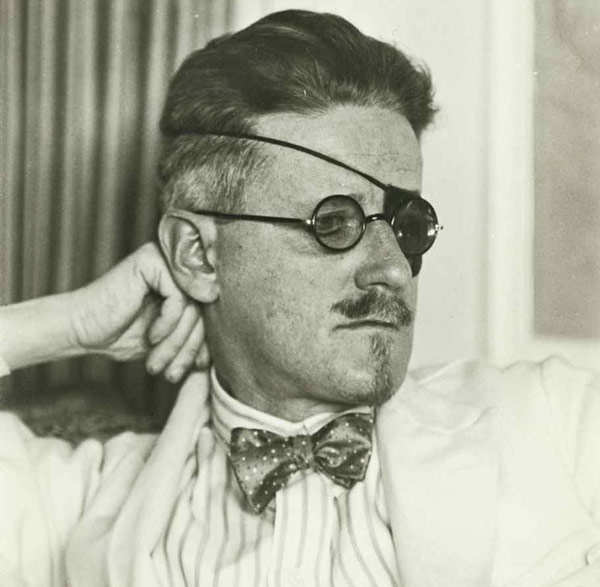 I haven't read Sheila Heti or Ben Lerner's recent novels, the impetuses for Blake Butler's recent, anti-realism-themed Vice article, but I'd like to respond to Blake's finely-written itemized essay, because I, personally, continue to desire novels written by humans, which relate, slipperily or not, to human reality–subjective, strange and ephemeral as it is–novels which deal with such humdrums as sex, boredom, relationships, Gchat, longing, and, beneath all, death. I want a morbid realism.
I agree with Blake that a reality show like The Hills and social media such as Facebook create stories by virtue of humans doing simply anything. The documenting, sharing, and promoting of mundane everyday human life is more prevalent and relentless than ever before. In this environment, literature (and movies) about humans (most controversially, about privileged, white, hetero humans) that presents everyday drank-beers-at-my-friend's-apartment life, wallows in self-pitying romantic angst, and doggy paddles po-faced through mighty rivers of deeply profound ennui can potentially seem annoying, or boring, or shittastical.
I've decided that, from now on, all I'm going to write about at this goddamned site is this goddamned thing.
… No, seriously, I'm delighted that so many have chimed in. Thanks to everyone! I thought one massive reply would be easiest. If you read this whole thing, may your god shower blessings upon you. And if I missed any pertinent responses, kindly direct me to them in the comments. (I was traveling last weekend, and as such had trouble keeping up with all the discussion.)
1.
I've claimed (here, here, here) that one thing at stake in the New Sincerity is the discovery of what maneuvers currently count as "feeling sincere." That such maneuvers exist I consider more an observation than a topic for debate. E.g., Blake, in his recent post about Marie Calloway's Google doc pieces, wrote that Calloway's recent work:
It made me very happy to read the various responses to Part 1, posted last Monday. Today I want to continue this brief digression into asking what, if anything, the New Sincerity was, as well as what, if anything, it currently is. (Next Monday I'll return to reading Viktor Shklovsky's Theory of Prose and applying it to contemporary writing.)
Last time I talked about 2005–8, but what was the New Sincerity before Massey/Robinson/Mister? (And does that matter?) Others have pointed out that something much like the movement can be traced back to David Foster Wallace's 1993 Review of Contemporary Fiction essay "E Unibus Pluram: Television and U.S. Fiction" (here's a PDF copy). I can recall conversations, 2000–3, with classmates at ISU (where DFW taught and a number of us worked for RCF/Dalkey) about "the death of irony" and "the death of Postmodernism" and a possible "return to sincerity." Today, even the Wikipedia article on the NS also makes that connection:
I wasn't surprised that my Monday post, which was ultimately about reading & applying some ideas from Viktor Shklovsky's Theory of Prose, mostly generated conversation about Tao Lin and the New Sincerity. I knew that would happen even as I wrote it. So I thought I should take a post to clarify my thoughts on "the whole NS thing." What follows will be a mix of fact and personal reflection.

In the first post in this series, I outlined Viktor Shklovsky's fundamental concepts of device (priem) and defamiliarization (ostranenie) as presented in the first chapter of Theory of Prose, "Art as Device." This time around, I'd like to look at the start of Chapter 2 and try applying it to contemporary writing (specifically to the New Sincerity). As before, I'm proposing that one can actually use the principles of Russian Formalism to become a better writer and a better critic.
ALT LIT GOSSIP ran a live awards broadcast hosted by Steve Roggenbuck. Below you can watch the archive footage.
i am like october when i am dead poems by steve roggenbuck
18pp published by Steve Roggenbuck (2011)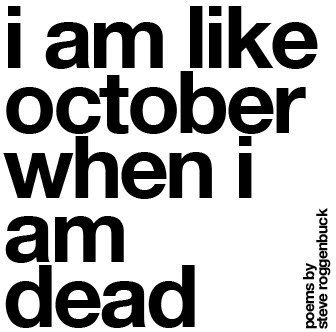 Steve Roggenbuck is not Robert Frost. His poems avoid forests of metaphors. Although they might give you a woody. Roggenbuck's poems are not pedestrian, but peripatetic. They get you to think, just a little bit, about murder and loss. They also make you look into a night sky and wonder what you had for lunch or what's on TV. Roggenbuck's poems hold up dead flowers, then make you leave the room after declaring that that's all there is. They are rakish, shake a giant rake to scare you, gather dead leaves outside the church of poetry, walk an elephant into that strange part of you called consciousness. Steve Roggenbuck's poems will choke your dad for your birthday. They don't care. They will not answer your calls. They are alive with the memories of killers, wonder what they will harvest, then stuff dogs into garbage trucks. These poems are the eraser of two hundred years of American poetry, the shout at the end of a sentence that seeks always a little bit of anarchy, a car on fire. Roggenbuck's poems are the beginning of a great career.
* * *
The Day Was Warm and Blue poems by Richard Loranger
28pp published by Richard Loranger (2002)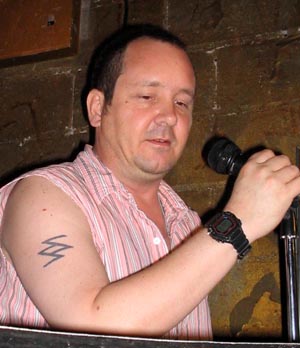 Richard Loranger is gay. He remembers the colors, temperatures of his mornings. Some of these simple memories become poems. Like the twenty-eight poems contained in this book. However, Loranger's poems are not really contained. Or, if they are, they are contained the same way a sky is contained: warm and blue. But, peculiar. Very, very peculiar. Each poem is a tiny ass-fuck on the same day you kill your boss. Each one is there, with you, because there is nothing else to do. This makes them wonderful. Loranger's poems are pretty butterflies. They flutter through a room and are closely listened to, but only after they have been eaten. They gather dead leaves outside the church of poetry, put them on a shelf, forget them, maybe. If Loranger had the time he would write these poems upon a wall using his own urine. They are that simple and that marvelous. And who knows? Perhaps he already has. Each of these poems are a little song that drifts by. They are the shadow of an acrobat tumbling in air, a cat in each eye. They are a drink of water after an argument, the mystery of television. Doused in gasoline, simple, lyrical, they want to know who's in charge, will only listen to the secrets of plants, then wait quietly, to get the names they need to celebrate their small fire. Time has nothing to do with them. I mean, who needs time? These poems keep going on and on, each in their little, magnificent way, all warm and blue.
* * *
Aquarium poems by Ryan W Bradley
26pp published by Thunderclap Press (2010)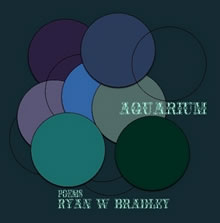 Ryan Bradley is straight. He eats lots of spaghetti. He sees pornography everywhere. His poems are a testament to that vision: defiant, sexy, sometimes late for class. It is a teenager's world. Bombs go off like songs on the radio. And Bradley listens, makes them pretty, finds the wonder in flashing red lights, women falling from the sky, a city on fire. Bradley's poems attempt to feel things. That is, they are thinking: About the next cigarette, cheerleaders buried under ice, a sudden sensation that slants everything, makes you walk funny. It likes girls, smoke, the Beatles. But best of all, they get depressed in the summer, still believe in the alcoholism of the blues, disguise their social class because these were born poor. Sex and death. It's all here in these poems. And if you aren't drunk by page two, you will be by page twenty-six. Drunk and slightly bruised. And touched, lightly. Because Bradley's hand is light, might even take you far away. Imagine particles, the flash of fireflies, the nakedness of desire—cells rapidly dividing—spread over noodles. These poems are peppered with neighbors singing opera, but Bradley also wants to hear your eyelids closing. He's sweet. These poems are sweet. All of them, underwater.
- – -
Janey Smith (b. March 30, 1981, Anaheim, California) was born on the same day that President Ronald Reagan was almost assassinated. She likes to think her birth had something to do with it. Janey lives in San Francisco, CA.