joyelle mcsweeney
Christmastime is the best time. There are sparkly lights and cute reindeer and cute snowmen and cute songs, and so on. There's also a lot of gifts to be given, which is great, especially if you like books and things, as I do. Alas, almost all Western culture subjects won't get any gifts from Santa at all, as they only care about their Twitter feed, their sexuality, and leading a "grievable life" so that this doesn't happen to them. But for those thoughtful boys and girls who don't go around kissing dead Nelson Mandela's tushy, they should expect estimable presents. These are the ones I want:
Gossip by Samantha Cohen: Gossip can be malicious and harmful, so everyone should do it.
Cunt Norton by Dodie Bellamy: While the cannon is actually quite commendable, so is cutting, which is what Dodie does to one of the Norton anthologies.
Salamandrine: 8 Gothics by Joyelle McSweeney: According to Diane Sawyer, those divinely deathy Columbine boys "may have been a part of a dark, underground national phenomenon known as the Gothic movement and that some of those Goths may have killed before." So…
Begging For It by Alex Dimitrov: This boy was the subject of some criticism for his appropriation of some kind of AIDS-related art. But AIDS is silly, and Alex is sort of cute.
Butcher's Tree by Feng Chen: Her Spork book, "Blud," was really cute and sassy, so these poems probably will be as well.
Our Lady of the Flowers, Echoic by Chris Tysh: Jean Genet was a violent, cutthroat boy, and I want to see Divine and Dainty Feet in verse.
Haute Surveillance by Johannes Goransson: Johannes read an excerpt from this at the first and only ever Boyesque Reading (also featuring Peter Davis, Tyler Gobble, and me). It was violent, stylish, and totalitarian.
The Memoirs of JonBenet by Kathy Acker by Michael du Plessis: JonBenet Ramsey was cute and tragic. This year, she published a collection of rhymes for my cute and thoughtful Tumblr, Bambi Muse. I want to see how Michael portrays the pageant princess.
The Mysteries of Laura by Andrea Quinlan: It's a collection of poems that are Victorian and gothic, which is to say it's Charlotte, Emily, and Anne Bronte and Dylan Klebold and Eric Harris.
Mother Ghost by Casey Hannan: I like ghosts.
Thank You for the Window Office by Maged Zaher: He once composed a very pleasing poem about Paris Hilton.
Since the outside is important too, you should be decking a delightful outfit while you wait for Santa to come. For girls, picking out what to wear isn't arduous at all, as all girls should wear what they should wear all the time, a babydoll dress, a big but elegant hairbow, and ballet flats. For boys, choosing the correct clothes is much more vexing. Most boys hold the opinion that tight jeans and an ironic top are stylish. But this isn't so. Style should have meaning. Boy in the vintage Supersonics Shawn Kemp jersey, can you inform everyone who Shawn Kemp is? Are you aware that he once showed up to the Cavaliers training camp as an unacceptable fatty? No, you're not. Style, like literature, must have meaning. So, while anticipating Santa's arrival, all boys should wear a meaningful outfit, like the one that I am: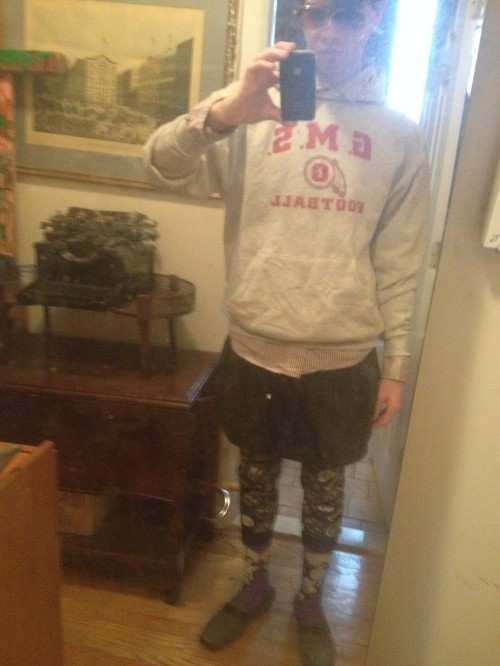 Sunnies because eyes should be kept secret.
Basketball hoodie that I stole from a friend, because basketball players are like monsters.
Purple-striped dress shirt because it's proper.
A skirt because boys should wear skirts.
Skull-and-crossbone pants because they're deathy.
Werewolf purple socks to match the purple dress shirt.
Buckled shoes because they're proper too.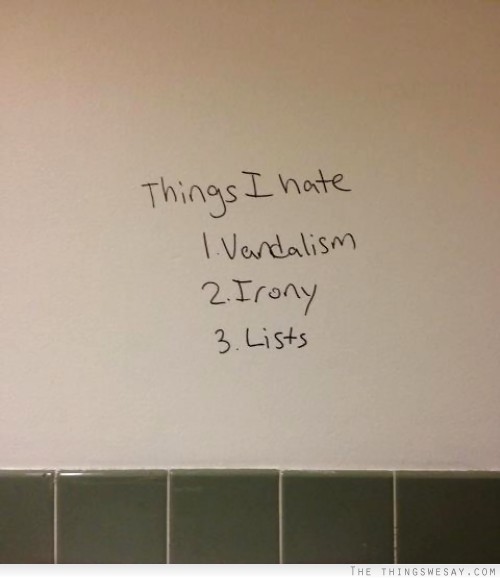 When I first moved to Manhattan in 2008, I roughly knew about three people in the entire city. I lived in a bedbug-infested apartment on 139th Street with a sugar baby, a Bubba Gump Shrimp waiter, and a digital retoucher. At the time, I thought I was going to work as an assistant in photo studios while applying to MFA programs on the side—a plan that ended up completely shifting (no MFA, au revoir photo world)—but that's not what I'm here to write about. I knew nothing of the NYC literary world, especially that of poetry. One day I had wandered into a library near 103rd to check out some familiar books. I saw a flyer for POETRY DISCUSSION GROUP / TONIGHT'S THEME: DEATH and hung around, hoping to meet some poets. And talk about death, of course.
What I ended up was sitting in a circle with about a dozen people, myself the only person under 60. As one cantankerous woman pointed out—most of them were "sitting in god's waiting room" & it was "foolish to romanticize death". This lead to a shouting match between attendees. So there I sat, hands in lap, in a coven of curmudgeons, horribly embarrassed at how much I misgauged what I thought I would be participating in. This is not to say that these old folks couldn't have schooled me. I perhaps have never witnessed a more intensely personal discussion of death with any group of strangers in such a short amount of time in such a public space. But my point is that geography is a strange creature, containing wheels inside wheels. I wanted to meet young poets in their early 20s who would show me who they were reading, where they were reading at, where they hung out. This Upper West Side library, much to my ignorance, was not that place. I didn't find that niche for a long time, even though we all lived inside the same city. It took many misguided open mics and weird basement readings to find the people I wanted to be around.
In some ways, I'd say this year is the first year I've been asked to read at series that I didn't have to creepily solicit (although I still creepily solicit). It wasn't until my first chapbook came out last fall that people gradually stopped introducing me as "that guy who runs Moonshot". Every day is baby steps, is one poem after the other. I think it's important to highlight these gooey 'writer journeys' we hear about over and over again to show how people find their way to meeting writers and literary scenes they care about. It's hard when you're on the outside and suspect others are members of a literary cabal who are only interested in helping each other out. I've been there. I'm still there, in many ways. Not everyone who lives in NYC is geographically self-obsessed or entitled or had everything fall into their lap instantly. Does this even need to be said? It took five years just to reach a point where the lit projects I've started here (or been involved with) have been around long enough where it people come up to me and say they know who I am, what I do. It hasn't gotten less jarring yet—maybe one day it will.
Perhaps this is why it's equally surprising to find myself on a list called 23 People Who Will Make You Care About Poetry in 2013. It's even stranger to watch people—in response to this list—echo criticisms I've made of NYC's poetry scene—white, exclusive, cliquey, centered around itself. Except, in this case, I was included on an exclusionary list. I'm now that person. Numbered lists are incredibly tricky to begin with because they seem so incredibly final, as if there are no others. Here are the 23 chosen ones. There is a glib part of me that wants to say we should take these kinds of lists with a grain of salt, that wants to point out that media sites have to churn out dozens of these insipid listicles per day—but I know that will incise—and I recognize that it's my privilege that would allow me such flippancy.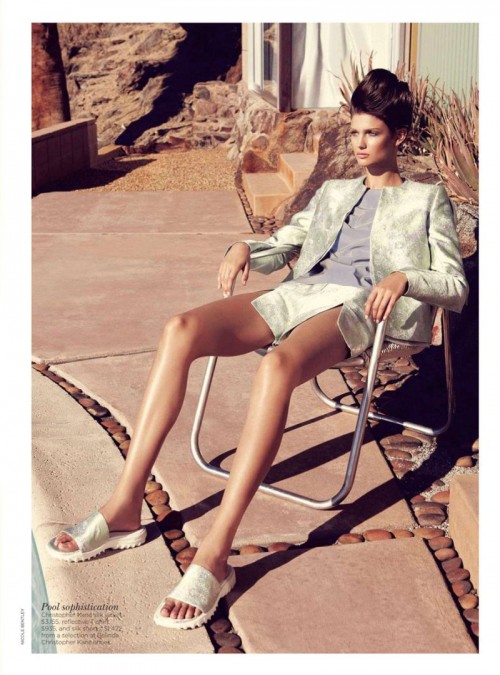 Much like Mary Tudor and Anne Boleyn, summer and I are the antithesis of amicable. I hate heat. I heat sweat. I hate seeing human skin. I hate swimming. I hate sunlight.  All of these tasteless traits are allotted a starring role in June, July, and August. Already, I want winter to come. The cold, the frost, snow, booties, mittens! Winter is sort of more elaborate than summer. While I never want to be a part of this world, (and by this world, I mean you-know-whos with you-know-what values), I really don't want to be a part of this world in the summer. Since Mary refused to recognize Anne as England's queen, I'll refuse to recognize summer. Instead, I'll read books (one, obviously, should always read books, since it's one of the utmost Christian activities), including:
FunSize&BiteSize by Ji Yoon Lee: She resembles a cute tiny kitty who everyone wants to pet, only no one actually does, since nearly everyone is aware that if you attempt to do such a thing then she'll bite you, and while that bite may not hurt much at first, eventually it'll turn into a disease much more fatal than the kind gay people get.  A preview: "Fetishize my misery / Not white American male's."
I Will Never Be Beautiful Enough to Make Us Beautiful Together by Mira Gonzalez:  She seems sad, depressed, moody, discontent, and all the other things that most anyone with any perceptiveness would be right now. She also has a rather captivating name. "Mira" is light and delicate, like a fine piece of fabric. "Gonzalez" is also the last name of the former Texas Ranger baseball player Juan Gonzalez. This All Star constantly hit home runs, which are quite dramatic. Preview: "i feel like 400 dead jellyfish in the middle of a freeway."
Lemonworld & Other Poems by Carina Finn: She's basically a modern princess (one of the poems in this book is titled "modern princess") who has come home for winter break to visit her mommy and sigh flippantly and eloquently at the whole entire universe. Carina likes yummy food (browniemix), fashion accessories, like ribbons, violence ("peace is a field of graves"), and the types of things Gertrude Stein would like — "16-year-old girl looking to buy a moustache." To spotlight her forceful mercuriality, Carina includes plentiful exclamation points, one of the most comely types of punctuation marks ever. A couplet: "don't trump the mode / there's a rabbit in the marshmallow!"
Pageant Rhymes by JonBenét Ramsey: Last summer, the cute Tumblr literary corporation Bambi Muse published Baby Adolf's Nursery Rhymes to much acclaim. Even presumed adversities (presumed, due to a certain trait) were laudatory. "Nothing to complain 'bout here," was Saul Bellow's hearty response. This summer, Bambi Muse will publish a collection of couplets by the sensational JonBenét. The verse touches on yummy victuals, fashion, and other things. A couplet: "Cheddar broccoli soup is most profound. / I was killed in my pink Barbie nightgown."
Taipei by Tao Lin: This  boy, though a straight boy, seems like a manipulative psychopath, so I'm invariably curious about his compositions.
TwERk by Latasha N. Nevada Diggs: A little bit ago, Joyelle McSweeney posted about these poems. From what I've read, they contain the qualities of a circus as well as a loud, unmitigated drag ball. Even the author's name teems with theatrics. Nevada is home to quite a few cinematic creations, like Casino (a mafia movie) and Liberace (a boy first and now a movie starring Michael Douglas and Matt Damon).
The Diary of Anne Frank by Anne Frank: I've read this book bountifully, obviously, and I will continue to do so during the summer months (and I'm not talking about the Sex and the City version either!) Caitlin Flanagan says Anne is an "imp, a brat, a narcissist, a sulker, a manipulator, a manic talker, a flirt, and a person who insisted on the rapt attention of everyone around her at one moment, and on the pure privacy that all misunderstood people demand at the next. "
Petocha/Chiflada by Monica McClure: The sharply chic Mona is publishing a bratty chapbook with wtfislongsdrugspress, a new press founded by Carina and Stephanie Berger, the princess of The Poetry Festival. It's invariably estimable when tiny, pretty girls work together on a particular project, it's kind of like an episode of The Babysitters Club.
The Bible: A ton of people are on a path to hell, but by perusing this text (not just for summer, either) they just may be able to take the trail to heaven, where Edie Sedgwick and Edith Sitwell convene tea parties.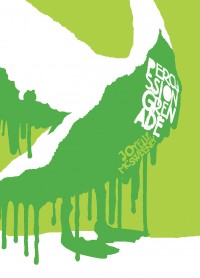 Percussion Grenade
by Joyelle McSweeney
Fence Books, 2012
96 pages / $15.95 buy from Fence
1. "Hold a cheerleader's cadaver up to Nature."
Percussion Grenade is full of these lines that leave me a little breathless, a little confused, satisfied, sad, all sorts of things. I think the dead cheerleader is an accusation: evidence against the concept of nature.
2. "I maketh you lie down in fracked pastures
in central Pennsylvania
o my blood boils, my tapwater burns"
My favorite part of this book is The Contagious Knives: A Necropastoral Farce which made me put down the book and step away, walk around the block a few times, and then finish the book.
3. Since Kyle Minor wrote on this book here I'm going to try to focus on the The Contagious Knives and a few other sections of the book that he didn't focus on.
4. I think some concepts that Tim Morton uses in his books Ecology Without Nature and The Ecological Thought are useful for thinking about the necropastoral. The essays Dark Ecology of the Elegy and Queer Ecology are also interesting to read along side Percussion Grenade. The authors are not strangers, and other people have talked about them together.
5. Object Oriented Ontology and Speculative Realism might also make an interesting groundwork for looking at Percussion Grenade, the rest of McSweeney's work, and the Necropastoral, but I'm not sure what to say about it at this point.
6. "The ecological thought includes negativity and irony, ugliness and horror." This quote from Tim Morton seems like it applies to the Necropastoral of Percussion Grenade.
7. "To appear to be acting masculine, you aren't masculine. Masculine is Natural. Natural is masculine. Rugged, bleak, masculine Nature defines itself through contrasts: outdoorsy and extraverted, heterosexual, able-bodied—disability is nowhere to be seen; physical wholeness and coordination are valued over spontaneity." From Queer Ecology
8. McSweeney has a particular interest in the marginalized, the other, all of the opposites of able-bodied, heterosexual, extraverted. She's interested in how a particular kind of power or ability is derived from instability. The Contagious Knives is full of allusions to Tiresias, the archetypal seer, who happens to be transgender and blind.
9. "My Prius drives to the reservoir for some system downtime 
without me: to blow off steam. There runoff collects
from picturesque slopes and shops. O Jeunesse, Dream
Prius, Brainless, Brained."
Mont Blanc (lines 1-4) – Joyelle McSweeney
"The everlasting universe of things
Flows through the mind, and rolls its rapid waves,
Now dark—now glittering—now reflecting gloom—
Now lending splendour, where from secret springs
The source of human thought its tribute brings
Of waters…"
Mont Blanc (lines 1-6) – Percy Bysshe Shelley
10. The Prius replaces the mountain and Ravine of Arve as object of aesthetic and philosophical contemplation. The Prius becomes a sort of liaison to the non-human, communing with the runoff. READ MORE >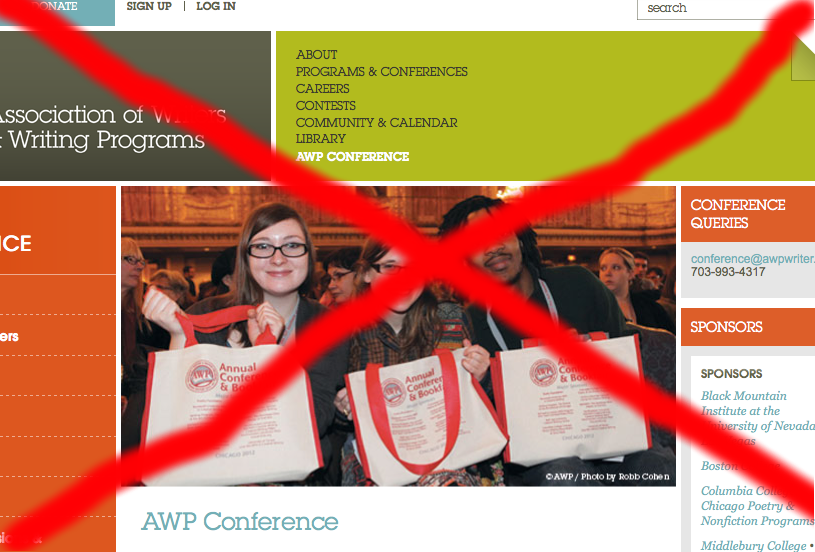 There shouldn't be an AWP. There should only be one if it would result in me meeting Gina Abelkop. She is the publisher of Birds of Lace, a press that publishes books about girl groups, adventurous twins, and girls who justify murder in high school essays. Most Birds of Lace books fulfill one of the primary attributes of literature: They transmute the reader to magical, mysterious worlds of death, babysitters, and big hair. Gina and I could meet for tea (or vanilla cupcakes). We could discuss trenchant topics, like the veils in Meadham Kirchoff's Fall 13 collection or Disney princesses. Why, we could even mosey to a Disney store (if there are Disney stores in Boston) and she could purchase an Ariel doll (because she's a girl) and I could purchase a Buzz Lightyear doll (because I'm a boy). It'd all be rather idyllic. But according to the grapevine Gina won't be attending this year. So I won't either, which is fine, since the AWP is as disgusting as gay people, straight people, bisexual people, and Brooklyn.
On their site, the AWP claims to be "the largest literary conference in North America." But the AWP has little relation to literature. Only around one percent of the attendees make literature. There's just a tiny fraction who formulate texts that are monstrous and divine – that, like those German boys, possess the grit and glamour to wage war on basically everyone on the globe. As for the rest – the 99 percent of AWP people – they are not poets and they are not composing literature. They are not concerned with epic Emily Bronte or moody Frank O'Hara. They are a product of typical middle class capitalism, or, as Karl Marx says, "the bourgeois." According to Karl, the bourgeois live off others' labor. They acquire value through accumulation. As the bourgeois stockpile products their worth increases. This renders them reliable upon the proletariat who must toil night and day with very little rest to keep up with the insatiable, indiscriminate bourgeois.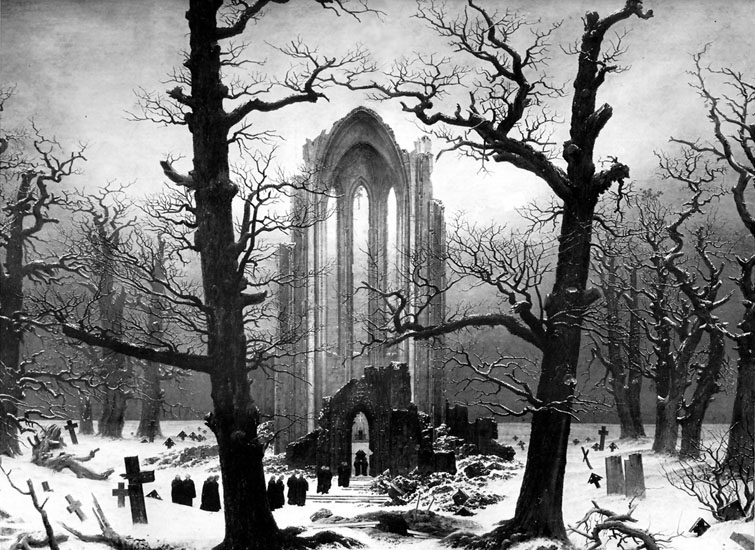 I intentionally missed most of the inauguration of Bruce Springsteen's boyfriend. Symbols of democracy and freedom make my tummy quite queasy. I prefer the enchantment of The Little Mermaid to the mediocrity of the middle class and the person that they pick to govern them. But a couple of days after The Boss's "partner" was publicly sworn in, I overheard two princess friends of mine discussing a poetry quarrel that arose from this inauguration. Supposedly a poet named Richard (I'm not sure of his last name, and considering his connection to Obama, he's certainly not talented enough to Google or even Bing) read. The poem prompted a girl Washington Post blogger, Alexandra Petri, to declare that poetry is probably dead. A poetry boy, John Deming, quickly rendered a rebuttal. After reading both, I've come to the conclusion that each has a very un-magical, unsupportable viewpoint on poetry.
To begin, I'd like to declare that being "dead" isn't deplorable: it's delightful. Sylvia adored the dead. She covered herself in concentration camp victims. Her skin was "bright as Nazi lampshade." Was Sylvia disempowered or on the margins of culture? No way, progressive gays! Sylvia was a spitfire. She slashed her daddy and her canonized poet husband. Charles Baudelaire, one of the best boy poets ever, sought the dead too. In "Spleen (ii)" Charles boasts that his skull holds "more corpses than a common grave." Identification with dead doesn't disadvantage Charles either. He's a dandy — someone superlatively superior to humans, a boy who follows his own special set of laws. The dead are special and unique. They're much more powerful than humans. To call someone or something dead is a term of incredible endearment, and should be embraced.
A couple of days ago, the latest installment of Action, Yes made its debut.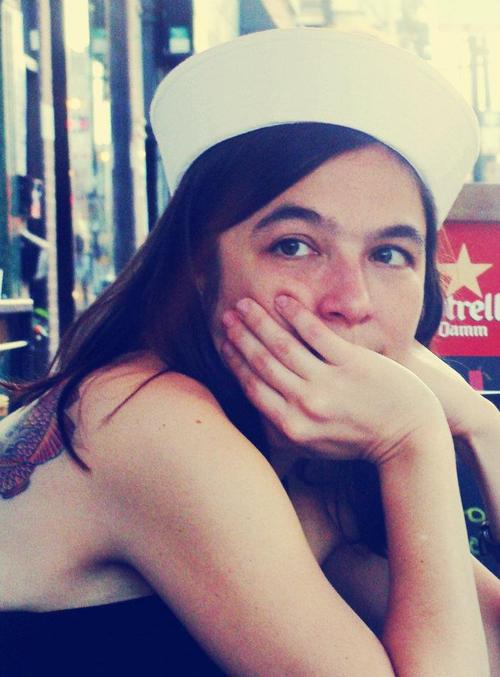 For those of you who aren't already aware, Action, Yes is the online journal wing of Action Books, a pugnacious press operated by Johannes Göransson and Joyelle McSweeney, who happens to be the reigning brunette bombshell of 21st-century poetry.
Also, Action Books has published one of the most outrageous collections of poetry ever — a collection that manipulates language to enchanting extremes. This bold book is entitled Maxium Gaga. Its author is Lara Glenum.
Back to this edition of Action, Yes… it has many notable participants. I'm going to supply some of them with outfits.
First, I'll dress the editors, Carina Finn and Jiyoon Lee.
The approach of Hurricane Sandy has already altered the entire course of me and my friend's lives. On Sunday, I was supposed to shop for vintage sweaters and attend a poetry brothel. These would've probably been some wonderful moments. But Hurricane Sandy put a stop to all my hypothetically marvelous adventures.
Instead my friends and I were bunkered in our apartment in Alphabet City.
What were we to do?
If we were VIDA, then we could count the number of times a masculine pronoun appeared in this week's NYT Book Review and then compare it to the number of times that a feminine pronoun appeared in this week's NYT Book Review and then get really angry about it and channel all of our anger into a neat and tidy chart.
If we were overly anxious New York Jews then we could close down the subway system at 7 PM, hold press conferences using folksy idioms like "up and about," and dress like men who spend a great deal of time in well-off subdivisions of Connecticut.
Also, if we were male homosexuals, we could have sex nonstop sans condoms.
But my friends and I aren't any of those things. So, in lieu of that, we chose to hold an academic conference that had an awful lot of relevance to our current predicament. Our conference, which was held last night  (28 Oct. 2012),  was called The Unstable and [de] Mutable Boundaries Between Meteorological Atrocities and Human Political Economies with Bodies-as-Subjects Coming Into Being As They Are. This conference has already been compared to some of the most vivid and vivacious academic conferences ever held.
Here's a summary:
Craft Notes
&
Events
&
Technology
/
Comments Off

on A Summary of Our Academic Conference, The Unstable and [de] Mutable Boundaries Between Meteorological Atrocities and Human Political Economies with Bodies-as-Subjects Coming Into Being As They Are
October 29th, 2012 / 12:27 pm