May 8th, 2011 / 5:50 pm
Random
Christopher Higgs
Playing catch up with the stacks
All around my desk, stacks of texts pile up until Beatrice (our mackerel tabby) knocks them down. Then I try to re-stack them. One stack should be material for review, one stack for fun, one stack for research projects, etc. This always never works. Stacks blend with other stacks to form new stacks. With my wife's desk on the opposite wall in our study, her stacks always threaten to encroach on my stacks, our individual stacks blending to make ever more new mutant stacks. Our bookshelves are brimmed with books: no room remains anywhere there. I'd take a picture to show you the absurdity of it, but probably many of you have similarly absurd looking book situations.
At any rate, one of the stacks is stuff I've intended to write about here on htmlgiant, but for one reason or another, one prior commitment or another, I got sidetracked and failed to write about it like I should have or would have or wanted to, etc. Some of it I've read cover to cover, some of it I've taught to undergraduates, some of it I've still only flipped through. I'm sure some of the texts in the stack have moved to other stacks, so I'm probably gonna omit stuff, but at least here are a few of the things in that stack…

these here separated to see how they standing alone or the soundtracks of 6 films by Stephanie Barber (Publishing Genius 2008)
A delightfully strange intermedia text. There's the booklet with the words and then there's a DVD with films. I've brought this into the classroom a few times, and my students have each time found it captivating. Last summer, for instance, I screened "Dwarfs the Sea" before a lecture I intended to give on Ishmael Reed's Mumbo Jumbo, but the students got so interested in the film we ended up rewatching it and discussing it for most of the class period. I like this collection very much, especially because it crosses various boundaries: it's art and literature and cinema and performance and image and text all bound together.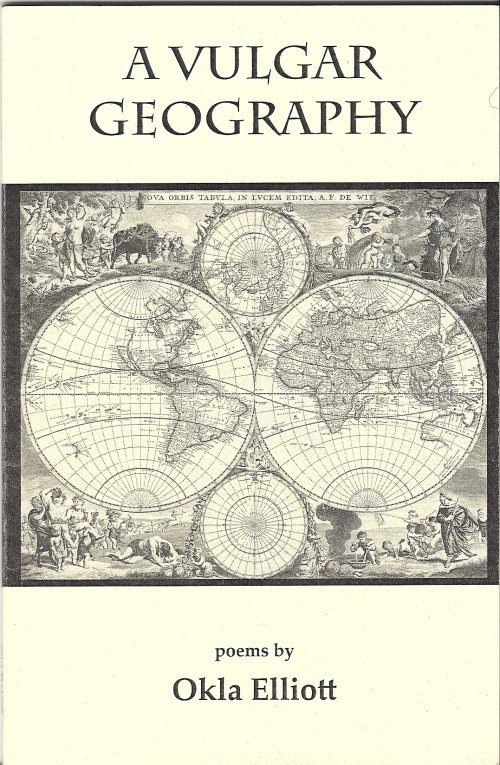 A Vulgar Geography by Okla Elliot (Main Street Rag 2011)
Like me, fellow Ohio State MFA alum Okla Elliott jumped the creative writing ship for doctoral adventures in literature and theory. But because he's multilingual, he's in a comparative literature department rather than an English department, currently serving as the Illinois Distinguished Fellow at the University of Illinois.
This chapbook of poems has been described by Mark Smith-Soto as "a sophisticated mapping of those little-traveled regions of the psyche where anomie, yearning and regret extend in exquisite juxtaposition, a territory where small causes wait like landmines to have terrible effects." I think that's true, and I would add I also think the variable forms this chapbook exhibits evoke the variability of geographic regions. In the same way that Mauritania differs from Montana, "The Idiot's Faith" (which is, I think, my favorite poem in the bunch) differs from "Lonely in Seoul."
Most importantly, I like the range of cognitive motion, the fact that he can cover Wittgenstein and Brecht and flowers and dreams and mothers and death and high culture and low culture and so much more in the course of 36 pages. It's like an intellectual and emotional ratatouille.
Entrance to a colonial pageant in which we all begin to intricate by Johannes Göransson (Tarpaulin Sky 2011)
I read this quickly a few weekends ago, a weekend devoted to Dolly Parton's album Jolene, a weekend in which I watched Tod Browning's Dracula for the first time. This book deserves a more sustained engagement, so I plan to return to it at some point. For now, if you haven't already, you should read Kyle Minor's extremely smart and expansive review at The Faster Times.

not merely because of the unknown that was stalking toward them by Jenny Boully (Tarpaulin Sky 2011)
This book is going to kick ass. I know it will because, as I've gone on record asserting, Boully is one of the most significant contemporary writers we've got. She's a poet using a prose brush. The back of the book says this book is "A dark re-visioning of J.M. Barrie's Peter and Wendy." One thing that's really interesting about it is the way the page is broken in half: there is the top part and then there is The Home Underground. It confirms a thought I've had ever since first reading her amazing Essay Press release The Body: An Essay (in which the page itself is blank, the content of the text revealed only through footnotes): Jenny Boully sees the page in ways others can't quite muster. The opening line (on the top half) is: "If she lays out two spoons (two real spoons) and two forks (two real forks), will he come then to take part in a meal that is wholly imaginary?" And the final line (on the top half) is: "My dear, my dear pet wolf: I will tell you the difference between A and Z." For the opening and closing lines of the bottom half, you need to get the book to find out.
Spurious by Lars Iyer (Melville House 2011)
From the publisher who has published Tao Lin's most recent work, this book is composed of material based on Iyer's blog of the same name. Melville House is also scheduled to release a second book, called Dogma, also based on Iyer's blog. The premise has something to do with philosophical intellectuals pondering fungus. I got interested in this after reading Erik Morse's review of it in Bookforum. It's billed as a British comedy. I like the idea of a Blanchot scholar (Iyer) writing a comedic novel.

Five Works by The Rejection Group (Habenicht Press 2011)
"To conclude, the worke of the most mysterious Rejection Groupe is so universall, as either in one place or other, any mans mind may therewith be satisfied. The which I adventure (under pretext of this promise) to present unto all indifferent eyes as followeth." — from the opening statement titled "The Printer to the Reader." This handsome chapbook houses a handful of strange and appealing pieces, opening with a quote from Bhanu Kapil and ending with something about Wittgenstein and John Ashbery. In between, there's a piece called "79 Poetry Bumper Stickers," which include gems like: "DON'T BLAME ME, I DIDN'T GO TO IOWA" and "POET-LAUREATES: THE OTHER WHITE MEAT" and even a little nod our way "HTMLGIANT: LOGROLLING IN SKINNY JEANS SINCE 2008." About this chapbook, John Latta did a review/write up worth reading.
Sunshine in the Valley by Kyle Muntz (Civil Coping Mechanisms 2010)
Boasting a blurb from our own Lily Hoang, this goodlooking book claims on the backcover to be about "the creation of life after the extinction of time." The other blurb this book garnered comes from Lance Olsen, who calls it a work of "avant-garde science fiction."  I'm intrigued by this book.  I'm intrigued by Kyle Muntz, who once described his work as a combination of "postmodernism and the avant-garde with elements of magical realism, surrealism, and speculative fiction." He's published a few other books, and it appears he's got a pretty good audience. I'm gonna venture to say this book seems to be a genuinely unique creation: the sentences, from what I've gleaned, seem strong and chewy, and the atmosphere this book creates seems bright, shiny, unsardonic. Brings to mind a kind of reverse film noir: film blanc. Instead of breeding darkness, this books seems to want to blind the reader with light. Of course, once I actually read it I could be proven absolutely wrong: maybe this is the darkest book since Maldoror?
Prism and Graded Monotony by Dominic Ward (Civil Coping Mechanisms 2010)
Described as "Rope for your neck…Black Death…a companion piece to the violent commentary of Nietzsche" this slim volume by an Australian author unfamiliar to me, opens with "Our febrile house is just so; a watershed of itching, burning, sulfur-smelt relationships. Dolly shifts over the sitting room floor, vomiting her morning's dose of calmative as she goes." Flipping through it I notice that it's formatted strangely and somewhere in the middle it turns into a stage play.
Hugh Moore by Eckhard Gerdes (Civil Coping Mechanisms 2010)
First things first, I like the physical shape of this book. I like its dimensions. Roughly, its the size of an iPad. More books should consider being this shape. Second, its got a blurb from the legendary sci-fi master Michael Moorcock, which, in-and-of itself is pretty impressive. Myself, I'm wary of comparisons to Joyce, which appear in the other two blurbs, because it's almost never the case that a book that gets called Joycean has much if anything in comparison with James Augustine Aloysius. Usually when critics use that word it's meant to function as shorthand for "weird language usage," which is an unfair reduction of Joyce's overall project, if you ask me. But that's really neither here nor there. Flipping through, Hugh Moore does look like a rollicking book. It certainly appears compelling visually: there are blank pages and drawings and font changes and handwritten messages throughout.

Eader's Digest, Volume One
This fascinating German magazine, pamphlet?, digest is the product of the following process, as described by the editors:
In each issue, a six-stage metabolic reaction is begun. A previously published text is selected and sent to the first participant, who is asked to digest the text into another piece that must be a fixed number of words fewer than the original. The response can take any form within the word count constraint, borrowing from or transforming the source material. The digested text is sent to the next contributor with the same instructions. The word count shrinks weekly, until the final reduction phase is performed by the writer of the first seminal text.

Each participant has one week for metabolization. No contributor is familiar with the people preceding or following in the chain, or receives any information about the other writers until publication. Re-printed are the steps of an orchestrated organic breakdown between strangers.

The publication is printed in A2 poster format in editions of 1000. PDFs are available for download and hard copies for order.
Seven Conversations with Jorge Luis Borges by Fernando Sorrentino (Paul Dry Books 2010)
My first graduate creative writing workshop was with Jonis Agee at the University of Nebraska. She told a story about how earlier in her teaching career she had been stationed at a college in Minnesota that had somehow miraculously persuaded Borges to come and give a lecture. He was blind by then, and one evening after dinner he asked Jonis to drive him around town and describe everything to him. So she did. She drove Jorge Luis Borges around a small town in Minnesota and described what she saw. I love that story, that image, the idea of it. That's what comes to mind when I hold this book.
The inside tells us that the conversations transcribed therein come from taped recordings. I picture the scene of their conversations. I picture what JLB was wearing. I imagine always a three-piece suit with a pocket watch attached with a diamond chain.
The question that kicks off the book is "When and where was Jorge Luis Borges born?" to which we discover Borges was born in a house in 1899, that he admired the 19th century but not the 20th, and also that he grew up drinking turtle water. This puppy is prime for anybody with even a passing interest in the great JLB.
Where Art Belongs by Chris Kraus (semiotext(e) 2011)
About Where Art Belongs, Jon Leon said:
The other super fascinating thing in this book is an essay called 'Indelible Video' which ends with the idea that 'it could be that corporations themselves are in the position to change the rules of the game and reclaim the creativity that was once art's domain.' This essay is a total milestone. Chris Kraus basically reviews American Apparel as a work of art 'breathtakingly brilliant in ambition and scope.' And further states that: 'entrepreneurial ventures like American Apparel fill the void left by avant-garde process-art objects of the last century.' This reminds me of the Wrath of Dynasty booklet 'The Ecstasy of Betrayal,' reprinted in Novembre, wherein I hint that 'mass entrepreneurship' is the new thing, the new way of working out our visions for a total art, an artwork that is limitless and omnipresent — totally liquid.
Many of Kraus's ideas strike me as way, way, way interesting. I'm especially in love with the idea of rethinking capitalism's role in arts. Really looking forward to reading this one.
18 Comments