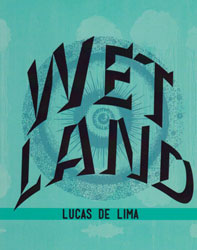 Wet Land
by Lucas de Lima
Action Books, March 2014
108 pages / $12-16  Buy from Action Books or SPD
The premise of Wet Land is almost impossibly weird: it's a book-length response to the death of Lucas de Lima's close friend Ana Maria, who was killed by an alligator. Written mostly in all-caps, the poems are delivered by a narrator who frequently takes the form of a bird, ruminating on Ana Maria, the gator, and the act of writing itself. Early on in the collection, de Lima describes the act of watching a televised reenactment of Ana Maria's death: "IN THE NATIONAL GEOGRAPHIC DOCUMENTARY THE ACTRESS LOOKS/NOTHING LIKE ANA MARIA;/THE OTHER ACTRESS LOOKS NOTHING LIKE HER FRIEND." Here, de Lima sets the tone for many of the tensions that characterize this collection. It's easy to criticize this kind of tasteless reenactment—to see it as a byproduct of a violent, media-obsessed culture. But in Wet Land, de Lima turns the lens on himself, exploring his own anxiety about being complicit in the reappropriation of tragedy.