baby ji yoon
A couple of days ago Baby Adolf, the first Bambi Muse baby despot, and I met up at a McDonald's near a Germanic bakery located somewhere on the Upper East Side.
My outfit featured, among other things, sunnies. As for Baby Adolf, his deck was brown.
Both Baby Adolf and I ordered vanilla ice cream cones. And after we ordered second vanilla ice cream cones, Baby Adolf screamed (unlike PhD's, &c, no one at Bambi Muse is captivated by "conversation") about how he wanted to be on HTML Giant quite badly. After all, Baby George III has been and so has Baby Marie-Antoinette. Why should the boy who will one day kill six million you-know-whos and five million other oh-who-cares be denied the chance to appear on the site run by the continually cute-looking Blake Butler?
"Maybe," I said to Baby Adolf, at the McDonald's near the Germanic bakery on the Upper East Side, "if you gave me three Baby Ruths, four Jujubes, and a Coca-Cola then I'll publish your summary of the 5th-annual CUNY chapbook festival on 9 May 2013."
Baby Adolf grumbled his assent. What follows is Baby Adolf's summary:
***
On Saturday Baby Adolf, accompanied by his mommy, Klara Hitler, visited the 5th annual chapbook festival at CUNY. For some time, Baby Adolf believed CUNY was just another way to say NYU. After Saturday, though, Baby Adolf realized that they were two separate entities. NYU is a big ugly college that's usurping the West Village, while CUNY is a big ugly building in Midtown.
The festival took place in a plain white hallway, and, according to Baby Adolf's eyes, there wasn't anything particular festive going on. There weren't any military marches or bellicose speeches prophesying global war along with the resurrection of the fatherland. Unfortunately, there were too many boys who looked like they'd just blown in from Bedford as well as a fair amount of girls whose clothes suggested that they had just come here from their weekly Park Slope Lesbian Separatist meeting.
But some commendable creatures were present, like Baby Ji Yoon. She spent most of her time at the festival taking mysterious notes, as if she were spying for a certain country that starts with North and ends in Korea.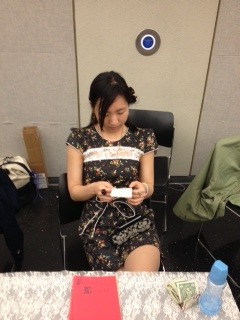 Mean
&
Vicarious MFA
/
Comments Off

on Baby Adolf's Summary of the 5th Annual CUNY Chapbook Festival
May 9th, 2013 / 3:02 pm
Girls are very estimable presently. Most of their comportments are catty, cute, and violent. For instance, Baby Marie-Antoinette composed a letter to the Boston Police asking them to kill her. Then there's Marie Calloway, who holds on to dear dead roses. Also, Baby Stephanie — she twirls her trademark braid basically all the time, even when she bruises.
Here are some other things that some other girls are up to:
Baby Carina, a girl who converses with rainbows and tumbles about the East Village in sashes, is about to publish her first book, Lemonworld. She made a trailer for it that features, among other things, my Portable John Milton and her harp version of Fleetwood Mac's "Never Go Back Again."
Mattie Barringer, who dresses like a warrior pixie, reads Anne Sexton and discusses her body image plights with awe-inspiring composure. She was recently interviewed by the constantly cutting StyleLikeU.
Lara Glenum's third book of poems, Pop Corpse!, concerns a Virgina Woolf-cum-Sasha Grey mermaid who can only caca out of her mouth: One of the loveliest lines from the book is: "Oops, I dropped my eyes inside yr boi panties."
Lastly, is Baby Ji Yoon colluding with North Korea?