bambi muse
Christmastime is the best time. There are sparkly lights and cute reindeer and cute snowmen and cute songs, and so on. There's also a lot of gifts to be given, which is great, especially if you like books and things, as I do. Alas, almost all Western culture subjects won't get any gifts from Santa at all, as they only care about their Twitter feed, their sexuality, and leading a "grievable life" so that this doesn't happen to them. But for those thoughtful boys and girls who don't go around kissing dead Nelson Mandela's tushy, they should expect estimable presents. These are the ones I want:
Gossip by Samantha Cohen: Gossip can be malicious and harmful, so everyone should do it.
Cunt Norton by Dodie Bellamy: While the cannon is actually quite commendable, so is cutting, which is what Dodie does to one of the Norton anthologies.
Salamandrine: 8 Gothics by Joyelle McSweeney: According to Diane Sawyer, those divinely deathy Columbine boys "may have been a part of a dark, underground national phenomenon known as the Gothic movement and that some of those Goths may have killed before." So…
Begging For It by Alex Dimitrov: This boy was the subject of some criticism for his appropriation of some kind of AIDS-related art. But AIDS is silly, and Alex is sort of cute.
Butcher's Tree by Feng Chen: Her Spork book, "Blud," was really cute and sassy, so these poems probably will be as well.
Our Lady of the Flowers, Echoic by Chris Tysh: Jean Genet was a violent, cutthroat boy, and I want to see Divine and Dainty Feet in verse.
Haute Surveillance by Johannes Goransson: Johannes read an excerpt from this at the first and only ever Boyesque Reading (also featuring Peter Davis, Tyler Gobble, and me). It was violent, stylish, and totalitarian.
The Memoirs of JonBenet by Kathy Acker by Michael du Plessis: JonBenet Ramsey was cute and tragic. This year, she published a collection of rhymes for my cute and thoughtful Tumblr, Bambi Muse. I want to see how Michael portrays the pageant princess.
The Mysteries of Laura by Andrea Quinlan: It's a collection of poems that are Victorian and gothic, which is to say it's Charlotte, Emily, and Anne Bronte and Dylan Klebold and Eric Harris.
Mother Ghost by Casey Hannan: I like ghosts.
Thank You for the Window Office by Maged Zaher: He once composed a very pleasing poem about Paris Hilton.
Since the outside is important too, you should be decking a delightful outfit while you wait for Santa to come. For girls, picking out what to wear isn't arduous at all, as all girls should wear what they should wear all the time, a babydoll dress, a big but elegant hairbow, and ballet flats. For boys, choosing the correct clothes is much more vexing. Most boys hold the opinion that tight jeans and an ironic top are stylish. But this isn't so. Style should have meaning. Boy in the vintage Supersonics Shawn Kemp jersey, can you inform everyone who Shawn Kemp is? Are you aware that he once showed up to the Cavaliers training camp as an unacceptable fatty? No, you're not. Style, like literature, must have meaning. So, while anticipating Santa's arrival, all boys should wear a meaningful outfit, like the one that I am: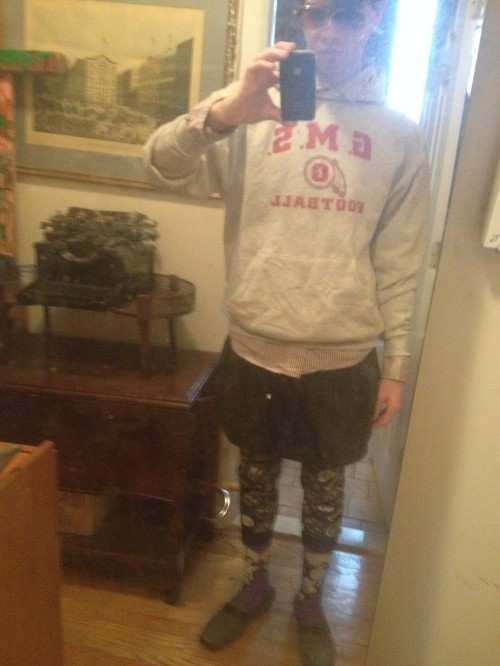 Sunnies because eyes should be kept secret.
Basketball hoodie that I stole from a friend, because basketball players are like monsters.
Purple-striped dress shirt because it's proper.
A skirt because boys should wear skirts.
Skull-and-crossbone pants because they're deathy.
Werewolf purple socks to match the purple dress shirt.
Buckled shoes because they're proper too.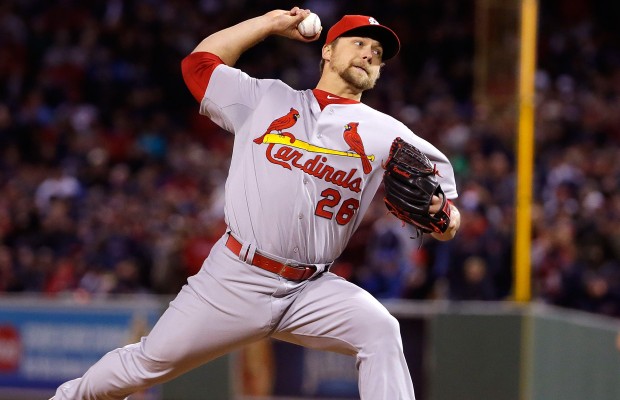 World Series baseball is quite comely. The competition is carried out outside in the fall, so leaves are dying and falling off trees, it's cold, and you get to start sporting layers, like multiple hoodies over a meaningful sweater over a button-down.
Moreover, baseball is slow, like an elderly person, and it's quiet, like a deaf-mute. Both the elderly and deaf-mute are meritorious. The elderly are grumpy and crabby (as one should be), and deaf-mutes don't talk and don't hear, which is optimal, as there is very little that  can be conveyed through talking and listening that can't be conveyed much more marvelously through a poem, a story, or a Tumblr post
In "[The crowd at the ball game],"  New Jersey boy William Carlos Williams compares the baseball setting to a totalitarian society, and that's sensational.
This World Series is especially estimable because the St. Louis Cardinals are participating, and they feature many cute boys, like the hard-throwing closer, Trevor Rosenthal, and the tough as a truck catcher, Yadi.
Presently, the Cardinals and the meat-head East Coast liberals that some refer to as the Boston Red Sox have each won two games. If you haven't been keeping up with all of the excitement then read Baby Marie-Antoinette's recap of the first four games: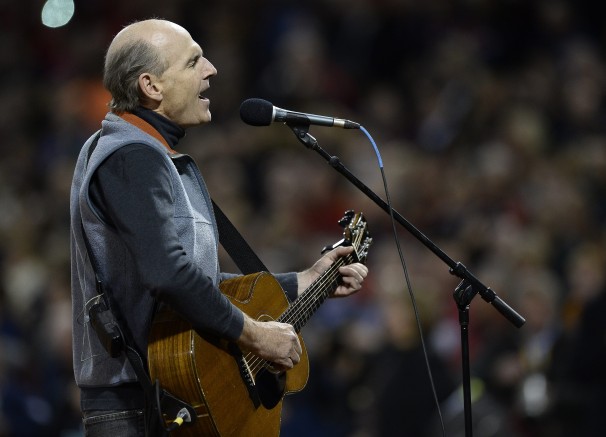 Last nighttime the St. Louis Cardinals beat the Boston Red Sox in game 2 of the World Series, and their triumph made Baby Marie-Antoinette less woeful than she was on Wednesday night when the Cardinals lost (which they're not supposed to do).
As with Baby Marie-Antoinette, I think the St. Louis Cardinals should win the World Series, and I also would be fine if their commendable closer, Trevor Rosenthal, wanted to be my boyfriend.
But this post right here sort of tackles another topic.
Before the bottom of the 7th inning, the Boston Red Sox commemorated all of the people who were blown up in the Boston Marathon.
They came out onto the field, and James Taylor sang a song.
This instance illustrated a theme from one of my favorite books, Frames of War by Judith Butler.
In this book, Judith distinguishes between greivable lives, like the people on the Boston Red Sox's field, and ungrievable lives, like the Muslim creatures who continue to be blown to bits.
Being a boy, I like violence. But I don't like phoniness, and it seemed to me to be really phony for all of these Boston Red Sox people to portray themselves as empathetic and moral-loaded and whatever other terms they might throw out, when, really, they're only empathetic and moral-loaded to those who subscribe to America's depiction of a grievable life.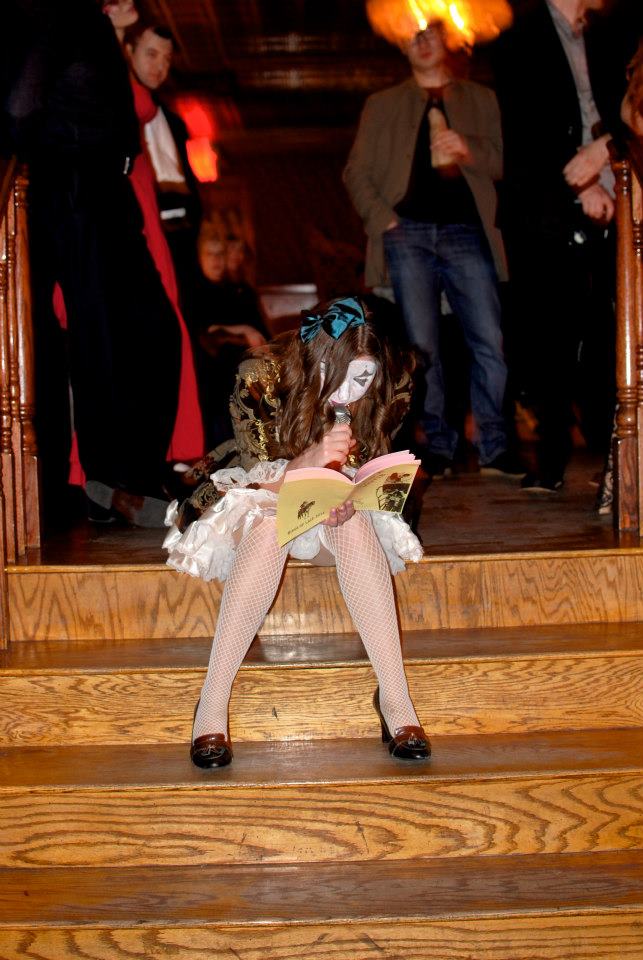 Today is the day a stork (supposedly one who was wearing a Miu Miu baby doll dress and a demure dark bow in her hair) delivered Carina Finn — poetess, visual artist, baker, and girl — to her mommy. Everyone should buy her a present. Here's some suggestions.
* A cupcake with lemon frosting.
* A cupcake with mint frosting.
* This Belle Ensemble.
* A cupcake with strawberry icing and sprinkles.
* A pair of sunnies or maybe even a pair of specs, like the kind Marilyn Monroe wears in How To Marry a Millionaire.
* This Belle Fairytale Journal.
* A chocolate cupcake with vanilla icing (if there are sprinkles on it then don't bother).
* And obviously this Belle Tiara because all admirable girls should absolutely be attired in a Belle Tiara.
***
You can read about some of the gossip concerning the birthday of Baby Carina (who's not interchangeable with Carina Finn, ok) on Bambi Muse right here.
Events
&
I Like __ A Lot
/
Comments Off

on Presents to Give Carina Finn For Her Birthday
August 16th, 2013 / 1:20 pm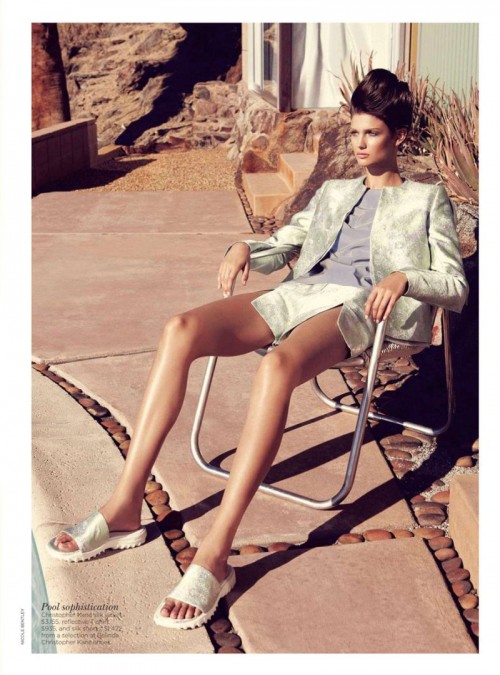 Much like Mary Tudor and Anne Boleyn, summer and I are the antithesis of amicable. I hate heat. I heat sweat. I hate seeing human skin. I hate swimming. I hate sunlight.  All of these tasteless traits are allotted a starring role in June, July, and August. Already, I want winter to come. The cold, the frost, snow, booties, mittens! Winter is sort of more elaborate than summer. While I never want to be a part of this world, (and by this world, I mean you-know-whos with you-know-what values), I really don't want to be a part of this world in the summer. Since Mary refused to recognize Anne as England's queen, I'll refuse to recognize summer. Instead, I'll read books (one, obviously, should always read books, since it's one of the utmost Christian activities), including:
FunSize&BiteSize by Ji Yoon Lee: She resembles a cute tiny kitty who everyone wants to pet, only no one actually does, since nearly everyone is aware that if you attempt to do such a thing then she'll bite you, and while that bite may not hurt much at first, eventually it'll turn into a disease much more fatal than the kind gay people get.  A preview: "Fetishize my misery / Not white American male's."
I Will Never Be Beautiful Enough to Make Us Beautiful Together by Mira Gonzalez:  She seems sad, depressed, moody, discontent, and all the other things that most anyone with any perceptiveness would be right now. She also has a rather captivating name. "Mira" is light and delicate, like a fine piece of fabric. "Gonzalez" is also the last name of the former Texas Ranger baseball player Juan Gonzalez. This All Star constantly hit home runs, which are quite dramatic. Preview: "i feel like 400 dead jellyfish in the middle of a freeway."
Lemonworld & Other Poems by Carina Finn: She's basically a modern princess (one of the poems in this book is titled "modern princess") who has come home for winter break to visit her mommy and sigh flippantly and eloquently at the whole entire universe. Carina likes yummy food (browniemix), fashion accessories, like ribbons, violence ("peace is a field of graves"), and the types of things Gertrude Stein would like — "16-year-old girl looking to buy a moustache." To spotlight her forceful mercuriality, Carina includes plentiful exclamation points, one of the most comely types of punctuation marks ever. A couplet: "don't trump the mode / there's a rabbit in the marshmallow!"
Pageant Rhymes by JonBenét Ramsey: Last summer, the cute Tumblr literary corporation Bambi Muse published Baby Adolf's Nursery Rhymes to much acclaim. Even presumed adversities (presumed, due to a certain trait) were laudatory. "Nothing to complain 'bout here," was Saul Bellow's hearty response. This summer, Bambi Muse will publish a collection of couplets by the sensational JonBenét. The verse touches on yummy victuals, fashion, and other things. A couplet: "Cheddar broccoli soup is most profound. / I was killed in my pink Barbie nightgown."
Taipei by Tao Lin: This  boy, though a straight boy, seems like a manipulative psychopath, so I'm invariably curious about his compositions.
TwERk by Latasha N. Nevada Diggs: A little bit ago, Joyelle McSweeney posted about these poems. From what I've read, they contain the qualities of a circus as well as a loud, unmitigated drag ball. Even the author's name teems with theatrics. Nevada is home to quite a few cinematic creations, like Casino (a mafia movie) and Liberace (a boy first and now a movie starring Michael Douglas and Matt Damon).
The Diary of Anne Frank by Anne Frank: I've read this book bountifully, obviously, and I will continue to do so during the summer months (and I'm not talking about the Sex and the City version either!) Caitlin Flanagan says Anne is an "imp, a brat, a narcissist, a sulker, a manipulator, a manic talker, a flirt, and a person who insisted on the rapt attention of everyone around her at one moment, and on the pure privacy that all misunderstood people demand at the next. "
Petocha/Chiflada by Monica McClure: The sharply chic Mona is publishing a bratty chapbook with wtfislongsdrugspress, a new press founded by Carina and Stephanie Berger, the princess of The Poetry Festival. It's invariably estimable when tiny, pretty girls work together on a particular project, it's kind of like an episode of The Babysitters Club.
The Bible: A ton of people are on a path to hell, but by perusing this text (not just for summer, either) they just may be able to take the trail to heaven, where Edie Sedgwick and Edith Sitwell convene tea parties.