birds llc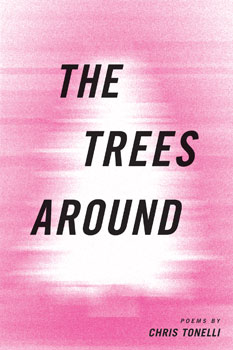 [Editor's Note: This review-as-conversation follows Joe Hall's interview with Birds, LLC]
Joe
Each poem in Chris Tonelli's first book The Trees Around gives me the impression of a brain thinking hard. It is sitting there, inert and silent; it is also about to explode from internal tension, so concerned this brain is with thought itself, contained nothingnesses, outer surfaces vs internal realities, sign and signified, circularities and…circles:
…The birdbath
had been the center of a small universe,

the attention anchored in each of us.
Now it stands like a messenger

arrived to find no recipient. Severe,
like the still unbudding trees–its solid

pedestal, the circular cement dish filled
with solid water, nerve-rackingly still.
How Trees plays out these tensions varies over its four sections. And so I think readers of this collection will be split in their allegiances between the Gravitron section (poems written from the perspective of a carnival ride!) and the rest due to their sheer difference. READ MORE >

The editors of Birds, LLC were kind enough to answer a few questions this summer about their unconventional editorial process and what went into Trees.
Joe Hall: How is Birds, LLC's editorial process different than that of other independent presses? & what made you want to foreground the editorial process?
Dan Boehl: The way we approached the editorial process was to say, "Let's be awesome and do dope shit." We knew that Chris and Elisa had great manuscripts, but they are not getting published anywhere. Once we decided on the authors, we looked at the manuscripts and decided to make them be awesome. It took a lot of work. Each manuscript was assigned an editor. Justin for Chris, and Sam for Elisa. After the assignments, all the Birds editors read both manuscripts and gave feedback. Then a new manuscript was created by the poet/editor combo, and we repeated the process.
Chris Tonelli: i think we're just kind of old fashioned. we want to spend a lot of time with the author and designer to help make that happen. each book is assigned a lead editor based on a variety of things, and he and the author, with feed back from the other four editors, work up new versions until everyone is satisfied. same with the design…the editors and designer work up versions to show the author and make changes as necessary. nothing fancy. but with so many friends unhappy with how their presses have edited, designed, and promoted their books, it does seem kind of novel…with a few exceptions.