charles bernstein
This is a conversation. It is 1:06am MST. We are both HTML Giant contributors. We are also both Asian. This is happening IRL.
Lily Hoang: So, imagine there's someone sitting at a café, smoking a cigarette, drinking a fucking Americano, reading David Foster Wallace. What do you think?
Jackie Wang: Who is this wienerschnitzel? Lemme guess. A white boy with lots of feelings.
LH: Haha, no, it's me: I'm in white boy drag!
JW: White boy drag?! That's an interesting term. What exactly does that mean? You're not going to kill yourself and make everyone else feel bad about it, are you? Cause that would be taking the performance a little too far!
LH: Well, it's hard being a white boy, I gotta admit. Like you don't know how hard it is. The guilt. The burden of genius. All the privileges. It's hard to balance, keep the head sane, ya know?
JW: You know what I hate about white boys? They're always complaining about how they can't get laid, but it seems obvious to me – like – why they can't get laid. Should someone tell them? Should I be the one to tell them?
I was really thrilled to read all the responses my last post generated; thanks to everyone who chimed in! And I wanted to post something that clarifies some of the things I wrote there, since it's apparent I caused no small amount of confusion…
The poet Peter Seaton died on May 18, 2010.
A month later, the POETICS listserv (in a moving email from Michael Gottlieb) and Silliman's Blog passed the word. Who heard? [UPDATE: Some great poets. See new appendix at bottom with news from Miles Champion and others.] I didn't. Until ten days ago, I'd never heard of Seaton, tho Lewis Freedman is a fan of his third book, THE SON MASTER (which I presumably passed over many times at the great Troubadour Books.) It's still available (for $4!) from SPD, where you can also get (94!) copies of his third book, CRISIS INTERVENTION (Tuumba 45, 1983). You can read both at (Craig Dworkin's / what would we do without) Eclipse, where you can also read (and buy) Seaton's first book, AGREEMENT. There's a substantial PennSound page with a memorable picture of Seaton and his bride, Judy, on their wedding day in Summer 1977: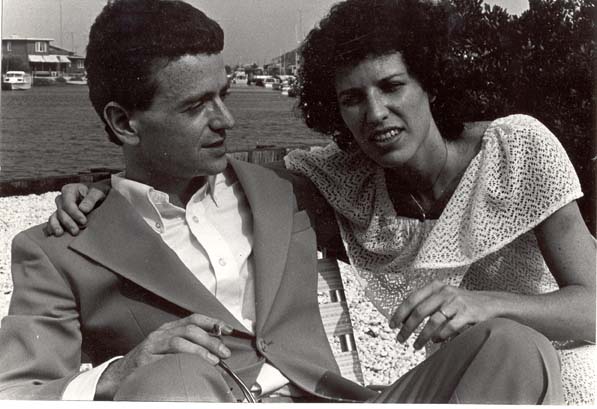 That Spring a poem had appeared in THIS 8. Four pages of unbroken prose, his hallmark: tho this first* publication (like his first book) is not yet justified as later poems (and books) would be. The poem, "Men on the Roof," seems to start in the middle of some endings:
He will feel planes they set to calm the second ending. The pit is latest. Under him they might have voices necessary enough that's smoke, strange solitude, threats, if not the passion sight or order that noise gets moist. Some watch conception. A voice there has him restored. Pronouns turned masturbation into living without steps. Fingers regret travel and arm resources. Nothing would close or lift a field reminding the means something, everything, is without the pleasant tip's level. Even space lost halls and that faithful darkness everlasting, seeing no expression there is that approaching place that didn't have me long. I, I, I, I should matter if one needed the noise here. Shadow that's light. It's others seeing the quick installment, no desert that suffering you'll keep, which noise makes gently, would direction back him, they know but no case might do instead first flies. Unchanging form is afterwards anything not without matter. And that remedy without flight softening comes while either one never received business that business many know doesn't with perhaps that here some putting me backs the order where it turns long crossed speculation to knowing the ratified count. Words are words, and one trembling tradesman would help creatures compelled without words obscure story of a hot spot.
The page goes on, but this line ending in spot makes a good stop. This sentence. For Seaton is a poet of the sentence. Whether the new sentence or the sentence is a lonely place. As far as I can see, Silliman doesn't mention Seaton in The New Sentence, and I can't say for sure that Lish would like him, but I think Lutz would.  In Seaton, not only "Words are words" but "without words obscure story" but also: "hot spot." Seaton's sentences: see Stein, steeled surrealism, Stan Brakhage (an avowed influence). See later Stephen Rodefer, especially FOUR LECTURES ("My unlessening lust for my own copy of Stephen Rodefer's Four Lectures is uninterrupted."–Clay Banes) and the "Preface" to EMERGENCY MEASURES, subtitled "In the American Tree and Out the Other," READ MORE >