HTMLGIANT / Clarice Lispector
Guest Posts
"I'm not sure why I've written so many flat male characters. I think it's more that I have wanted to pay attention to the female characters and so I have."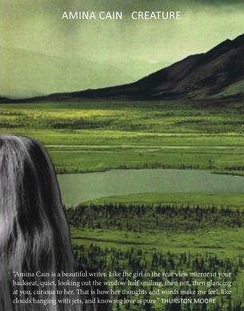 Kate Zambreno first changed my life when she wrote Heroines, and second when she wrote on her Facebook page that she can't wait to read Amina Cain's new book. I read Creature as soon as it was released and it also changed me, but in a familiar way. I felt instantly connected to Amina's writing and her characters in particular—the first person narrative, the painted landscape of the mind, the abstract settings. I had only discovered Clarice Lispector a year before, and I felt a resonance between the two. Part of the reason I love Lispector's writing so much is her ability to reach so far into her characters' psyches. Amina Cain, in a completely different way, also reaches into her characters' psyches. Amina's way feels much more meditative and connected to the earth. Lispector is often very much "above" the earth. Amina's stories are mysterious, full of curiosity, and very dark and then suddenly extremely funny. When I saw the name Clarice used as one of the character's names in a story, I knew it was no coincidence. I also knew I had to contact Amina Cain immediately.
***

LW: When did you start writing?
AC: I began writing during my last year of college. I started out as an acting major, which I quickly gave up, switching to Women's Studies. I knew I wouldn't necessarily do anything specific with this major, but I was interested in the classes. Then, when I took my first creative writing workshop, I knew I had found what I wanted to do with my life.
There are many references to Clarice Lispector in your work and in your story Queen you quote from The Hour of The Star: "forgive me if I add something more about myself since my identity is not very clear, and when I write I find that I possess a destiny. Who has not asked himself at one time or other: am I a monster or is this what it means to be a person?" When did you first discover Clarice Lispector? Would you say you connect similarly to her themes of the metaphysical experience of "finding yourself" through the process of writing?
I relate very much to the idea of finding oneself through writing, though what "oneself" is I think is malleable. And that Buddhist idea that to study the self is to find the self and to find the self is to lose the self resonates a lot for me. I've been curious lately about why I am so driven to write first person narratives (that are both not me and me) as opposed to third person, for instance. It's not that I want to tell a story of myself, or even of another, it's that I want to inhabit something—some feeling, some space (physical or psychic, and yes, even just the space of writing), or voice, and the first person, for whatever reasons, allows me to do this in the strongest way. I certainly think that Lispector's fiction does this too, much more so than simply telling a story. She creates these charged psychic spaces we can walk into as readers. I first read Lispector the second time I lived in Chicago. I checked out from the library Family Ties, a collection of short stories. Then The Hour of the Star.
So many of your stories seem to be about a central narrator. They can be separate and yet they feel a part of a continuous story. Can you talk about the narrator of your stories? Do you consider her a persona? Do you see her as existing in each of your stories? Or is she different, a new character, each time?
I see the narrators in Creature as different beings but as sharing a single heartbeat. I wanted them to be both separate and connected. In Tisa Bryant's amazing Unexplained Presence a beautiful continuum comes into being, or else a soft light is shone on connections already present between people who existed throughout time but never knew each other, or even knew to know each other. I was so struck by that when I first read Bryant's book, and I think the idea of the continuum has stayed with me since, though of course in a different way.  
There is a quality of bleakness to your characters, or to quote from one of your titles, "a threadless way" about them. They are very honest about the fact that they don't know what they are doing or how to connect to others. (And yet, because of this, they do know—like what you were saying about finding the self to lose the self, etc.)
This is a sharp contrast to what we are used to seeing in a lot of contemporary literature. (Of course, "flawed characters" are everywhere—but usually they don't know they are flawed and when they do, their revelation is fleeting or they step into denial.) Your characters have the ability to speak, feel, and live out their insecurities, distastes, annoyances, melancholy, and this gives them a strange hopefulness and positivity. 
I think that most of my characters are searching for something, are always in process with the world around them, and that much of what gets expressed in the stories are the things that are usually not said, supposed to be said, voiced. In fiction, I'm as interested in an inner life as an outer one, and I want to write that life. I think it can propel a narrative forward as much as plot can. There is drama there, and conflict, and relationship, and even setting. I'm glad that the characters feel hopeful to you. Sometimes there is a focus on the sadness and vulnerability in my stories, elements that are certainly present, but to me there is also absurdity and humor. READ MORE >
Interviews
/
2 Comments
June 18th, 2014 / 10:00 am
Anonymous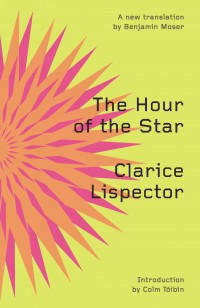 The Hour of the Star
by Clarice Lispector
New Directions, 2011
128 pages / $12.95 buy from Amazon
Rating: 7.1
The Hour of the Star is about a poor, unattractive Brazilian woman named Macabéa who seems unaware of the doom and misery which (according to the author) characterize her entire existence. Did Lispector know a woman like this? Was Lispector like this when she was young? Was she like this even until her death? Nobody knows. Even if you don't know anybody like this, you can imagine one, thanks to this book. The miracles of fiction. The glories of speculative mimesis.
Is it conceivable that the thoughts of readers will lead them toward sympathy for women in unenviable circumstances? Yes. Is it conceivable that the thoughts of readers will be unaltered and the book will act more as an acknowledgment of extant attitudes rather than a catalyst for new attitudes? Yes. Is it possible to know which is more likely? I don't know. Consult the afterword. Compose a letter to the publisher in which you refer to the afterword.
The style will not appear new unless you haven't read much 20th century literary fiction. Meta-flowage, what-have-you. It is easy to read, unlike some meta-flow-ers. Not that style matters. Style doesn't matter, because it is indistinguishable from anything else. One can only distinguish things because they have been styled in a distinguishable manner. Therefore, when we talk about style, we only talk about the thing which is styled and nothing else. "Style" therefore might as well be just another word for "thing." The atoms are gathering themselves back together again and before you know it, we'll all be psychic skateboarders on mysterious Egyptian vert ramps. Lispector won't be there. Macabéa might be though.
Reviews
/
1 Comment
April 3rd, 2014 / 12:00 pm
Ken Baumann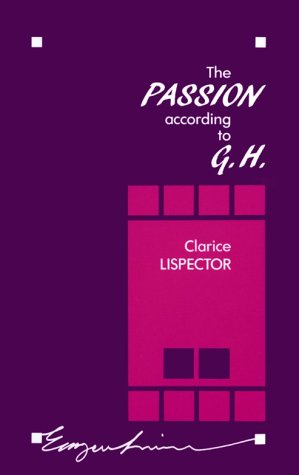 all hope abandon, ye who enter here
-The Divine Comedy
Dante, in 1321, put forth a Hell without hope. Or a Hell full of realization? of the act of abandonment?
A world wholly alive has a Hellish power.
-The Passion According to G.H.
G.H., a Brazilian dilettante–a word appearing around 1850 in Italian, Dante's shaped language–begins her accounting with a plea and an invitation: she must share this, her story. Her passion. And she'd like to hold your hand.
Reviews
/
40 Comments
January 18th, 2010 / 1:22 pm
Amy McDaniel
—
To continue the discussion of theory and creative writing, a little excerpt from a Lorrie Moore piece in NYRB about mid-century Latin American writer Clarice Lispector:
"In France she was viewed as a philosopher–and at times it does seem that calling her a novelist is a little like calling Plato a playwright–but when she attended a literary conference where her work was discussed in theoretical terms, Lispector left the panel early, saying later that not understanding a word that was being said about her own work made her so hungry that she had to go home and eat an entire chicken."