cooper renner
The new JMWW is a mind-fuck. How so? It gives us an essay ("MFA my way: In Writing, As in Life, You Must Have Character") by Christine Stewart. She drops us three rules to creating literary work that will, in her words, "…makes my heart beat faster, that promises to cast a spell over me." This advice:
How to do this? It's pretty simple but I see people forget these basics all the time:

1) You must have a good handle on your main character.

2) Your main character must want something.

3) Your main character must do something.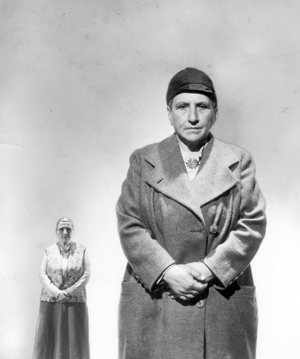 I find Stewart's "cast a spell over me" requirements as a worthy goal for a book. I also look for this type of literature, but I respectfully disagree with Stewart's advice on how to create such a thing. While I have certainly dropped into fictional dreams due to character development, I have also been spun into spells by glow arrangements of words. Possibly I am confused on genre. Stewart opens with a poetry group situation, but is maybe writing only about mainstream fiction? Anyway, this is why JMWW is a mind-fuck. It's an interesting essay to place along works (see below, among others) that do not meet the character sketch, character driven, character-with-clear motivation template. This juxtaposition fascinated me, and made for a verve/swerve issue. Click.
That We Never Knew This Reaches Upward, Assists the Room Grew by Andrew Borgstrom
From Michael Palmer vs. Michael Palmer (2) by Michael Leong
Damper by Cooper Renner
Ark Codex 0-01-08 by (?)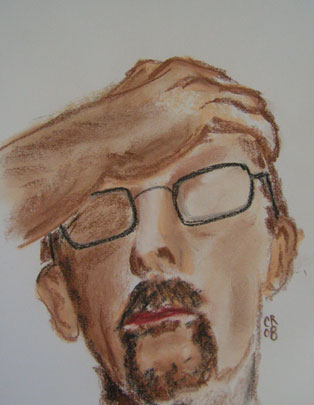 Knowing of the existence of Cooper Renner in the world makes me feel a little better a lot of days. For all the baggage that comes along with certain types of figureheads or editors, Cooper is not only one of the quickest and most likable sorts of people around, he also has carried the aesthetic of the online lit journal elimae into a benchmark not only for great online writing, but for post-Lish, sentence-driven new work. Elimae, created and launched by Deron Bauman, has been under Renner's care since the end of 2004, and continually updates once each month with slews of the new. Cooper also is involved with Ravenna Press, who has released books by Kim Chinquee, Norman Lock, Brandon Hobson, and many others important language-driven authors.
In addition to all this, Cooper is also a writer doing the new, with a recent book out of his own poems, Mosefolket, some of which appeared in Lish's the Quarterly.
A truly massive person (fit in a small frame) I talked to Cooper about a lot of the above, including his editorial leanings, correspondences, future works, and so on.
1. You were in the Quarterly years ago and I believe had mail correspondence with Lish at points? How did his enterprise or presence or etc. affect you as a writer? Who else has affected you?
I am still in contact with Lish. In fact I had a postcard from him either yesterday or Monday. We write back and forth pretty much all the time. I've talked to him a few times on the phone, but we've never met in person. Most of our contact is on the page. Gordon and Deron Bauman are the two folks who really showed me how to edit my own stuff, zeroing in on the strong language rather than what I 'wanted to say'. They taught me how to divorce any sociological idea of content from the artistry of how the words work.
More after the break…