fence books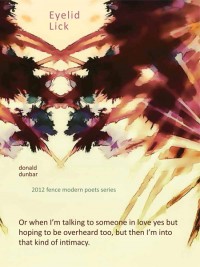 Eyelid Lick
by Donald Dunbar
Fence Books, 2012
88 pages / $15.95 buy from Fence Books
1. The Table(s) of Contents might be my favorite part. Or maybe it's the few pages after the Table(s) of Contents, the part where you realize that formally, Eyelid Lick is fucking everything else up.
2. Formally, I can only compare Eyelid Lick to A New Quarantine Will Take My Place. There aren't "poems" and it doesn't really have sections. There are regions of the book that are three to four pages long and that are like themselves, and not really like the rest of the book, but still more like the rest of the book, than writing that is in any other book.
3. Tonally, Eyelid Lick is all over the place. It can be funny or sad or violent or sincere or religious or irreligious, but it's always dancing on emotions, linguistically and sonically engaging, and beautiful.
4. If the book has an analogue to doing drugs, it would alternate a different drug every 4-6 hours for 2-3 days in a row. In some respects this is exhausting, but at the same time, a really exciting and unique vacation from Contemporary American Poetry.
5.
And in case I die, I paid one point two million
for this mausoleum, and you're telling me
it's only partially real? I paid a cool four
million for this airplane and you're telling me
it's an angel? I spent a week's worth of food stamps
on a week's worth of food and here we are:
shot to death in an electronics store? Smeared across
some new Iraqi highway? On the porch, electric green
from the reflected plants, imagining the blood clot
that stops the brain?
6. In real life, Donald Dunbar is one of the most generous and beautiful people that I know. He regularly cooks meals for friends. I have slept on his couch. I know lots of people who've slept on his couch. He would probably let me move in and build a blanketfort in his living room if I needed a place to live bad enough.
7. I want to say that maybe the exhaustion I felt when reading the book might translate into tedium for some people. Some people might also think that sleeping on someone's couch is undignified and that no one over the age of 8 should have a blanketfort in the living room. But fuck those people. This book is for drinking three more PBRs, smoking a bowl, and waking up on a couch or in a blanketfort. This is not the kind of poetry that encourages taking a cab home early.
8. There's something vital about Eyelid Lick and the way the book seems to want to be read wildly and to the point of exhaustion.
9.
America, mute informant,
pulse of the goat, America,
the slowest surgery,
the flowering land of God,
I eat all your words
and turn your children into knives.
10. One of my favorite conversations that I've had with Donald Dunbar includes this bit of dialogue:
"Outside of Brooklyn, nobody fucks with poetry from Portland."
"What about San Francisco?"
"Ok, yeah. San Francisco can fuck us, but only in our pee-holes." READ MORE >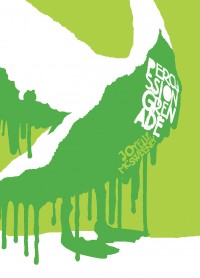 Percussion Grenade
by Joyelle McSweeney
Fence Books, 2012
96 pages / $15.95 buy from Fence
1. "Hold a cheerleader's cadaver up to Nature."
Percussion Grenade is full of these lines that leave me a little breathless, a little confused, satisfied, sad, all sorts of things. I think the dead cheerleader is an accusation: evidence against the concept of nature.
2. "I maketh you lie down in fracked pastures
in central Pennsylvania
o my blood boils, my tapwater burns"
My favorite part of this book is The Contagious Knives: A Necropastoral Farce which made me put down the book and step away, walk around the block a few times, and then finish the book.
3. Since Kyle Minor wrote on this book here I'm going to try to focus on the The Contagious Knives and a few other sections of the book that he didn't focus on.
4. I think some concepts that Tim Morton uses in his books Ecology Without Nature and The Ecological Thought are useful for thinking about the necropastoral. The essays Dark Ecology of the Elegy and Queer Ecology are also interesting to read along side Percussion Grenade. The authors are not strangers, and other people have talked about them together.
5. Object Oriented Ontology and Speculative Realism might also make an interesting groundwork for looking at Percussion Grenade, the rest of McSweeney's work, and the Necropastoral, but I'm not sure what to say about it at this point.
6. "The ecological thought includes negativity and irony, ugliness and horror." This quote from Tim Morton seems like it applies to the Necropastoral of Percussion Grenade.
7. "To appear to be acting masculine, you aren't masculine. Masculine is Natural. Natural is masculine. Rugged, bleak, masculine Nature defines itself through contrasts: outdoorsy and extraverted, heterosexual, able-bodied—disability is nowhere to be seen; physical wholeness and coordination are valued over spontaneity." From Queer Ecology
8. McSweeney has a particular interest in the marginalized, the other, all of the opposites of able-bodied, heterosexual, extraverted. She's interested in how a particular kind of power or ability is derived from instability. The Contagious Knives is full of allusions to Tiresias, the archetypal seer, who happens to be transgender and blind.
9. "My Prius drives to the reservoir for some system downtime 
without me: to blow off steam. There runoff collects
from picturesque slopes and shops. O Jeunesse, Dream
Prius, Brainless, Brained."
Mont Blanc (lines 1-4) – Joyelle McSweeney
"The everlasting universe of things
Flows through the mind, and rolls its rapid waves,
Now dark—now glittering—now reflecting gloom—
Now lending splendour, where from secret springs
The source of human thought its tribute brings
Of waters…"
Mont Blanc (lines 1-6) – Percy Bysshe Shelley
10. The Prius replaces the mountain and Ravine of Arve as object of aesthetic and philosophical contemplation. The Prius becomes a sort of liaison to the non-human, communing with the runoff. READ MORE >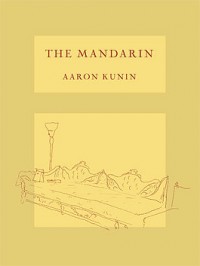 The Mandarin
by Aaron Kunin
Fence Books, 2008
209 pages / $17.95 buy from Fence
1) Language is a form of disobedience.
2) Or: words have no loyalty. Or: language facilitates perversity. Or: to speak is to be reminded of language's inescapable techné. Or: to employ language is to court malfunction. Or: to write is to run the risk of making more sense than you ever intended. Or: language is always on the cusp of being carried away. Or: talking is almost always talking back. Or: language was designed in emulation of water, a force, a flow without shape but the rare ability to hunt direction down and wear it out. Or: nothing could be more nonsensical than if our every utterance were understood literally. Or: you teach a child to say "no" at your own peril; those early "no"'s are no ventriloquism act. Or: the so-called precise word is precisely that, so-called, a chimera. Or: to speak is to confuse irrevocably the matter of whether one is announcing something before it happens, or whether one is announcing something as a way of compelling its presence to coincide with its occurrence.
3) Aaron Kunin's novel The Mandarin is a self-conscious (perhaps even sentient) construction of language, some phenomena I wish to differentiate from the notion of a linguistic construction… For I want the suggest that The Mandarin is more like a self-organizing discourse than it is a "work" composed-slash-authored. The Mandarin is thus less a novel as commonly defined in terms of "long story" than it is an exercise in novel-ese, or the novel as style. This is not to say that either text or author fail in any way to fully realize whatever metaphysical potential is latent in the novel-as-form. Rather, what I want to claim for this book is that it is a brilliant, occasionally scathing, yet ultimately poignant tribute to the inherent limitations of an imagination whose eide and eidola alike are utterly—dimensionally—verbal.
4) Or: The Mandarin is an exceptionally manneristic "novel of manners."
5) Or: if you squint at it in the proper way, this is a conceptual novel. Kunin supplies a 3-page synopsis that you need not read past, excepting you wish to satisfy your curiosity regarding the novel's execution. Quoted in full, however, I find that this explanation is just a scheme for disclosing a question that, in order to be dramatic, cannot remain undisclosed; that is, must be secret, only formerly. Is this synopsis a lie?
6) In a sense, the book is naming itself every time one look at its cover or spine, insisting that it has to remind you that it is a novel, a book that has to be taken "seriously." And, as much as this title's prodding is about a kind of salesmanship, the relationship between word and world is more suspect than that. Most "things" can't speak the way a book can, nor do they suffer the arc of the Lomans. (The main character and narrator upon whom Kunin depends is a Willy.)
7) And what is a mandarin anyway? A living etymology, thus a kind of fossil, a word that survives despite going largely unused; a museum exhibit that does not have to be put on wheels because it installs itself everywhere around you the moment you decide to judge it into being. (And every time you recall Henry James.). Mandarin: it's a pejorative, and what makes our mandarins so worthy of disdain—and so funny—is the complete un-self-consciousness (rather: blind narcissism) of the pose. Such is pedantry, this trying-so-hard-all-you-do-is-drown-flailing-in-gelatinous-effort. Even if taken as an adjective, "mandarin" is a point-of-view compact in its three syllables. An evaluation, and a coping with something which looks familiar but which we, uttering, would like to believe has naught to do with us or our position. But the use of a term like this is a power-play: it elevates us, uttering, to some superior vantage from which we can describe a sham noble. And phoniness makes of such rare essence the cheapest cardboard: what a noun like "elitism" names, just as that The here qualifies and specifies. So I think.
8) As one reads, one discovers that The Mandarin is a novel-in-conversation, but it could not be more different in tone and (apparent) intent than similar "experiments" such as Duras' The Square or Gaddis' JR, to take but two examples. For the exchanges here do not move toward revelation via vaguely Socratic gestures; unlike The Square, very little is asked in The Mandarin. Instead, much is pronounced. But neither does the narrator evince an obsessive's commitment to "how people really talk", the kind of photorealistic prose that, in Gaddis, turns everything into plastic and a kind of dense, you'll-knock-your-knee-or-elbow-against-it nausea.
9) Rather, Kunin, through careful application of a few linguistic effects, seems to be after a parody of novelistic prosody. Example: here are "characters" who speak without relying on contractions.
"I have written a play for Natasha," said Hallamore. (9) "Without our burnt offerings," said Mercy, "St. Peter would have to eat in the kitchen." "St. Peter must love abandoned restaurants, because he made so many of them," said Hallamore. (13)
Perhaps it is not so much that contractions are absent here, absence in this instance implying a forgetting, or a negligence: a grammar active, but only in the form of exiting / having left the stage. Rather, the contractions feel avoided. They have been deliberately excluded, so long as the characters retain control of their emotions or do slip from the perch of their poses.
And there's softness for you: shit. [Mercy speaking] (5)
10) Grammar is being acted upon. All of which reinforces or superimposes again, needlessly, the presence of authors, narrators and characters (the narrator, Willy, writes novels that may also be soporifics), the last two of which are authors manqué anyway. READ MORE >
1. Facebook extends my Xmas list each time I look at it, today: Skull with skull case [via Lincoln M.] & the Nieves catalog [via Molly B.].
2. The 8th issue of Harp & Altar is out.
3. Jon Cotner & Andy Fitch + Grace Krilanovich reading in LA at The Poetic Research Bureau this Saturday, December 11 @ 951 Chung King Rd in Chinatown!
4. 1993 Paris Review Interview w/ Fran Lebowitz: "I write so slowly that I could write in my own blood without hurting myself."
5. Exciting news from Fence:
Fence Books is now a record label. We're at work on audio-releases from Douglas Kearney, reading thrillingly from his book The Black Automaton, and Ariana Reines, with a guest-starring Lili Taylor performing Reines' poem "Save the World," plus a mysterious B-side, in anticipation of the 2011 publication of her book Mercury. Look for these in early 2011. And if you're in NYC, don't miss Ariana's upcoming appearances.
6. Anyone see Black Swan? OK?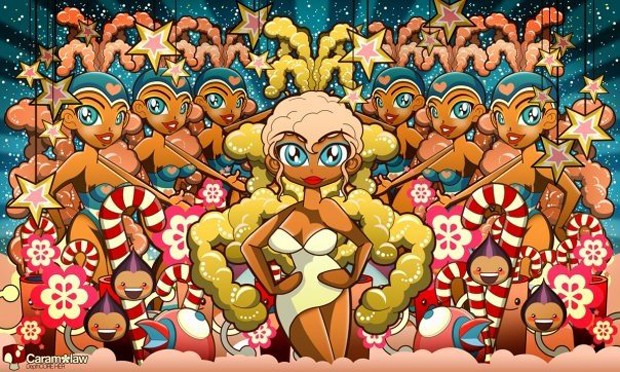 1. Metazen is putting together an ebook that will then be sold for Christmas, with all proceeds going to an orphanage in Cambodia. Check it out, submit, and consider picking up a copy in support when it arrives.
2. Fence has just unveiled their 3 newest titles: Nick Demske by Nick Demske; The Network by Jena Osman; English Fragments: A Brief History of the Soul by Martin Corless-Smith; all of which look quite excellent and are available as a package now for $30.
3. Mike Topp's Sasquatch Stories is out now from Publishing Genius, with cover art by Tao Lin.