Jean Baudrillard

On the day when al-Qaeda toppled the Twin Towers with commercial airplanes I was very upset, not because thousands of Americans had just died, but because the snack that my mommy always had in the car when she picked me up form school — a yummy, delicious, chocolaty, nutty, and creamy Snickers — had melted.
A lot of people seem to be very perturbed by 9/11, and these types are, according to me, phony, stupid, or both. What turns 9/11 into a tragedy isn't that tons of humans beings die. Tons of humans beings die all of the time. Right now around 5,000 Syrians are dying per month, and only a tiny percentage of Americans seem to care enough to do anything. 9/11, though, is different because, as Noam Chomsky says, "For the first time, the guns have been directed the other way. That is a dramatic change." Normally, America's the country who gets to be grandly violent, like when Bill Clinton sundered a Sudanese pharmaceutical plant, decimating their medicine supplies, causing thousands to die from treatable diseases. But on 9/11 the opposite occurred. The country whose interests, according to Woodrow Wilson, "must march forward" got gashed. People — white people, Capitalist people, Western people — who weren't supposed to die, died.
The controversial French boy, Jean Baudrillard, says that 9/11 made our "fantasies real." All of those terrific and terrifying disaster movies — Independence Day, the Transformers, Schindler's List — had tumbled into America's tangible territory. The acts actually annihilated  USA bodies. But just because Jean used the word "real" doesn't make it so. For Jean, "reality only exists to the extent that we can intervene in it. But when something emerges that we cannot change in any way, even with the imagination, something that escapes all representation, then it simply expels us." Just as I can't kiss that cute Nazi boy in Schindler's List, nobody was able to cease the Twin Towers' collapse.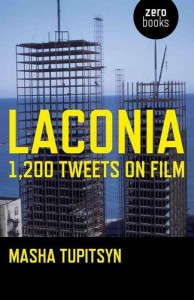 When I first read Masha Tupitsyn's hybrid-genre book Beauty Talk and Monsters (Semiotexte), I was completely floored by it. So I was excited to read her new book LACONIA: 1,200 Tweets on Film (Zero Books)—a book of aphoristic film and media commentary written in the spirit of cultural observers like Chris Marker. There is something beautiful about Masha's way of "reading" culture, how she honors the connections and resonances of the media she encounters, the way it is processed, assimilated and re-invented when it is filtered through her perception; intermingling with specific memories and preoccupations. Masha integrates the subjective and the critical in a way that demonstrates the specificity of our encounters with media.  Both Beauty Talk and LACONIA could be described as a literary approach to film criticism, but it's also fitting to describe the works as a cinematic approach to literary writing. In Beauty Talk, narrative and a criticism are tightly interwoven. As stories, the essays are stunning; as critical analysis, sharp. Masha's recent book LACONIA reminds me of the ways in which the viewer is also a meaning-maker, a participant critic.
#481. IN AMERICA, WHEN YOU ATTACK THE CULTURE INDUSTRY, YOU ARE CALLED CYNICAL. BUT IT SHOULD BE THE OTHER WAY AROUND. *
"Postmodern irony means never having to say you are sorry. Or that you are serious."
–Suzanne Moore, Looking for Trouble
Cultural studies is on the rise. The canon is dying, or at least is seriously ill. Critics are now turning their attention to the media that surrounds them—sitcoms, Hollywood films, magazines, pop music, kitsch, reality TV, fashion trends, internet memes. Repulsed by the academic elitism of cultural criticism as well as the notion that there are certain texts that are unworthy of the critic's attention, the proponents of cultural studies have launched a vitriolic attack on the hierarchical distinction between high culture and low culture. The exclusion of "low" and popular culture and the privileging of refined culture and art that caters to a specialized/trained audience has its problems: it reinforces the idea that art is an "autonomous" institution while implicitly promoting classism, eliminating the perspective of lower class folk and ignoring subaltern cultural production and engagement (Adorno famously denounced jazz music).
READ MORE >