joanna ruocco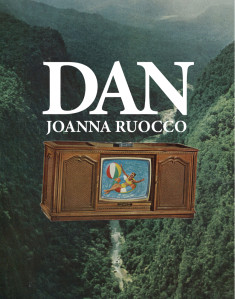 Dan
by Joanna Ruocco
Dorothy, A Publishing Project, Oct. 2014
152 pages / $16  Buy from Dorothy or Amazon
Joanna Ruocco is a word wonder maker and in Ruocco's newest novel, Dan (due out from Dorothy, A Publishing Project Oct. 1st) she has managed to not only build unbelievable structures with words but to also build an actual city. This city is Dan. And it is a place we have been before. Or maybe we haven't. It's a place shoved so far back into the recesses of the mind that only through reading her words do we realize that those feelings, the emotions she constructs, are already within. Reading Dan is like having a bot worm medically expelled from your body. You suspected there was something wrong, something in you that wasn't right, and by mysterious ways of medical linguistics Ruocco has not only identified the parasite, but found it in the deep recesses of your soul and pulled it out through your tear ducts for you to see and examine. Or perhaps reading Dan is more like the act of having your ears cleaned. With each page a tube is stuck deeper within your drum and Dan mounts, pushing warm alien water into your skull, pulling out chunks of orange gunk so big you end up questioning your true size. I conceived my ear canal to be X size. But, my god, my ear canal is triple X. And dear lord can I hear better. After reading Dan you'll hear things in the way you speak, in the way others speak, that you simply did not hear before.
Within the narrative many of these linguistic nuggets come by way of male characters giving of prescriptive advice. Our protagonist's father, Zeno Zuzzo, looks over at a group of loitering ladies and warns:
"Do you see the ears?…Those women are conspiring, always conspiring. Why else would they need ears so close to their mouths? They're whispering things to themselves, Melba. They're stirring themselves up."
These bizarre, otherworldly observations are gifted to us throughout. They are occurrences that could only take place in Dan, or are perhaps what make up Dan itself.
Thus Ruocco leads us inside ourselves by way of location. Dan is a small male-heavy hamlet in the middle of somewhere. The residents of Dan know of nowhere. Or maybe there is nowhere else. Some residents do leave, but they don't so much leave as disappear. Our charismatic protagonist, Melba Zuzzo, for a period of time thought Dan was island. And maybe it is. Or maybe isn't. In Dan, things are turned not upside down, but sideways, just tilted enough so we can recognize them. The only other female we meet in Dan is Melba's mother, Gigi Zuzzo, who tirelessly requests the absurd. Melba, did you have the hair on your forearms removed? When was the last time you went shopping? Gigi Zuzzo says, Melba you do not shop enough and this will be the end of you. How else is one to expand their horizons except by way of consumerism? The conversations that Melba has with Gigi, like all the conversations Melba has, are at once absurd but intimately familiar. Have I had this conversation with my mother before? Yes. Did she ask me to remove the hair from my forearms? No. But everything else was the same. The cadence, the rhythm, the sudden carping turn. It's like Ruocco has been eavesdropping on me and my mother my entire life, and given my conversations back to me in Dan, de-familiarizing them just enough for me to recognize them.
Ever since its first appearance in 2008, Birkensnake has been one of my favorite fiction journals. It always includes quality work, and is always made available online in addition to its very pretty print editions (a model that I wish more print journals would adopt).
Issue #5 is now online here. And the print edition, which is now completely free (yes!), is available here. (All of the back issues are also available for free now, too—though note that donations are welcome.)
Meanwhile, Birkensnake #6—which will be edited by seven different pairs of editors, and released in seven different editions—is currently accepting submissions.
Finally, here's a Black Clock interview with Brian Conn and Joanna Ruocco, Birkensnake's founders and editors.
I received an extra copy of the wonderful Joanna Ruocco's new novel The Mothering Coven, which has just been released from Ellipsis Press.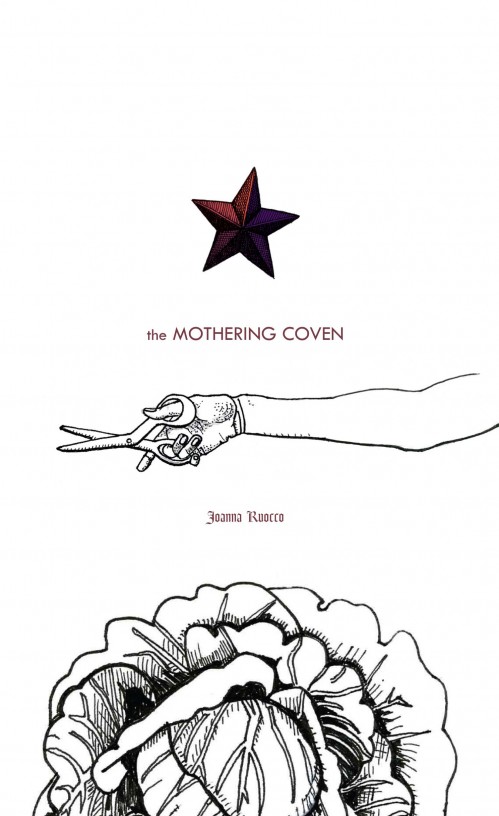 Robert Coover said, "Ruocco's Coven is an engagingly whimsical tale, graceful and inventive, with its own distinctive lexicon, reminiscent of the works of such writers as Ronald Firbank or Coleman Dowell. It toys with language and knowledge somewhat like an emerald-eyed black cat in the book toys with a large bird. Batting it about playfully. Coaxing something new out of it." Nice. Having read Joanna's work in many other places, and thrilled by it, I couldn't be much more excited to dig into this.
On page 22 of the book, there is this sentence: "Neck pimples," yells Ms. Kidney.
Ms. Kidney seems to me a great character name. Nothing like a good character name, don't you think?
Leave a comment on this post with your favorite or one of your favorite character names, from any book ever. The name that tickles best, to me, will win a copy of Joanna's radical new book. Contest goes till Friday morning. Thanks!
In the meantime, you can still buy Joanna's book, along with the new title from Norman Lock, and the amazing two first releases by Ellipsis (Eugene Marten and Eugene Lim!), each individually, or for a limited time all together for $40, shipping included. Too good.
Two new titles from the incredible Ellipsis Press are now on presale. After their first two titles by Eugene Marten and Eugene Lim being two of my favorite new releases last year, Ellipsis is already a monolith, and I've been drooling for these both since they were announced. For those that for some reason did not pick up the first two, you can get the entire set of 4 Ellipsis titles together in a bundle for $40, a ridiculously nice and limited-time deal. Shit, I'm doing the package just to be able to give the first two as gifts. I guarantee it is worth twice as much in mind. They are also all available individually, and shipping soon.
Here are their two latest titles:
Shadowplay by Norman Lock

In Java, a master of the shadow-puppet theater seeks to possess—by his art—a woman, who perishes as though by the contagion of his unnatural desire. Shadowplay is a meditation on story-telling as an act of seizure, a parable of obsession and of the danger of confounding the real with its representations.

"Stories compensate for lives unlived. They are what Norman Lock, or his avatar Guntur, calls shadows, negative reflections on a backlit screen, comprising, through artistry and brief illumination, ghosts. Lock's teller is imprisoned by darkness, captivated by warriors and princesses no longer, if ever, living. Death becomes a distance from which the voices of these unliving return. It is a journey as delicious as it is threatening." —R.M. Berry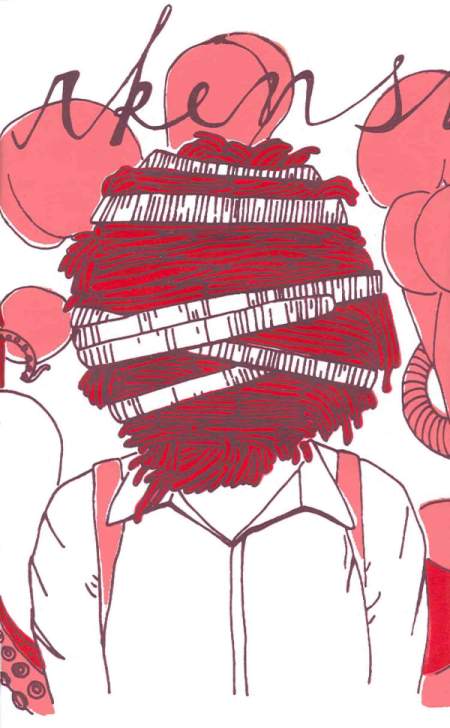 Birkensnake, a primarily print journal out of Providence, has just released the contents of their now mostly sold out first issue to the WWW. Which means you can read new words by David Ohle, Joanna Howard, Tina Connolly, Matthew Pendelton, Sam Roberts, Aaaron Kovalchik, and Elizabeth Hall, which were previously only available in paper.
A little birdie also told me included in the full PDF version of the magazine is an introduction by one Bjorn Verenson, which might just be a close name alteration of one Brian Evenson.
Check it out! They are also currently looking for new work for the upcoming second issue.
I might mention here that both editors Joanna Ruocco and Brian Conn have their debut books coming out this year or next. Joanna's 'The Mothering Coven' has been announced as one of the two next titles from the amazing Ellipsis Press (along with the equally amazing Norman Lock) for fall, and Brian will release his debut novel 'The Fixed Stars' in Spring 2010 with FC2! Talk about power. Massive wonder.
Now then, in the spirit of fun, let's see this thread get as many comments based on the brilliant content of the Birkensnake issue as the silly riot-inducer on Toni a few below this. No? Ya'll just love the drama, I swear. But this is where it's at.