HTMLGIANT / kgb bar
A D Jameson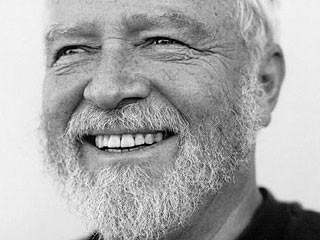 This Wednesday, October 12, 7–9pm, at the KGB Bar, NYC. Hosted by Louffa Press in celebration of Steve's new fiction broadside:
The native New Yorker has threatened to bless us with his world of experimental fiction, flying all the way from Denver to woo his audience with tales of personal mishaps with traditional jazz legend Louis Armstrong, plants that grow human body-parts, cautionary tales of the electric fence, the unswerving wisdom of Italian prostitutes and old school New York City.

The broadside (Slave Husbandry) is a limited numbered edition of 50, handprinted on swarthy yet sophisticated recycled artisan paper, inked and pressed on the Vandercook Universal One letterpress. The large format broadsides (19″x12″) will be available at the event for your enjoyment and (italics) for your pleasure.
Also reading will be David Moscovich, Eileen Myles, Ted Pelton, and Mike Topp. It's free and I wish I could be there. More info about Steve and the other readers after the jump…
Events
/
No Comments
October 10th, 2011 / 12:48 pm
Blake Butler
NYers, this Wednesday July 8 from 7-9 PM, two of the realest of the real will be reading at KGB Bar: Tony O'Neill and Rob Plath. You should be at this.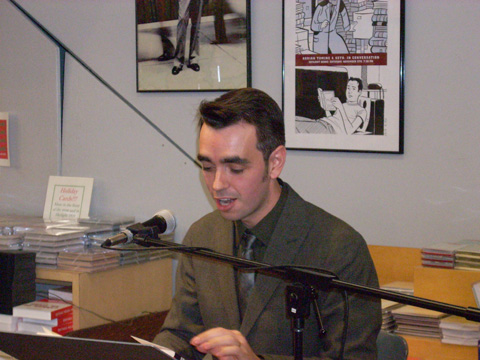 While you are at it, check out Tony on 52 Stories, and his latest book Down and Out on Murder Mile.
In case you didn't know:
In a previous life Tony O'Neill played keyboards for bands and artists as diverse as Kenickie, Marc Almond and The Brian Jonestown Massacre. After moving to Los Angeles his promising career was derailed by heroin addiction, quickie marriages and crack abuse. While kicking methadone he started writing about his experiences on the periphery of the Hollywood Dream and he has been writing ever since. His autobiographical novel DIGGING THE VEIN was published in Feb 2006 by Contemporary Press, in the US and Canada. Wrecking Ball Press released a UK edition April 2007. SEIZURE WET DREAMS, a collection of short stories and poems was released in the UK on Social Disease January 2006. A volume of poetry, SONGS FROM THE SHOOTING GALLERY was released on Burning Shore Press, Spring 2007. DOWN AND OUT ON MURDER MILE, his new novel, will be released in October 2008 by Harper Perennial. He also is the co-author of HERO OF THE UNDERGROUND, the memoir of Jason Peter [2008, St Martins Press]. He lives in New York.

Rob Plath is a 39 year old poet from New York. He is a former student of American poet Allen Ginsberg. Rob has published 7 books of poetry: Ashtrays and Bulls (Liquid Paper Press 2003), An IV Bag Full of Bile (Scintillating Publications 2007), Whiskey and Clay (Pudding House Publications 2008), Squeezing Blood from the Alphabet(erbacce press 2008), Tapping Ashes in the Dark (Lummox Press 2008), There's A Little Hobo In My Heart Who Forever Gives The Finger To Humanity (d/e/a/d/b/e/a/t press 2008) and Nicotine Stained Scribblings From A Hammock In The Void (Good Japan Press 2009). He has a monster collection of new poems 300 pages in length called A Bellyful of Anarchy (Epic Rites Press 2009) coming out in April. Rob has also published hundreds of poems in nearly 200 different magazines and journals both nationally and internationally. He is co-host of infamous blogtalk radio poetry show 'Rob & Jack America' and is editor and creator of an online zine called The Exuberant Ashtray.
Wish I was in the house. Go and come back and tell me how it was.
Author News
/
7 Comments
July 6th, 2009 / 1:59 pm