HTMLGIANT / Michael du Plessis
Seth Oelbaum
Christmastime is the best time. There are sparkly lights and cute reindeer and cute snowmen and cute songs, and so on. There's also a lot of gifts to be given, which is great, especially if you like books and things, as I do. Alas, almost all Western culture subjects won't get any gifts from Santa at all, as they only care about their Twitter feed, their sexuality, and leading a "grievable life" so that this doesn't happen to them. But for those thoughtful boys and girls who don't go around kissing dead Nelson Mandela's tushy, they should expect estimable presents. These are the ones I want:
Gossip by Samantha Cohen: Gossip can be malicious and harmful, so everyone should do it.
Cunt Norton by Dodie Bellamy: While the cannon is actually quite commendable, so is cutting, which is what Dodie does to one of the Norton anthologies.
Salamandrine: 8 Gothics by Joyelle McSweeney: According to Diane Sawyer, those divinely deathy Columbine boys "may have been a part of a dark, underground national phenomenon known as the Gothic movement and that some of those Goths may have killed before." So…
Begging For It by Alex Dimitrov: This boy was the subject of some criticism for his appropriation of some kind of AIDS-related art. But AIDS is silly, and Alex is sort of cute.
Butcher's Tree by Feng Chen: Her Spork book, "Blud," was really cute and sassy, so these poems probably will be as well.
Our Lady of the Flowers, Echoic by Chris Tysh: Jean Genet was a violent, cutthroat boy, and I want to see Divine and Dainty Feet in verse.
Haute Surveillance by Johannes Goransson: Johannes read an excerpt from this at the first and only ever Boyesque Reading (also featuring Peter Davis, Tyler Gobble, and me). It was violent, stylish, and totalitarian.
The Memoirs of JonBenet by Kathy Acker by Michael du Plessis: JonBenet Ramsey was cute and tragic. This year, she published a collection of rhymes for my cute and thoughtful Tumblr, Bambi Muse. I want to see how Michael portrays the pageant princess.
The Mysteries of Laura by Andrea Quinlan: It's a collection of poems that are Victorian and gothic, which is to say it's Charlotte, Emily, and Anne Bronte and Dylan Klebold and Eric Harris.
Mother Ghost by Casey Hannan: I like ghosts.
Thank You for the Window Office by Maged Zaher: He once composed a very pleasing poem about Paris Hilton.
Since the outside is important too, you should be decking a delightful outfit while you wait for Santa to come. For girls, picking out what to wear isn't arduous at all, as all girls should wear what they should wear all the time, a babydoll dress, a big but elegant hairbow, and ballet flats. For boys, choosing the correct clothes is much more vexing. Most boys hold the opinion that tight jeans and an ironic top are stylish. But this isn't so. Style should have meaning. Boy in the vintage Supersonics Shawn Kemp jersey, can you inform everyone who Shawn Kemp is? Are you aware that he once showed up to the Cavaliers training camp as an unacceptable fatty? No, you're not. Style, like literature, must have meaning. So, while anticipating Santa's arrival, all boys should wear a meaningful outfit, like the one that I am: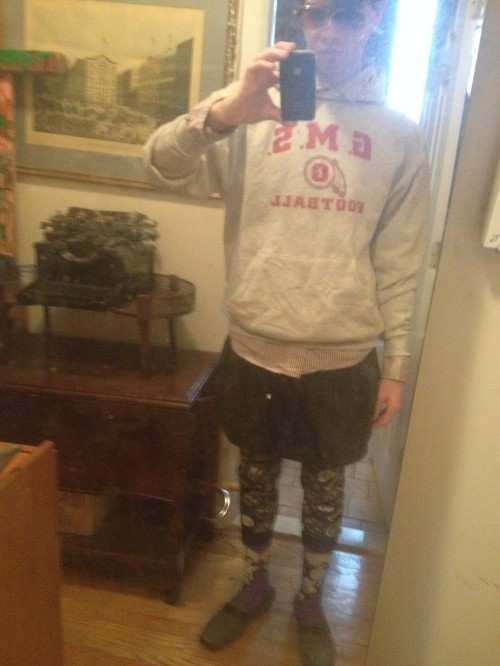 Sunnies because eyes should be kept secret.
Basketball hoodie that I stole from a friend, because basketball players are like monsters.
Purple-striped dress shirt because it's proper.
A skirt because boys should wear skirts.
Skull-and-crossbone pants because they're deathy.
Werewolf purple socks to match the purple dress shirt.
Buckled shoes because they're proper too.
I Like __ A Lot
&
Roundup
/
4 Comments
December 20th, 2013 / 2:33 pm
Impossible Mike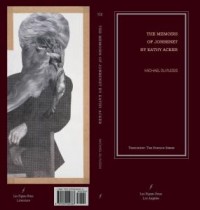 The Memoirs of JonBenet by Kathy Acker
by Michael du Plessis
Les Figues Press, 2012
103 pages / $15.00 buy from Les Figues Press
1. I have only read one true-crime novel or account or whatever they're called within the genre–if you count Peter Sotos as a true crime author (why would you?) I guess this is a false statement–a book on JonBenet, and it was sort of astounding and blew my mind. I know most of these true crime books are about two steps away from conspiracy theorists & 9/11 truthers, but ultimately the way evidence is presented, if not actual evidence, creates a new world of fiction that is both troubling and astounding.
2. And as such I've had a JonBenet obsession ever since. There's a gross collaboration going on within the recounting of the JonBenet narrative: the young white princess of middle america challenged by a vicious S/M monster snuff ring kiddie porn mystery. And perhaps the perpetrator was her parents? It's like the pool party at the Hard Rock Casino in Vegas; this is the true avant-garde of American letters, the fuckTness of the popular zeitgeist.
3. Then there's Kathy Acker, who I want to haunt me like the sun does, and she does sometimes, and she surrounds the air of the people I eat dinner with here in San Francisco.
4. Kathy Acker is a force invented by both fiction and second-hand statements that act as a guide when the bullshit becomes too much.
5. Have I mentioned there is also a chapter where JonBenet as Kathy Acker (or the other way around) is O from Story of O (which retains such a more beautiful sounding title en francais, Histoire D'O) and Rene is nowhere to be found and certainly NOT Little Lord Fauntelroy but rather Boulder is Roissy somehow and the carpet is all similar and the entire facade crumbles under the watchful eyes of O I mean JonBenet I mean Kathy Acker I mean Michael Du Plessis.
6. Right now, while writing this, I am hungry and want to go make myself a sandwich but I'm trying to stave off the hunger until this is finished because JonBenet is a doll and a doll is not real and dolls do not have to eat to sustain themselves and TO BE REAL IS THE WORST.
7. Nothing in this novel moves in a linear fashion. Events happen and then other events happen but there is certainly not any discernible narrative arc unless you literally construct one out of "your ass" which, I suppose, is possible, but ultimately not within the diegesis of the novel itself.
8. Of course what I mean by the above point is that within this realm of circumstantial 'realism' that may or may not be what the point of contention on this blog even is lately, it's ultimately futile when you realize that modernity is over (jesus christ get over it) and we are all so post-grand-narrative that the way things move is LIKE THIS, okay? Yesterday I went to work I ate a pretzel I took like three shits I sat on some stairs I read a Franck André Jammes book I took the BART to my boyfriend's house and then I passed out without having sex because I was feeling exhausted HI THIS IS HOW NARRATIVE WORKS IN REAL LIFE, WHAT THE HELL IS THIS REALISM SHIT.
9. It's like the way narrative works in this book is how Kathy Acker understood narrative which means, both, that Du Plessis understands Acker and that both Acker and Du Plessis understand narrative.
10. What I mean by this is the movement in this book is gorgeous but stilted which makes it even more beautiful. Why are we reading? READ MORE >
Reviews
/
7 Comments
October 18th, 2012 / 2:40 pm
Guest Posts
The MAK Center Schindler House, Los Angeles
9 May 2012
Context Note: In April, May, and June of this year, Les Figues Press hosted a short series of long conversations on queer art and literature. Titled Q.E.D., in honor of Gertrude Stein's novel by the same name (and one of the earliest coming-out stories), each Q.E.D. event explored the constructions of speech, art, literature, materiality, and sex.  The conversations were  moderated by Vanessa Place at the historic MAK-Schindler House, L.A.'s original nod to green architecture.
Q.E.D. Part Two  featured Brian Teare, Michael du Plessis, and Lincoln Tobier.
***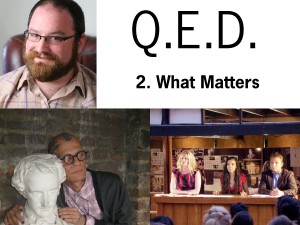 Blocked off by thick and towering bamboo shoots, the hush of the Schindler House is a surprise even given its location on a quiet, residential West Hollywood street.  The House belongs to the MAK Center for Art and Architecture in Los Angeles; it was originally built in 1922 as a two-family home and workspace by Rudolph M. Schindler for himself, his wife, and another couple. The House's then-innovative indoor/outdoor, open-plan design was the basis for the "California houses" that came to litter the landscape throughout the mid-twentieth century. It is hard to imagine anyone actually living in the House as it stands now: almost entirely empty, the structure and its surroundings feel more like a church or a yoga studio. Visitors speak quietly, and it is hard not to step lightly, as if any exuberant move might knock down the concrete walls and let the rest of the world into this sacred bohemia of careful art and right living.
Events
&
Reviews
/
1 Comment
July 4th, 2012 / 12:00 pm