HTMLGIANT / paul bowles
A D Jameson
I'm wearing the same expression as Ryan Gosling there: I just saw Only God Forgives, director Nicolas Winding Refn's followup to Drive. (If you're in Chicago, it's playing through Thursday, 8 August at the Music Box; the film is also apparently streaming online.) Actually, I was so impressed I went and saw it twice.
Anyone out there want to chat about it? I'll post some initial thoughts after the jump. (Beware of serious spoilers, though: these points cover the entire film, and give away key plot points.)
[My capsule review for those who don't want to read the rest: Of the five new films I've seen so far this year, Only God Forgives is easily the most compelling and my favorite. In second place is probably Iron Man 3, which I mostly enjoyed, but found nowhere near as interesting as this. Securely in last place is Star Trek Into Darkness.]
Film
/
25 Comments
July 24th, 2013 / 3:07 pm
J Wang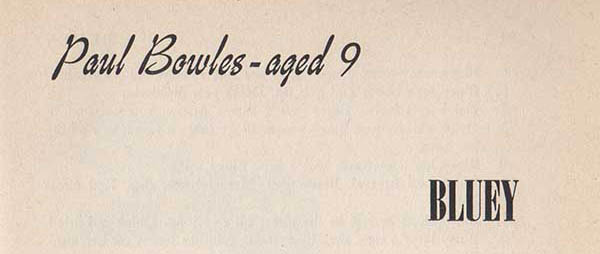 "Drugs, bigamy, desertion, lawsuits, the plague: these are hardly the elements one expects to find in the writings of a nine year old."
—Christopher Sawyer-Lauçanno, biographer of Paul Bowles
When Paul Bowles was 9 years old, he created a diary that documented the adventures and pitfalls of imaginary characters who went on wild journeys and were continually surrounded by death, disease, chaos, and crisis—all of which were conveyed by little Paul in a tone that is eerily mute, terse, and affectively stunted while also being intellectually sophisticated and highly developed in terms of narrative. The 3rd person diary entries have a strange and disturbing quality to them—we immediately pick up on Paul's obsessive preoccupation with names (characters, places), numbers, measurements, etc. In the entries, Paul invented, among other things, a drug called "postage hypodermic" and a plague called the "Green Horror" ("Marshelle gets Green Horror. Marshelle dies of Green Horror…. Dukol Whitman dies of Green Horror…."). We also get a sense of the way he was trying to emulate the adult world and—in doing so—revealed its utter absurdity. I can't get over how evocative and fascinating Paul's childhood writings are—and to think that he had to pen them in secrecy, fearing the disapproval of his father, who once beat him and took his journals away for 2 months when he was caught scribbling.
Below the cut is a brief excerpt from Paul's childhood narrative, which consists of over 450 entries in total. This particular passage, which was published by surrealist literary magazine View, deals with the mishaps of Bluey Laber Dozlen, who travels to Wen Kroy ("New York" spelled backward) from an unknown European city.
READ MORE >
Behind the Scenes
&
Craft Notes
&
Random
/
19 Comments
January 7th, 2011 / 2:16 pm