pizza
On 16 December of last year, Macaulay Culkin posted to YouTube a video of himself eating a slice of pizza:
I watched it and showed it to some friends because, on the one hand, how random! Macaulay Culkin! Eating pizza! Lol! One million other people and counting apparently felt similarly.
The video fascinates because it depicts a star (or a former child star) doing something utterly mundane. The presentation is simple, stripped down. The shot is static and there are no cuts. Culkin looks embarrassed to even be there, to be watched eating. There's no glitz, no glamor. The guy eats pizza just like you and me, even tearing off the crust (though I would've finished the rest of the slice).
At the same time, the video fascinates because it's awful—it's "so bad it's good." That reaction is breathlessly conveyed in the Time Magazine blog post, "Questions We Asked Ourselves While Watching Macaulay Culkin Eat a Slice of Pizza," which presents no fewer than forty-six questions about the video, in pseudo-live-blogging fashion:
Why does he look like he really doesn't want to be wherever he is, or eating the slice?

Has he ever eaten a slice of pizza before?

Why does he look so sad?

Does he know he's being filmed?

Do the pizza oils get trapped in his beard?

Why does he keep looking up?
Forty-six questions is a lot of questions, prompting a forty-seventh: "How many times did author Eric Dodds watch the damn thing?" And one million views is a lot of views. Thus, despite being banal, despite being awful, the video is somehow also something else. Would it be fair to call it transcendent? Even sublime? And if so, why? Because it purportedly offers us unmediated access to a former star, now desperately embarrassing himself?
But far from being random, or mundane, or excruciatingly candid, Culkin's pizza video is a put-on, its every second pure artifice. For starters, it's a loving recreation of another work—a short film of Andy Warhol eating a hamburger:
It is a beautiful Saturday. Granted, it could be a little warmer, but I can't really complain. I mean, I can complain, and I will, but that's my prerogative, n'est-ce pas? I feel like shit. Am I allowed to feel like shit? I don't feel like shit anymore. I can deduce that this shit-feeling came from my use of French, meant to be a quip. I can't do that without apology. Consider this my retraction. I must retract a lot of things if I'm ever going to get back to baseline. I don't know what that means.
I was awoken by my girlfriend's cell phone at 5am, buzzing in the first email of the rest of her life. Her mother nervous about her brother getting stitches in a racquetball accident around 11pm last night. My girlfriend proceeded to text her brother, who also, inexplicably, was up and aware of this email, a chain of events stemming from his own personal world of hurt, literally, as he claims to have been hit by a racquet at such speed and flection as to have caused serious damage to his… skin? I don't know why people get stitches. What I want to know is at what level of intensity of a wound does one leave the Band-Aids and peroxide at the wayside and shuffle down to the hospital on a Friday night. Maybe I've needed stitches in the past, maybe I haven't. There's a story my mother used to tell about my slicing my hand on some glass as a baby and getting "butterfly stitches." And to me, that sounds worse than real stitches—perhaps implemented only to doctor the lacerations inflicted by a butterfly knife.
Awoken again, about 45 minutes later, her mother was calling, asking about details of the injury. My girlfriend says on the phone she has been asleep, a questionable remark, but what do I know being subject to that very plea. Her mother spoke softly about something I had lost, drifting away again into submission. The phone was placed again on the beside table, to go off again in a few hours.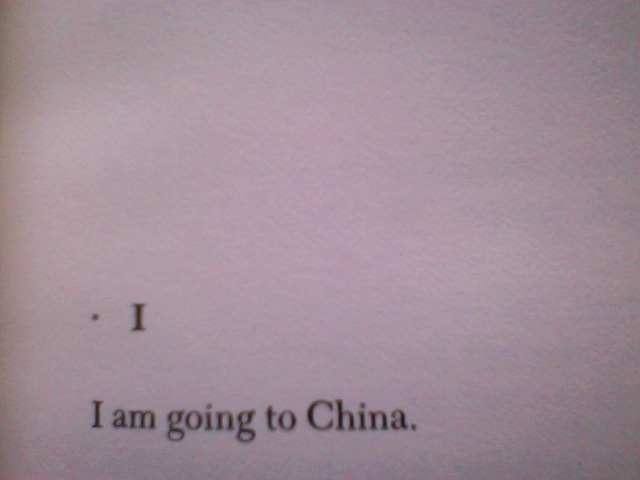 — Susan Sontag, "Project for a Trip to China"
So I would start out with the dictionary definition of pretense, which would be useful actually, because I feel that many people do not know it, but that would be perceived as pretentious; but then I've already made the presumption that many don't know the meaning of pretense, and thus pretentious and so; in fact, the whole premise of this is totally. An obscure quote? Semi-colons? What an ass, like lifting one cheek. Okay so.
I feel that 99% of the time the word pretentious is used in one very general way: to describe something someone doesn't understand; either the phrasing of a thing, or the reach, the jargon, whatever. Now you might say, well look Reynard sometimes people are acting the fool and so I call them out when I need to call them out. And I feel you on that (also that is a very polite way to speak to me, thank you). It's the literary equivalent of honking your horn. Some people honk at white space. I like it. Some people do not enjoy cheese. I can not comprehend their decisions. Why should we agree? Nothing says that anywhere. Some words have such totality, it frightens people. They cannot pry the concept from the object, even if the object does not exist in front of them, which is statistically VERY LIKELY.
The problem is most people use their horn for no reason. Most of the time when they say "pretentious" what people mean is "bombastic." Bombast is inflated speech, using big words for no real reason, other than to sound smart. If the words are not used incorrectly, because they were culled from some thesaurus with passive regard for the range of their meanings, they are usually used in a way that either adds no greater specificity to the sentence or distracts the reader from the intended meaning. We know all this. So yeah, this is not good. But it is not pretentious either. And you don't need to use your horn so much.
Then there are those times, like when some jerk doesn't use his blinker, when a writer's tone is, in your opinion, pretentious. But look, all tones are affected, even those that come naturally. That's my opinion anyway. And at a certain point, all of it becomes a matter of opinion. Isn't everything though? One could try to cite every sentence one writes, but one must eventually face the problem of threes, which is who and how and why? Okay, let's simmer down a bit. I think I was trying to say something here. Maybe I should have written this essay in a satirical style, so as to deflect whatever criticisms a reader might have into the void of chuckledom and "I have a t-shirt that says I'm with stupid, shall I put it on?" Some people think everything on this site is pretentious. The thing is, those people are right.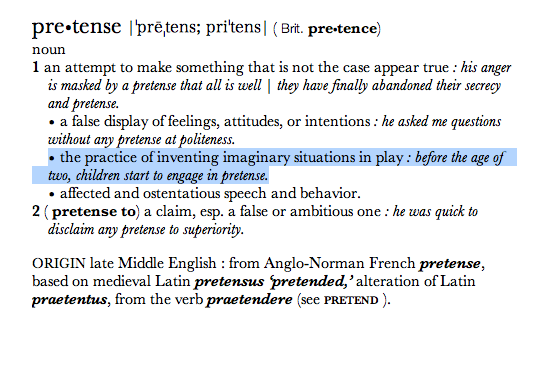 To pretend is, of course, the very root of all literary and artistic creation. Were it not for pretense, nothing would get done. No one would tell a single story. Let alone write a poem. All literature is pretentious.
To be against pretense is to be against creation.