Revolutionary Road

In the first post in this series, I outlined Viktor Shklovsky's fundamental concepts of device (priem) and defamiliarization (ostranenie) as presented in the first chapter of Theory of Prose, "Art as Device." This time around, I'd like to look at the start of Chapter 2 and try applying it to contemporary writing (specifically to the New Sincerity). As before, I'm proposing that one can actually use the principles of Russian Formalism to become a better writer and a better critic.
Kate Winslet won an Oscar for The Reader, but Richard Yates fans everywhere thought to themselves, I'm just going to pretend she won this for her portrayal of an American housewife instead of an illiterate fräulein.
So, the movie wasn't exactly fantastic. You, and every other literature major undergrad, film critic over the age of 45 (new yorker review cough cough) were willing to forgive the movie for it's, shall we say, defects. Obviously you could look past the "limitations of the medium" because Yates finally got the recognition he deserved!  This is obviously a year of triumph for underdogs. Obama is president, Kate Winslet WINS an Oscar, Richard Yates' magnum opus is turned into a film and nominated for three Academy Awards. Woo, hoo!
This recognition is not without its drawbacks, and clearly you wouldn't be a Yates fan if you didn't get all hot and bothered by life's bittersweet moments. In the aftermath of a booze soaked celebration you awake a little less certain about the cultural capital of your precious dog-eared copy of Revolutionary Road.
It's not long before your shadowy unease grows to proportions of nightmarish beast. Shortly after you mom visits you for the weekend and steals your beloved 12th edition paperback, the horrific truth dawns on you; the cult classic value of your blue chip investment has plummeted, you are now culturally bankrupt.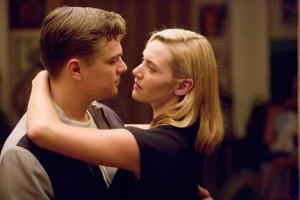 Movies of books have a way of retro-actively hijacking the memory, or sealed conception, of a book in one's mind. If fiction's merit is the ability to collaborate with the imaginations of its readers, then film productions of movies ruin it.
Though I have not seen Revolutionary Road (forthcoming, 2009), Leonardo DiCaprio will forever replace the image I had in my head of Frank Wheeler. I had imagined him as a dour-faced bearded Richard Yates type of man, and yet I will most likely see the movie—in some sick masochistic way to brine in my own indignation. I guarantee you the movie will focus on infidelity (with bonus tit scene(s) of Wheeler's secretary/mistress), and less (if any) on what the book seemed for me to be about, namely, Frank's irrevocable self-loathing and self-pity.
John Krasinski (of The Office fame) has written a screenplay for Brief Interviews with Hideous Men (in post-production), the late D.F. Wallace's exploration into crass sexually-driven male vernacular, sorta like lowbrow stream o' consciousness via a plumber or taxi driver. Here's the catch: instead of conveying the fragmented way each 'entry' was written—and its existential narrative 'incompleteness,' Krasinski provides us a plot arc: a female graduate student, recently broken-up with her boyfriend, interviews men in order to understand their behavior. Now, I wasn't looking for an epiphany—but Jesus—does everything have to be about a man/woman?
In porn, there are many categories: man/woman; man/man; woman/woman; woman/horse; woman/dog; man/car exhaust pipe; cartoon character/'furry'; etc. (for the records, I only enjoy the first category). The film industry would do good to learn from porn. Don't worry about love, just try to make it interesting, even if it involves a gallon of horse emission.
There ought to be a White List of books that it is illegal to adapt into film, because I'm so afraid one day I'm going to see Holden Caulfield on the big screen, hanging out with his girlfriend in Central Park.