HTMLGIANT / richard chiem
Rauan Klassnik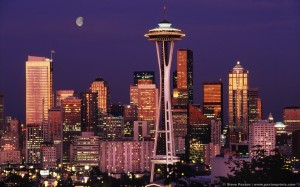 I've lived in Seattle for a little over two years now and since AWP, the big show, is coming to town next year I thought it might be a good idea to introduce you to some of its stand-out authors. (I plan to do this periodically. ra ra ra.)  And you'll get the sense, after a while, that Seattle has a  strong and growing lit scene. (the first year or so I just stayed in and took baths all day, but now I've ventured out and discovered some of what's on offer. and there's a lot.).
The first spotlight's of Richard Chiem. Richard's great to read, talk to, be with, has great energy, and is very shrewd, kind and edgy. Richard Chiem and I kind of hit it off right away and have gone on walk talks together. Ice cream and pizza sit talks too. We talk all sorts of shit: UFC, literary Gods, Collage Methods, Fucking the Reader, Dwarves, etc, etc. And this weekend we're dim sum double dating!
So, anyways, Richard Chiem's Seattle Author Spotlight consists of a brief interview, Bio and photo.
Brief Bio:
Richard Chiem (b.1987) is the author of YOU PRIVATE PERSON, a collection of short stories published by Scrambler books. His work has appeared in Thought Catalog, CityArts Magazine, and Everyday Genius, among other places. Richard lives in Seattle with his girlfriend and their loud cat. He is currently working on two novels.
Brief Interview:
Rauan: How does Seattle make, or make it into, yr writing? (plz be brief)
Richard: When I write about rain right now it's about Seattle. But other than those few instances, Seattle hasn't made it to the foreground quite yet. But I love this city. It's finally my home. I am thinking about writing a novel about a cult or secret colony in Seattle. There seems to be a lot of things here waiting to shock and be discovered.
RK: To give our readers a taste could you plz quote a sentence or two from yr debut collection of short stories, You Private Person (aka YPP, which, for the record, I think's a novel) (plz be brief) ?
RC: 'Love feels like a thing people eventually learn to live without like tonsils or god.'
RK:  The voice in YPP comes off as quite a "sensualist," enjoying the transformations before sex, etc. Your thoughts? (plz be brief)
RC: I don't know if you did this, and it was a thing I started to do when I was younger, but whenever I had a pain in my left hand, or a bump or scar or something, I would check my right hand to see if the same thing was there. I would do this with friends too, meaning if I was having some fucked-up day, I would ask if they had fucked-up days too. I learned how alone I was in some moments, and how common some experiences really were among my peers.
I value the little scenes, sometimes sensory observations, that make up our long boring ass days. In how we mirror each other. Or not at all.
Author Spotlight
&
Random
/
16 Comments
June 6th, 2013 / 4:38 pm
Guest Posts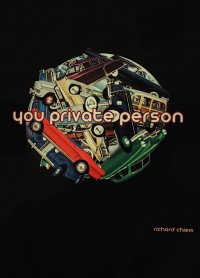 You Private Person
by Richard Chiem
Scrambler Books, 2012
139 pages / $12.00 buy from Scrambler Books
1.     I appreciated what I imagined was the time spent in deciding the titles for the individual stories. They seem to be an art form in it of itself and are often cast aside with boring, one word placeholders in other collections. But these seem like really good tweets, or prompts for possible flash fiction.
2.     I was intrigued before even opening the book. Between the nice cover art by Mark Leidner and the trio of blurbs on the back cover that force you to not only start reading but, when you're done, place the book face down so as to show off the insanely nice and potent words of Dennis Cooper, Kate Zambreno, and Blake Butler.
3.     It's a small book, under 150 pages, but the actual size of it and layout of the pages w/r/t to font, spacing, etc, make it feel much more hefty and somehow more important.
4.     This is the first thing I read from Scrambler Books. I have certain small presses that I'm comfortable with purchasing pretty much anything and everything they release. If this book is any clue to Scrambler's future intentions than I plan on adding them to my queue, to the detriment of my bank account.
5.     I've never read Chiem before this. I went back and found some of his stories online. They didn't disappoint. I love it when an author is able to bridge the difficult gap between lone stories in online journals and a fully formed collection in print.
6.     I'm jealous. I'll admit it. Chiem is born a year after me and he's a hell of a writer. He's put together a collection of stories that I aspire to replicate in my own way. This book has a maturity behind it that hides the fact that this is his first published book.
7.     "The first fiction is your name," Eileen Myles.  Seems like a perfect quote to open the book. It put me in a subdued and contemplative mindset before the first story.
8.     There is something in this book for everyone. As much as I hate when I read the previous statement in a review for this book, it's true. Short fiction, some prose poetry, fragments of stories, linked narratives.
9.     You'll definitely feel a little better about the future of the short story after reading this collection. Chiem is a young writer who has a stranglehold on his craft, who has finely tuned his pen to hear the whispers of our society, the forgotten people, the discarded images are given a second home.
10.  The opening paragraph of the book is perfect. It combines his greatest gifts as a writer: his pitch perfect sense of how to put together a sentence and his ability to allow himself the freedom to wander with his thoughts while still maintaining the discipline to reign it all back in and bring the reader to a larger point, usually profound yet understated. "Cigarettes can levitate you and the bare weight you have very bored in your head and you have never known you were unhappy until the feeling leaves you like imagined geese from hills eager for migration. Birds are so fun to imagine. This all comes from years of wanting to know how to fly standing out on balconies pretending sex is the name same as flight because surely geese can feel in the air like I do when her eyes go crossed when bedrooms soften after foreplay when language works much like animal speech. Only by repeating each other's names. I do believe all birds are named Chirp." READ MORE >
Reviews
/
3 Comments
April 18th, 2013 / 4:07 pm
Guest Posts
I interviewed Richard Chiem on the occasion of his first book, You Private Person, published by Scrambler Books. Photos via Frances Dinger and (the above) Matthew Simmons.  
What was your favorite book when you were younger? What books have made you lol or cry or feel excited?
I think I read a lot of Goosebumps books and Animorphs books, and I was trying to collect the whole series for each. If I think about 1995, there were many times of me just waiting by myself inside a Safeway, because you could find them in the book aisle. I could read one of those books in about two and a half hours, so it became an easy addiction, since I wanted to know everything, to know the whole story. I would stack up my stacks of books next to my video games and my comic books in towers. They were each numbered like episodes, and in different colors. It seemed perfect to me at the time to have them all. I would save up six or seven dollars, everything other week or so in 1995, waiting in line at a Safeway. I recognized a particular need to read. But they never made me cry or laugh. I don't really remember what exactly I was feeling when I was eight years old, in third grade, but I remember those simple horror and adventure stories, and I can still talk about them.
I turn on subtitles when I watch movies now. Some of my friends hate it and some really like it. It was adding another dimension to every movie and it quickened the pace of the viewing experience for me. And I watch a lot of movies. I always write after watching
a movie when everything still feels really alive about the story.
Author Spotlight
&
Film
&
I Like __ A Lot
/
11 Comments
November 2nd, 2012 / 11:50 am
Matthew Simmons
I seem to remember there being a time when a whole bunch of writer types were really excited or really curious or really thinking deeply about using the internet to write stories, and because a page on the internet can be a place to place text and a place to place pictures and a place to embed music and a place to embed video and all that, it was going to be really exciting and revolutionary. And I seem to remember writer types in universities thinking maybe they had to jump on all this and think even more deeply about it and maybe thinking that they needed to start a whole side-discipline for hypertext.
I seem to remember all this, but it came and went so damn quickly, I can't be 100% sure. And, frankly, I'm too tired to search it all out on the Internet Archive. Go for it, if you're interested. If I made all of it up, give me hell in the comments section, maybe.
All that is just a prologue for two stories on the internet: OH NO EVERYTHING IS WET NOW, an ebook/web collage/thing/"pseudo small novella in verse" on our own Mike Young's Magic Helicopter Press site, and "Neverland" by Gabriel Blackwell on the Uncanny Valley Press site. READ MORE >
Reviews
/
6 Comments
July 7th, 2011 / 12:30 pm