HTMLGIANT / Yuriy Tarnawsky
A D Jameson
This Friday and Saturday, Yuriy Tarnawsky will be reading in Chicago to celebrate the completion of his recent trilogy, The Placebo Effect.
On Friday, he will be reading at Quimby's Bookstore (1854 W. North Ave.) with Eckhard Gerdes.
On Saturday, he will be reading at 567 Studio & Gallery (1800 N. Milwaukee Ave.) with Eckhard, Jane L. Carman, and myself.
Both readings start at 7pm, and are free and open to the public. A reception will follow the Saturday reading.
Here's a recent interview with Yuriy regarding The Placebo Effect Trilogy, conducted by Tantra Bensko. And here's an older interview that I conducted with Yuriy, about his life and work in general.
Since the 1950s, Yuriy Tarnawsky has published more than twenty books of fiction, poetry, drama, and criticism in English and Ukrainian. His most recent work has appeared via FC2, Jaded Ibis Press, and JEF Books. His Three Blondes and Death (FC2, 1993) remains, IMHO, one of the best English-language novels of the past thirty years—indeed, I think it the best book that FC2 has published. (You can read some of it here.)
Hope to see you there!
Author News
/
8 Comments
May 13th, 2014 / 3:00 pm
A D Jameson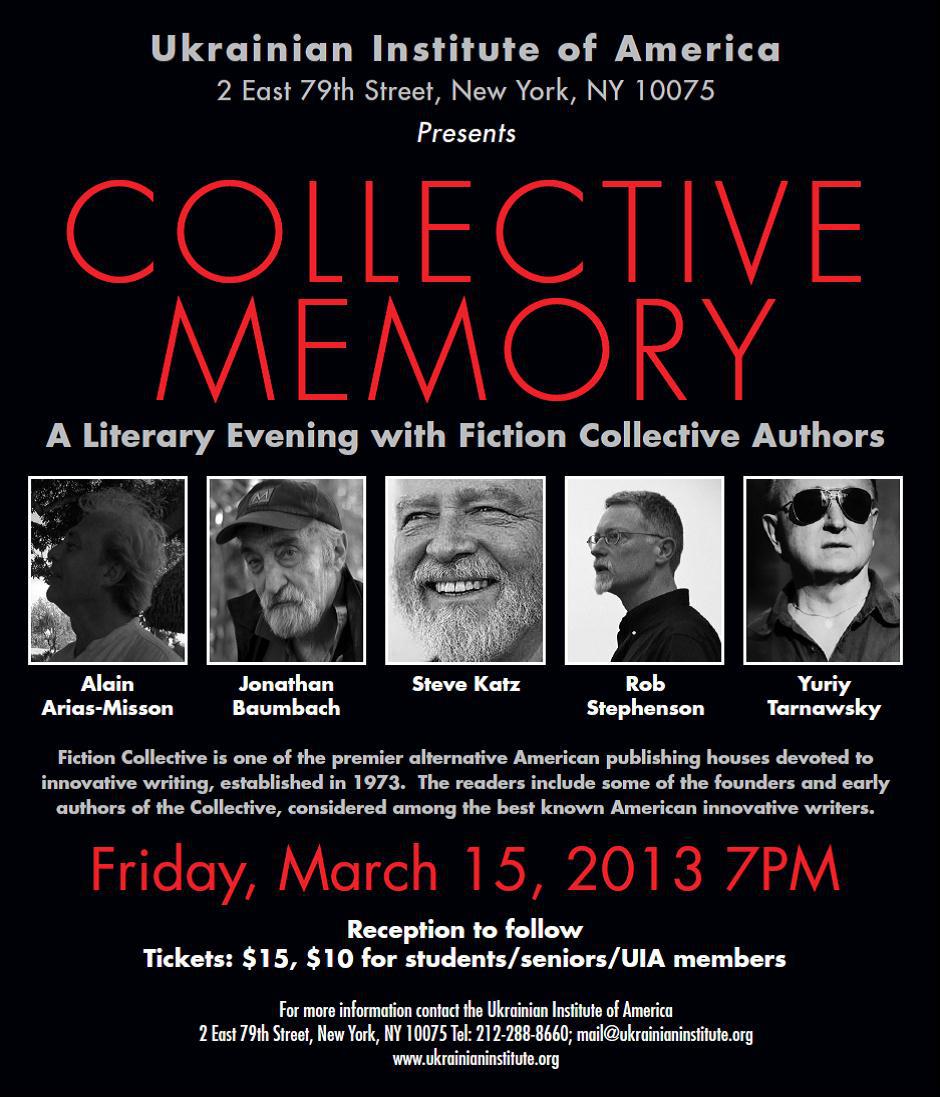 I'd sure go to this if I could.
More on Steve Katz (here & here) and Yuriy Tarnawsky (here, here, here, here, & here).
Events
/
2 Comments
February 17th, 2013 / 4:39 pm
A D Jameson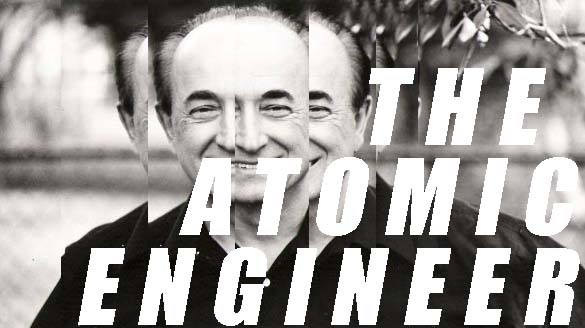 Let's continue reading Viktor Shklovsky's Theory of Prose (1925/9), seeing what lessons it contains for those of us writing and reading today. To quickly recap the previous installments: Shklovsky posits that all art is built from devices (priem), which get put together in patterns. Those patterns can adhere to normative conventions, or they can be somehow disrupted; Shklovsky calls that disruption "defamiliarization" (ostranenie). We, the audience, can perceive those disruptions because we have some expectation of the conventional ways in which artworks are patterned; for more on this, see my discussion of "differential perception".
One type of defamiliarization is deceleration: the artist uses one or more devices to delay a pattern's familiar (and therefore anticipated) resolution. I've already discussed how artists can use repetition and tautologies to do that. Today I'd like to look at one more example of deceleration, a very pure example that I call "atomization." I will demonstrate it using an example from Yuriy Tarnawsky's novel Three Blondes and Death (FC2, 1993), which also happens to be one of my favorite books of the past 20 years.
What follows is the entirety of Chapter 3 of that novel's first part: "Hwbrgdtse Makes a Portrait of Alphabette." I think you'll quickly understand why I'm quoting it in full; remember, we're looking for how Tarnawsky delays the resolution of the very simple plot that structures the chapter. All you need to know at this point is that the novel's protagonist, Hwbrgdtse, has just met and become enamored with the first of three blond women, Alphabette:
Craft Notes
/
14 Comments
July 23rd, 2012 / 8:01 am
A D Jameson

In the first post in this series, I outlined Viktor Shklovsky's fundamental concepts of device (priem) and defamiliarization (ostranenie) as presented in the first chapter of Theory of Prose, "Art as Device." This time around, I'd like to look at the start of Chapter 2 and try applying it to contemporary writing (specifically to the New Sincerity). As before, I'm proposing that one can actually use the principles of Russian Formalism to become a better writer and a better critic.
Craft Notes
/
95 Comments
May 28th, 2012 / 8:01 am
A D Jameson
I was really thrilled to read all the responses my last post generated; thanks to everyone who chimed in! And I wanted to post something that clarifies some of the things I wrote there, since it's apparent I caused no small amount of confusion…
Craft Notes
/
25 Comments
October 29th, 2011 / 4:22 pm
A D Jameson
This is a response to Roxane's recent post, "How the Hell Do We Teach Creative Writing?"
I am a firm believer that creative writing can be taught; I've been teaching it for years now (at DePaul University, the School of the Art Institute of Chicago, Lake Forest College, and StoryStudio Chicago). Below, I'll break "creative writing" down into five pedagogical areas (I'm a rather analytical fellow); when viewed from that perspective, I think, a whole host of practicable exercises and activities become apparent. (Note that this will be a blanket overview; I'd be happy to discuss any of this in much more depth.)
Craft Notes
/
61 Comments
September 8th, 2011 / 5:26 pm