May 2014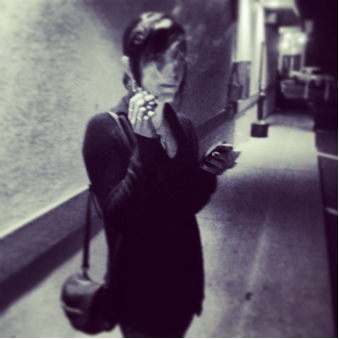 Juliet Escoria's summer reads.
***
Normally Special by xTx
I've read a ton of xTx stories online and I really loved Billie the Bull but I hadn't yet picked up this collection. I read with her last week and I gave her an ELO CD as a present. She gave me this book in return. I was reading it on an airplane earlier today, but in the way that I normally reserve for good poetry, which is reading everything slowly and multiple times. Most of the stories are really short, so it seems like the kind of thing that would be good to read while sitting on the grass in the park but only if you want to feel a lot of feelings.

The End of the Affair by Graham Greene
I read this last summer and it really stuck with me. This book is incredibly precise in its language and structure, which is something I can really get behind. The ending broke my heart, which is what the endings of all novels should do.
This is actually a chapbook. If you pick it up and flip through it, you will be drawn in by the cute little pictures and macros. If you start to read it, the poems will seem light and maybe even frivolous, like eating cotton candy, but this is a false sense of security. Ana has this way of stabbing you when you're least expecting it that makes the pain that much more intense. This book is little and light so I guess you could pull it out of your bag to read while you're waiting in line to buy cotton candy?
Dangerous Angels by Francesca Lia Block
I flew through this series as a teenager. I read it a few weeks ago to see if it still held up, and I flew through it that time too. It's perfect to read if you are secretly a teen girl or are actually a teen girl or just like stories full of magic and heat and punk rock and Los Angeles.
We the Animals by Justin Torres
Summertime is a great time to read stories about underage sexuality and child abuse. The sentences are full of music and jangly edges in a way that makes me jealous.
***
Juliet Escoria is the author of Black Cloud, which is a collection of stories, videos, and pictures that was published by Civil Coping Mechanisms this past April.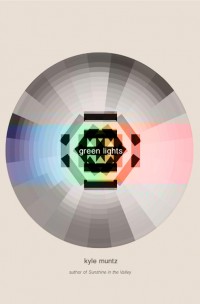 Green Lights
by Kyle Muntz
Civil Coping Mechanisms, 2014
108 pages / $13.95 buy from Amazon
Rating: 8.5
To give the reader a dream on paper—that's what sur-realist writing's about, and Kyle Muntz's new novella Green Lights (out 5/5/14 from Civil Coping Mechanisms) does it well. It sits nicely next to Jesse Ball's Samedi the Deafness, Paul La Farge's The Facts of Winter, and Shane Jones' Light Boxes in my imaginary library of dream-novels. READ MORE >
When fiction reading is going well for me, I translate the words into something that's both fiction and non-. Take the novel The Name of the World by Denis Johnson, which I read recently for the first time. Here's the first paragraph:
Since my early teens I've associated everything to do with college, the "academic life," with certain images borne toward me, I suppose, from the TV screen, in particular from the films of the 1930s they used to broadcast relentlessly when I was a boy, and especially from a single scene: Fresh-faced young people come in from an autumn night to stand around the fireplace in the home of a beloved professor. I smell the bonfire smoke in their clothes and the professor's aromatic pipe tobacco, and I feel the general unquestioned sweetness of youth, of autumn, of college—the sweetness of life. Not that I was ever in love with this scene, or even particularly drawn to it. It's just that I concluded it existed somewhere. My own undergraduate career stretched over six or seven years, interrupted by bouts of work and transfers to a second and then a third institution, and I remember it all as a succession of requirements and endorsements. I didn't attend the football games. I don't remember coming across any bonfires. By several of my teachers I was impressed, even awed, and their influence shaped me as much as anything else along the way, but I never had a look inside any of their homes. All this by way of saying it came as a surprise, the gratitude with which I accepted an invitation to teach at a university.
I relate strongly to the narrator, who we learn later is named Michael Reed. The amount of emotional overlap between Michael's and my life is scary. I too held similar images of academic life, for me perhaps set in the fifties and involving more letterman sweaters, but the same otherwise. Like the narrator, it took me six or seven years to finish college, and involved three transfers. I was also impressed by my teachers, and I also never imagined seeing the insides of their homes. This is exactly what I look for in a novel reading experience, a character who's as much like me as possible, and telling his—our—story with a compelling, authoritative voice. Telling me, in short, about me.
But at least as important as my strong relationship to the narrator is the strong relationship I feel to the author. I read the above sentences, and I feel like I know the narrator's shadow figure, Denis Johnson, very well. How can one write of this bucolic college tableau, "Not that I was ever in love with this scene, or even particularly drawn to it," and not on some level feel the same way? I think of actors, who have to find something relatable in every character they play, even reprehensible ones. Can a writer fake this stuff? If he can't, then what's really the difference between Michael Reed and Denis Johnson?
And still there's a third level in which I feel a deep connection to this work. As a writer myself, I feel a strong professional connection to the author for these perceived overlaps in our histories and psyches. Denis Johnson is a successful—even world-class—writer, and I hope that these emotional/biographical similarities mean that I somehow—despite all evidence to the contrary—am on some kind of path to a literary career. This guy is just like me, and he won the National Book Award! I can't help but hope, despite my age, lack of comparable publishing success and absence of completed work as riveting as, say, Jesus' Son, that I am somehow in the same game as Denis Johnson.
So The Name of the World hit me squarely because I relate to the narrator, and the writer, and because I want to succeed like the writer has succeeded. In other words, I'm about as perfect an audience for this novel as there is.
In all my exploration of writers and writing (B.A. in English, M.F.A. in Writing, 25 years of near constant reading and writing outside of class), I've rarely heard anyone mention this third, professional angle to readerly empathy. I suspect this is because, back when I was in school, writers still entertained the idea that most of their audience would come from actual readers and not other writers. There were of course "writers' writers" back then, or those authors who were read almost exclusively by other writers—David Foster Wallace comes to mind. But I still think we were largely in the Saturday Evening Post romance of the reader/writer relationship, that is, educated people sitting down with books and magazines and being sucked in by written pieces. The author Gary Shteyngart gets credited for having said, "The number of people who read serious literature is now exactly equal to the number of people who write it." Maybe an exaggeration, but probably the healthiest angle from which to come at a literary writing career in 2014.
Despite my deep interest in the writer of The Name of the World, I wouldn't like the book as much if it were memoir. Imagine if the first sentence of the intro paragraph were "Hi, I'm Denis Johnson," and "Denis Johnson" replaced "Michael Reed" throughout. I would still be interested in the book, and I'd probably read it and relate to it deeply at points. But I could never fully imagine myself into the narrator's plight the way I can with the novel The Name of the World. In other words, the memoir The Name of the World would never quite be about me and Denis Johnson the way the novel is. The fiction tag allows Johnson, or any writer, to play both hands: he can utilize a fictional narrator, which allows the reader more leeway to see herself in the character, and he can titillate with suggestions of autobiography, which allows the reader to form empathy with the writer. Somehow these two readerly perspectives aren't contradictory. The narrator of The Name of the World is both Michael Reed and Denis Johnson, and I'm fine with that.
Airport living from 5/14 thru 5/16 in celebration/mourning of the publication of my latest book, "The Fun We've Had."
Any advice on keeping off of security's radar? Anyone want a shout-out when I get really fucking bored? Anyone want to Skype while I'm leeching off the airport's Wi-Fi?
Maybe I'll just watch that Tom Hanks movie and do exactly what he did. Could be good.
Here's the blog post I wrote about this, whatever this is:
In a big way, being in an airport is a lot like being lost at sea. So many places and possibilities to drift, but not if you don't already know where it is that you're going.
I don't know where I'm going. That's why I'm not going anywhere.
I'll be living in an airport for 48hrs.
Beginning 10AM on Wednesday May 14th through Friday May 16th around 10AM: Going nowhere and probably getting into some shit. There's a good chance I will no longer be human by the end of it. There's a pretty damn good chance that I've never been human. Not to worry, I'll be online and active during the entire thing.
Odds are you'll hear from me, be it a tweet, a post on Facebook, or a photo/video on Instagram. I'll be calling out to everyone while I'm stranded in a state of flux. I'll also have one of my best writer friends around, Kyle Muntz, hanging around, surviving this ridiculousness with me.
 Yes I'm serious. Look how serious I am:

Will it be fun? I hope so. If not, I'll be at the airport bar.
\m/ \m/
Tom
Tom woke up thinking it was the apocalypse.
Nobody worried until Tom became indifferent.
"Far as you know, we're done for, and you couldn't care less?" his brother said.
"Yes," Tom said.
His brother drove him to the hospital.
The receptionist gave him a form.
"Where should I sit?" Tom said.
The receptionist pointed to a row of chairs in the waiting room.
Tom said, "I thought they'd be bigger."
"There's a bed in the examination room."
The receptionist was also a nurse. A blouse on top, scrubs on the bottom. You only saw them when she stood up, which she did to show Tom the row of chairs.
Tom filled out the form with two words: It's over.
The doctor saw him half an hour later and said, "What do you mean?"
Tom said the world is ending.
The doctor was checking Tom's reflexes. He said, "How?"
Tom said, "You've never watched television?"
The doctor said, "Do you watch a lot of television?"
"I dreamed of a television last night. I turned it off. I didn't want to spend my last day like that."
The doctor called the receptionist/nurse into the room. He said to her, "What if he's right?"
"I don't want to spend my last day like this," she said. She tore off her blouse.
Tom didn't notice before, but her left arm was a prosthetic. She tore that off too. It landed in the sink. She reminded Tom of a plastic soldier. When they broke, he'd melt them with a magnifying glass and reshape them into something else.
The topless/one-armed nurse/receptionist sat on the bed with Tom.
"Can you tell us?" she said.
Tom said, "All I have is a lighter."
He flicked it and her scrubs burst into flames.
This was not at all what Tom thought it'd be.
The doctor began to douse the burning/topless/one-armed nurse/receptionist with water, still asking, "How?"
Bio: Michael Credico's fiction has appeared or is forthcoming in MonkeyBicycle, Necessary Fiction, TheNewer York, Word Riot, and others. He lives in Cleveland, Ohio, where he edits Whiskey Island.
Janice Lee
—
Um this is super cool.
Sophia Le Fraga translates Waiting For Godot via text message.
Poets make that guap, right? Easy money. At least that's what my nine to five office co-workers keep telling me.
It's easy being poor, it's much harder to be a ri¢h poet. People who are not poets have no idea how real the struggle is. Major label publishers, celebrities, Jay-Z– everyone wants a piece of the lyrical genius. It can be super overwhelming. Don't even get me ranting about all those diamonds that get thrown at us on our way to the subway for the evening commute. Yowch! Thankfully, those precious stones can be ground up and sprinkled on cat litter to make that shit shine.
Today starts the first in a series profiling real life rich poets so that you get to know them, understand their pain. Please enjoy this poem by Elizabeth Foster and recognize that it's hard out here for a ri¢h poet.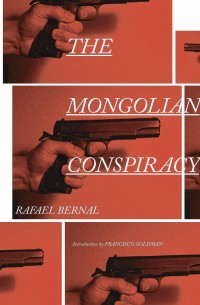 The Mongolian Conspiracy
by Rafael Bernal, translated by Katherine Silver
New Directions, 2013
192 pages / $14.95 buy from Amazon or Powell's
Rating: 9.0
The Mongolian Conspiracy, by Rafael Bernal, brings slick Noir tropes to 1960's Mexico City. Ostensibly a political thriller, the action follows Filiberto Garcia, an aging veteran of the Mexican Revolution and killer-for-hire contracted by the police to investigate an assassination plot. These rumors, apparently originating from Mongolia, send Garcia on the prowl through the city's gritty Chinatown, and as the plot unravels: farther and farther a field. The scenes trend pulpy: Garcia seduces a possible femme fatale, he shoots up an opium den, and he brings the investigation to a very Sam Spade finish. The novel has the sheen of 60's political thrillers (The Day of the Jackal, Z, Topaz), especially as Garcia meets operatives from the CIA and KGB. But these encounters, madcap and witty, capture the tone that makes The Mongolian Conspiracy more compelling than any ordinary political thriller.
Comments Off

on The Mongolian Conspiracy
May 6th, 2014 / 12:00 pm