HTMLGIANT / Brooks
Brooks Sterritt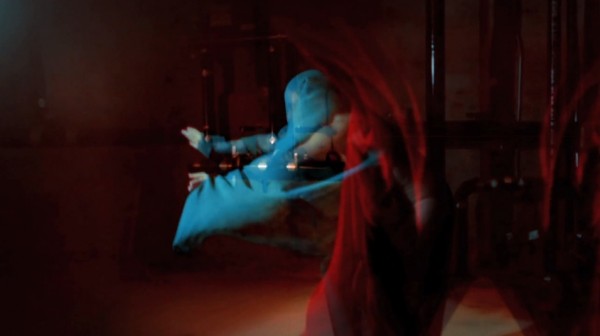 The new short film from Ellen Frances, "Old Theme," follows her 2011 short "Very Beautiful Woman" in a series of intense self-portraits. Her control and exactitude become more apparent with each release, and while this series departs from her music video and other creative work, the same instinct for evocative composition pervades these first two entries. Collaborating this time with Jason Lescalleet and Jenni Hensler, Frances expands on the motifs introduced in the earlier short.
The title comes from a track on Lescalleet's 2012 album Songs About Nothing, and together with another track ('The Loop') from same, the tape musician's musique concrète comprises the majority of the soundtrack. Frances opens with audio from her own ECG looped over spinning gears—blood circulating, heart in constant rhythm, my pulse as yours doth temperately keep time—then crashes it into 'Old Theme' and appears herself as a dancer wound in Hensler's sheer red and blue silk.
Hensler has designed costumes and outfits ranging from Zola Jesus' white-LED spiral collar to dresses for Chelsea Wolfe and styling for Crispin Glover. The silk she uses for Frances' costume frames the face and billows in directions from which the half-hidden body withdraws. Constriction / flow and opaque draping are coordinated and shot by Frances, but the costumes themselves seem like burning auras flung outward to track her body. READ MORE >
Film
/
1 Comment
July 31st, 2013 / 4:56 pm
Brooks Sterritt
A few months ago I took some photos of Bender's T.V. Text and Image, an installation of television sets with vinyl lettering. The text and (boxy) sets are from the late 1980s, and the video is satellite television, in some cases live.
Film
&
Technology
/
3 Comments
July 1st, 2013 / 5:11 pm
Brooks Sterritt
I know there was a Tao Lin post x hours ago, but I don't care. I have books to give away. Want to win free books? Want to grumble? Comment on this post to get one of these: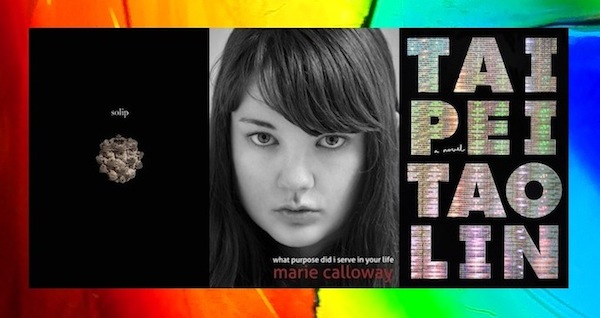 FIRST PRIZE goes to the commenter with the best* comment
SECOND PRIZE goes to the commenter with the worst* comment
THIRD PRIZE goes to the commenter who makes the MOST* comments (bonus for over 100)
each prize will be selected randomly from the (pictured) prize pool of:
Solip by Ken Baumann
what purpose did i serve in your life by Marie Calloway
Taipei by Tao Lin
*as calculated by me
(for the curious, the reason I have these books is that I pre-ordered two out of the three, then received ARCs. i bought two copies of Ken's because I knew it would be badass)
Web Hype
/
157 Comments
June 18th, 2013 / 11:00 pm
Brooks Sterritt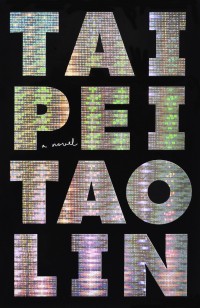 Taipei
by Tao Lin
Vintage, 2013
256 pages / $14.95 buy from Amazon
1. "Paul dreamed something about his cube-shaped room being a storage facility in which he'd been placed by an entity that believed in his resale value."
2. "He felt like he was trying to remove the surface of a glass bottle by pawing at it with oven mitts."
3. "'Nice,' said Paul staring transfixed at Fran's delicate and extreme gaze, like that of a skeleton with eyeballs, or a person with their face peeled off."
4. "Daniel arrived with his friend Fran, 22, whose intriguing gaze, Paul noticed with interest, seemed both disbelieving and transfixed in discernment, as if meticulously studying what she knew she was hallucinating."
5. "He awoke at night fifteen hours later and, while showering, felt like he lived in a module attached to a spaceship far enough from any star to never experience daylight."
6. "The book party, like algae, feeling its way elsewhere, moved slowly but persistently from the bookstore's basement to its first floor, to the sidewalk outside, converging finally with other groups at a corner bar…"
7. "There were times when his memory, like an external hard drive that had been taken from him and hidden inside an unwieldy series of cardboard boxes, or placed at the end of a long and dark and messy corridor…"
8. "Daniel was standing with limbs and neck uncoordinatedly extended, slightly striding in place–the pre-predatory stance of a chained thing that had broken free and didn't yet know where to direct its vengeance, or what to do generally."
9. "…watched the police car, or a police car, zoom past in the left lane, with emergency lights on and sirens off, quick and soundless as an apparition or the hologram of itself."
10. "One the plane, after a cup of black coffee, Paul thought of Taipei as a fifth season, or 'otherworld,' outside, or in equal contrast with, his increasingly familiar and self-consciously repetitive life in America, where it seemed like the seasons, connecting in right angles, for some misguided reason, had formed a square, sarcastically framing nothing–or been melded, Paul vaguely imagined, about an hour later, facedown on his arms on his dining tray, into a door-knocker, which a child, after twenty to thirty knocks, no longer expecting an answer, has continued using, in a kind of daze, distracted by the pointlessness of his activity, looking absently elsewhere, unaware when he will abruptly, idly stop." READ MORE >
Reviews
/
26 Comments
June 6th, 2013 / 12:01 pm
Brooks Sterritt
DON'T BELIEVE ANY REVIEW YOU READ
most reviews seem like a combination of vague/abstract/sweeping statements, lies, inaccurate chains of thought, irrelevant information, personal prejudices, blind allegiance to traditions, personal belief in one's ability to judge for others, passive insults, reluctant/qualified acceptance of talent, asskissing, exagerrated statements, reference to older authors and his/her work as template for how one can be better, unresolved psychological issues, jealously, desire for acceptance/shittalking how 'cool' the author and his/her group is, and other insecurities/pettiness.
– Sam Pink's blog
A few months ago, I asked Vintage for a galley copy of Taipei, Tao Lin's forthcoming novel, with the intention of writing a book review for a magazine that I solicited. The publicist at Vintage was very kind in her response, and prompt; in a few days there was a package outside of my door. The magazine in question was interested, which surprised me, because they tend toward more 'esteemed,' overtly political, and/or 'international' authors. Unfortunately it didn't work out, for a variety of reasons. I'll say that the fault is more mine than theirs—in reality it was my very first editorial dispute, which I'll probably fondly remember in the future (or not). Either way, the review didn't happen. READ MORE >
Random
/
5 Comments
June 5th, 2013 / 12:16 am
Brooks Sterritt
what purpose did i serve in your life
by Marie Calloway
Tyrant Books, 2013
200 pages / $19.00 buy from Amazon or SPD
1. A link to Frank Hinton's review from a few weeks ago.
2. Sex Writer Marie Calloway Addresses Dr. Phil Controversy Live
3. "I started to wonder, and felt relieved that there might be truth to the idea of intellectuals all being frauds. I knew that I certainly was."
4. Some old links [TRIGGER WARNING: "journalism"]: 1, 2, 3, 4, 5, 6
5. I don't know if Marie Calloway's writing is unique, but I know I haven't read anything like it. Have you?
6. "I wondered if maybe men are incapable of understanding something like this as anything other than something that's meant to get them off."
7. I've been thinking about how subjective the idea of "degradation" is, unless we're talking about soil erosion or something.
8. 

9. I'd be curious to read a story that was "completely incomprehensible to men," especially if Marie Calloway wrote it.
10. It's funny how such clear, direct prose has resulted in so many people missing the point entirely. READ MORE >
Reviews
/
14 Comments
May 26th, 2013 / 9:59 pm
Brooks Sterritt
Seven days ago HTMLGIANT received an anonymous review submission for Fun Camp by Gabe Durham. An anonymous review went live today around noon. However, the review had to be taken down today a little after five. Sometimes you get an email at 8:04 AM and then another at 8:08 AM and you just read the one from 8:04 AM and then that causes a blooper. This is perhaps irrelevant to the following: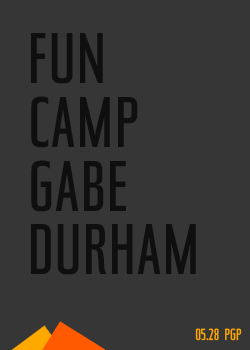 FUN CAMP BY GABE DURHAM
Random
/
20 Comments
April 30th, 2013 / 6:27 pm