Random
A new friend in another country emailed me the following. The subject line was 2666: "There is this group of authors that mostly perplex me, from whom I end up reading more books than from anyone else, not really knowing why, Dostoievsky and Kafka were representative, now Bolaño. I never had the chance to hear someone who would have loved/been obsessed by one of these authors tell me about his or her relationship with them. May I ask you to tell me more about what you found (find still I guess) in this book?"

My response:
X,
You've pointed out a vital, strange fact: some readers feel enthralled to the work of certain authors. This opaque compulsion happens with a handful of authors in a given reader's lifetime, I believe. It's as if the enthralled reader cannot afford to give out more of their secret cravings. That to do so would be to risk revealing one's most vaporous secret.
I've read a lot of Bolaño's work, but I can't say that I love my time inside his books. They hold for me this strange magnetism, to which you've alluded. When I think about the mechanics of Bolaño's work, and the peculiar atmosphere of nearly all his novels, I often go blank. When I talk about his work with friends, I lean too heavily on metaphor and analogy. I'm either unwilling or unable to face the trace of his work directly, avoiding the center of 2666, or The Third Reich. Is the center of Bolaño's work too dark to articulate explicitly? Some novels feel like elaborate shields around terror. Though, no: Bolaño's novels don't feel like they're surrounding an evil in order to allude to it while also protecting their visitors, us readers.
To me, 2666 is a document that traces a dark channel of energy. This energy is constituted simply: it is life's cannibalism of itself. This flow is dark because it lacks exuberance. Power expresses itself in Bolaño's novels in muteness, or in insinuated terms. Bolaño's evil whispers, whispers because its weapons have already been buried. 2666, ostensibly a long novel about navigating a world of obsessive violence and mental compulsion, is stylistically tame. Its darkness permeates the stratum just under the surface of its lingual foundation, its simple sentences which sometimes loop around and through psychological agonies—or which sometimes document budding cruelties. Bolaño's realms are steeped in the sinister. Violence is explicit, but often merely as artifact. We see replica after replica of evil, shorn up in gutters and dumpsters and ditches.
Bolaño's characters are, as a rule, reduced to confusion, and eventually to a despondency leaden with fate. The characters who catch glimmers off of life's underground river are often made to disappear. The naive die. The poor, as well. The few who know never know directly; their obliqueness to the truth assures their living, even their becoming mythological. His books are not afraid to present the staggering violence hidden in simple conversations. For Bolaño, the novel is an apparatus for calmly vivisecting our attempts to clothe life in civilization.
As documents of the labor of a mind, Bolaño's books testify to the great range of creative desire. Hundreds of poems, many novellas, excruciating novels. Bolaño's work forms a fugue. I think its melody is most strongly stated in 2666, and most precisely stated in The Third Reich. The former novel is open-eyed, openly haunted, and presents the blunt violence of modern life in a cold starlight. The latter novel is precise, figural, listless, claustrophobic, lodging you in a hunting ground conveniently labelled Resort. 2666 invests you in a world in which death and madness are quiet, profane, and assured; The Third Reich invests you in a world in which death and madness are simple moves in a blind and silent game. Though I don't see Bolaño's subtle fatalism as equivalent with Kafka's. Bolaño's fatalism could only be considered a byproduct of humanity's hollow pageantry, like a ceaseless laugh in an empty theater. Bolaño's fatalism feels cosmic, gnomic. The fate spoken by his work has the walled glance of a predator.
But I've leaned too heavily on metaphor and analogy. I've again avoided facing the center. But what if this is precisely why we find ourselves drawn in to Bolaño's work? Maybe we find ourselves drawn in to his work because of the astounding fact of its hidden center. Most writers can no longer afford subtlety; Bolaño's work testifies to the low, rumbling power of a writer unafraid to stare past the world.
Yours,
K
The other day, one of my students asks me where oil comes from. I am helping him with an article about climate change and the oil industry that he was supposed to summarize for the previous week's assignment. English is his third language and the one he struggles with the most, so we are sitting at his desk after dismissal going through his article line by line.
I'm surprised that he asks me that, where oil comes from, and then I'm ashamed at my own surprise. He has no reason to know the answer.
I could tell him that where I grew up, the drumbeats of the oil rigs were as familiar as the sound of my own heartbeat, or that my first school had an oil derrick next to the swing set, caged in with a barbed wire-topped fence and locked with heavy chains. READ MORE >
Here is a bird that flies south while singing a serenade. It passes laundry hanging on the line, and though it may just be a big misunderstanding, decides that life is utterly unfair, and isn't sure what do, as it imagines an asteroid flattening all it sees in front of him, the laundry hanging on the line, a cauterized and flexible landscape. Fairly, he is fair. Fairly he flies due west and then starts to laugh because life is limited and the landscape is limited and because fragmentation is inevitable, he flies into a turbine.
Horses grazing on a field. Ice cream melting in a hot mess on the field. Just a big mess. The horses eat what they are permitted and they eat more than what they are permitted. Laugh, just keep laughing, one horse thinks to himself as there is a clear sky above him and a hot mess of ice cream on the field nearby. He has been composing a speech all morning on fairness and is trying to think of the right prefix to affix to a certain word and then becomes distracted by the boy taking out the garbage and then a small and brief shadow above him and then from the nearby turbine blood and ahhhh and it is clear how his speech must end.
The sound of a passing train. It hardly shakes the floor but the concierge can still feel it, especially in the cellar and especially on the old wooden steps. He goes down the wooden steps and the way is obscured with boxes and then a mouse crossing by the boxes and then another mouse and then surprise at what he sees. A mouse screams, or the concierge screams, and he makes a quick exit. Why? As he runs up the wooden stairs he is stopped and asked, what are you doing?! And magnetized by the passing train and suddenly having been faced with infinity and simultaneously the finitude of all the galaxies he only thought, I can't articulate that, I can't articulate, I can't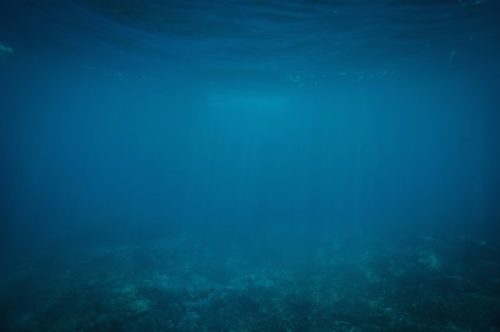 I live in a small city called Santa Fe. Among American cities, this one is called old.
I've taken writing seriously—and have obsessed over books—for sixteen years. The years don't mean much on their own; the years merely mark an inclination. This inclination to make, own, and talk about books feels apolitical. Apolitical insofar as it seems further adrift from contingent affairs than other disciplines; the lover of books should see the book as a testimony to the fundamental desire to express, and to be considered far beyond one's time.
I see in old books—which I've studied often in Santa Fe—the testimony of our being in similar patterns. We eat and fight to do so; we sleep and dream of other ways, sometimes aloud; we do not cease in our attempts to make the world ours, or, if not ours, a familiar villain. These acts are crystallized and preserved through books—books as the salt of being. READ MORE >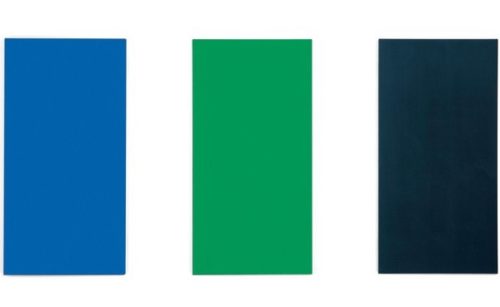 Passing the Ellsworth Kelly section in the recently remodeled SFMOMA, I suddenly worried about whether or not I placed my coffee cup in the right bin, the triptych of civic responsibility causing a Pavlovian response of doubt and shame. One will quickly walk past museum rooms whose contents are prematurely judged as not being interesting enough to hold one's attention, as I did here, using the section as a shortcut to Agnes Martin, in whose dedicated room a patron's child had a fit. Minimalism's problem, I think, is that the conceptual conceit can only be actualized as an executed idea, stamped on an object in space, an aesthetic errand dutifully completed in the supposed name of art. It doesn't tug at the soul, however antiquated and sentimentally ghoulish such a spirit might seem in an enormous modern and generously lit room, always a bit below room temperature, like a morgue, grand white walls running upward towards the skylights. Guards, whose native islands were unruly colonized, despondently stand in geriatric loafers, their blazers derisively provided by the house, as if they showed up to a fancy restaurant under-dressed.


I gladly add my voice to the chorus of Goodnight and Thank You to Gene and to Blake. Thank you, for creating this bizarre little hole that grew & grew, a hole I happily fell into time & time again. I didn't post often, and haven't in ages, but I visited regularly and learned a lot here–about books I would not necessarily have found otherwise, and presses, and people asking important questions and creating amazing things. Thank you to those of you I haven't met in person, but feel I know vibrationally, which can be better than IRL.
I know there were flare-ups and hurt feelings, but if I'm going to be honest, I more often than not left this space with more–not less–empathy. Behind each voice, behind each screen, is an actual person, and therefore, I think it's safe to say, a person in pain. Pain is a good teacher.
It might sound silly, but one of the things I learned from the past 4-5 years of clicking around here: the internet is the ultimate nobody & the ultimate everybody. HTMLGiant was a very good place for negotiating this weird, constantly askew binary. And I think, at its best, it was an exemplary art forum–many people here seem to know that the only way to talk about art, really, is to make it. Questions of good or bad, like it or don't like it, generally didn't resonate for long. People risked ridicule and criticism to talk about things that moved them.
People risked. I guess I can't think of a higher compliment.
And it's time for HTMLGiant senior superlatives. Nominate the contributors and commenters who you think should graduate with the honor of Best Hair and Most Likely to Succeed in the comments.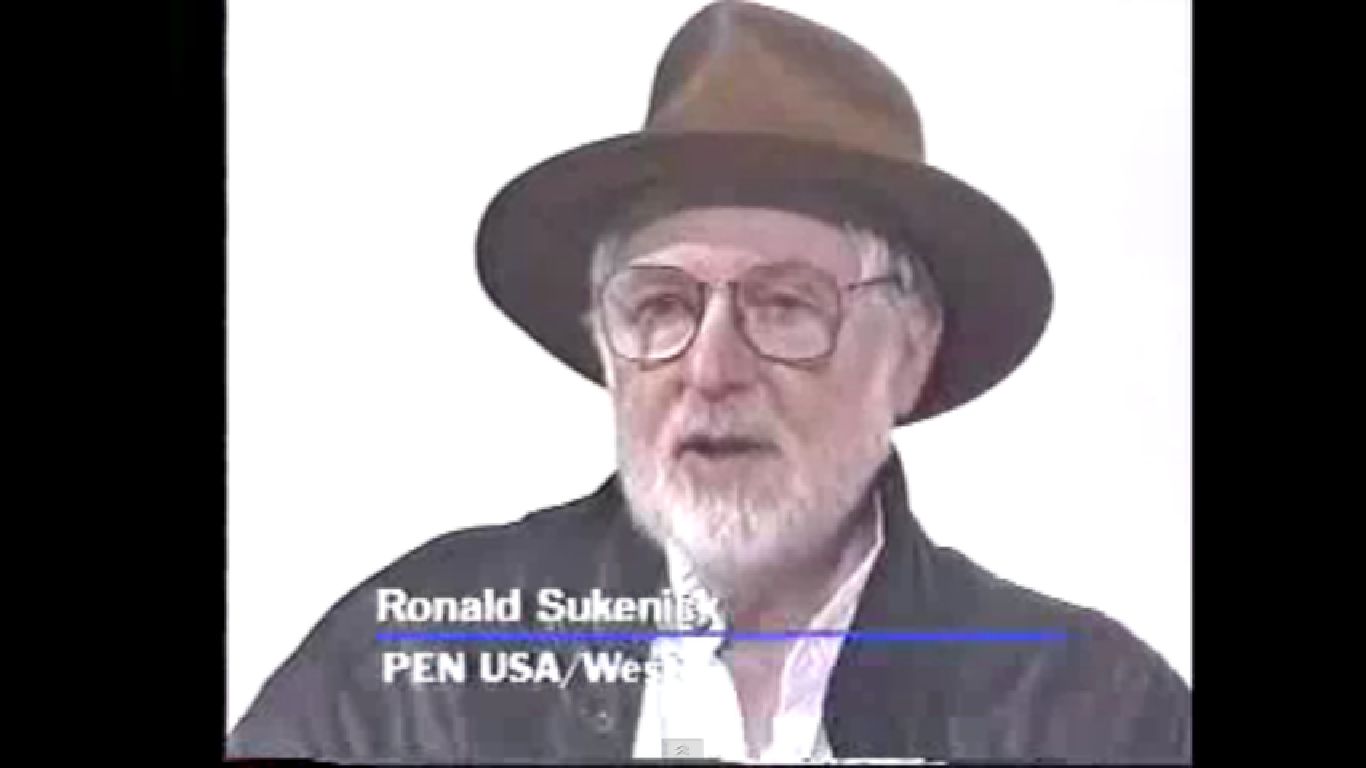 This new thing is a style that we have come to call the Bossa Nova, an elaboration of the new tradition. Needless to say the Bossa Nova has no plot, no story, no character, no chronological sequence, no verisimilitude, no imitation, no allegory, no symbolism, no subject matter, no "meaning." It resists interpretation because it doesn't want to be interpreted, but is very easy to understand once you forget about analyzing it. The Bossa Nova is nonrepresentational — it represents itself. Its main qualities are abstraction, improvisation, and opacity. (pg. 211)

— Ronald Sukenick, In Form: Digressions on the Act of Fiction (Southern Illinois University Press, 1985)
***
I've had this power quote in draft mode for a long time. Since the end is nigh, I thought I'd go ahead and post it.
Also, I wanted to say thank you to Blake for bringing me on board — I began writing for HTMLGIANT on July 16th, 2009 — and to the other contributors for their consistently engaging work. This site has meant a lot to me. It opened many doors, introduced me to many new writers and new ways of thinking about writing and publishing. I greatly appreciate the opportunity to have been a part of this community.
Thinking about how literary historians of the future will write about this place and its people, I smile. While it did get ugly around here from time to time, I think Giant succeeded more often than it failed.
If you haven't read it yet, Peter Tieryas Liu wrote a thoughtful piece about us at ENTROPY where he says, "There were many orbits and star systems within HTMLGiant. When people made comments like, HTMLGiant this and HTMLGiant that, I wondered, which HTMLGiant?"
For me, that nails it. We were never one thing. We were a spot where a bunch of different book-passionate voices came together to clash and splash and share ideas.
This place will be missed.