Random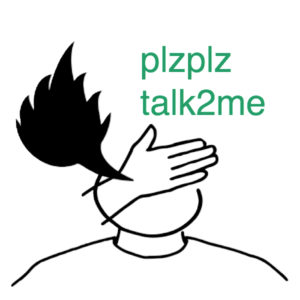 Welcome back to plzplztalk2me, a semi-regular feature in which I talk to people who want to talk to me about stuff they want to talk about.
Recently, I e-mailed back and forth with Moss Angel Witchmonstr. Moss Angel Witchmonstr is author of four books, most recently Sea-Witch v.1 (2fast2house, 2017). She is a scorpio & a transsexual & lives in Portland, Oregon. Follow her on patreon at http://patreon.com/monstr.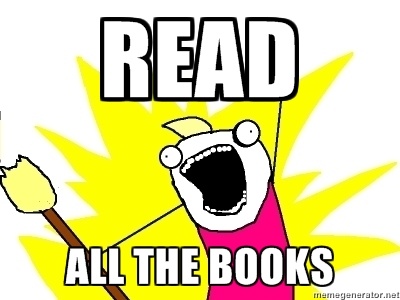 There's a lot of exciting stuff headed our way in 2017 from independent publishers. Here are some of the books I'm looking forward to getting my hands and eyes on this year.
(What books are you looking forward to in 2017? List them in the comments section below!)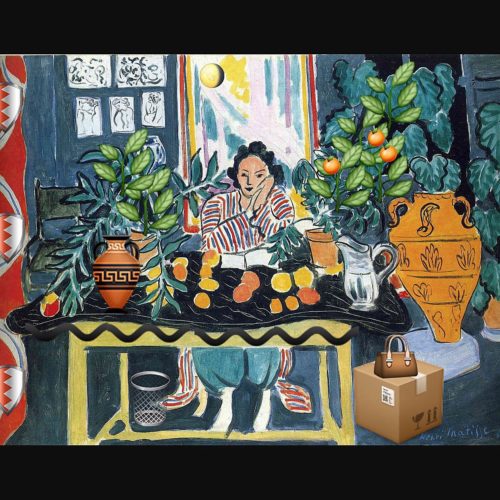 Stefania doesn't really use the internet but still received a package from Amazon Prime. What's the point, she thinks, in opening the box when I can use it as a table. Plus, I'm so tired, from what, I don't know. Let's see, where did I put my shoes. What are all these mangos doing here and what is this new trash can? The moon looks insane outside and it's not even full. I don't know where this vase came from. I must be losing my mind.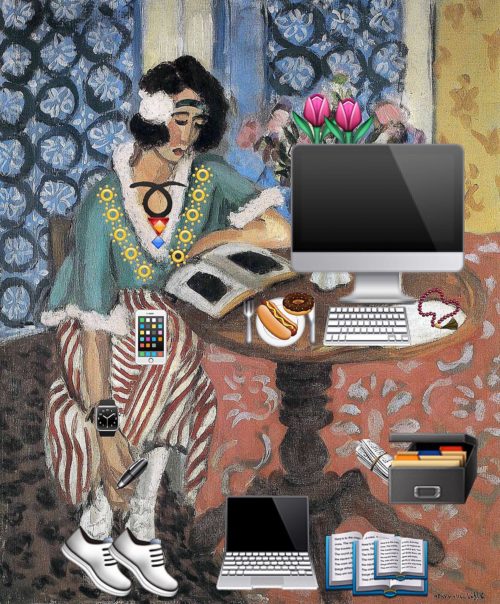 Clarice can only handle art books. Right now she's looking at Dorothy Ianonne (Siglio Press) and checking to see how many likes her photo got. She posted "Air de Paris" because it's a controversial one involving a blow job that Instagram won't notice because it's too abstract. She doesn't even really like hot dogs or donuts. She just put them there. And the white brand-less tennis shoes? Those are abstract too which makes me wonder where she's going with that. READ MORE >
A Beehive Is Not a Little City (Made Out of Honey)
Tremendous Ache in My Fingers
Are You Reasonable?
In Your Motor Car (Flash Your Lights at Satellites)
Klimt in the Country
Never Break, Day
Booze Cruise
Fellas Remind Yr Mothers
Cantankerous Oval Godhead
Green.Pleasant
Euphoric and He Looks Like a Baby
Cheeseburgers in Paradise
At Loggerheads w/Reptilians
Pants (Refrain)
Murphy and the Solar Bowler Hat
Center of the Earth (Everybody Dances in the)
This Colossal Waste of Time
Preview of a Great Massacre
O Shit I Missed the Brexit Vote
Fan Theory about the Karma Police Video Involving Edward Snowden
Casual Friday (Hazmat Suit)
Something Something Hamilton I Guess
Fodor's Guide to Antarctica
Anvil Meets Head
Guh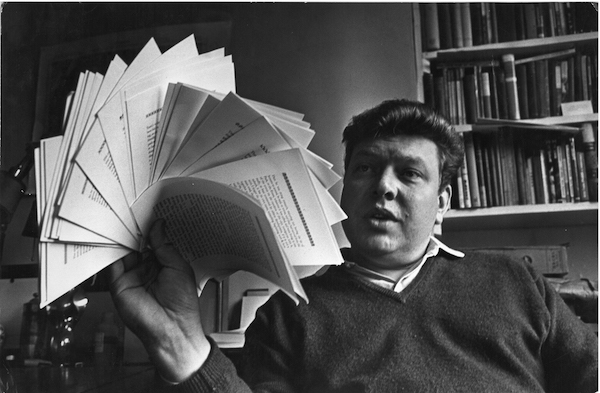 I'm not sure you could come up with a better name for an experimental writer than B.S. Johnson: it sounds like someone both regal and a joke, which for the English writer of this name, who walked a strange line between outsider artist and one at the cusp of avant-garde, it could hardly be more fitting. B.S. Johnson was decades ahead of his own time, both in the fuck-all way he approached the act of narrative, and the very outline of his life. His was a career that would not begin to find its traction until long after his death, and for my money, still not to the level he deserves.
From the beginning, it was clear that Johnson wanted little to do with the bullshit tropes of how a book is known to work. Raised by a working class family and spending his early years working as a bank clerk, he eventually taught himself Latin and left the workforce for college, then began writing as an assault on what he critically referred to as the "neo-Dickensian" output of those who would become his literary peers. READ MORE >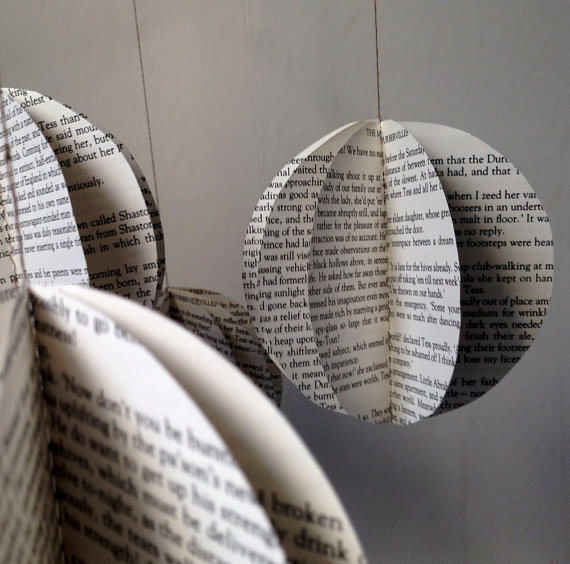 For the past few years I've been keeping a list of all the books I've read. This simple trick has resulted in a marked increase in the amount of reading I do. I group the book titles by month; when the date is getting to be in the mid- to late 20s and I check my list to find that I've only listed one or two books so far, which is often the case, the next several days will include harried bouts of late-night reading intended to prevent myself from later feeling ashamed when I would hope to be proudly perusing my list.
Highlights from this year's list follow the jump. READ MORE >
Last night, Nicolette and I were getting ready to see Joy Williams at the Folger-Shakespeare Library in D.C. We made and ate dinner, then Nicolette made a Twitter. I was so happy. I love it when people make Twitters. She chose her profile picture and header picture, then asked what her first tweet should be.
I suspect that everyone who has wholly dismissed Twitter has done so only after creating a profile and, after much inner turmoil, was unable to conquer the bleak anxiety of The First Tweet. Does a person just tweet a variation of the seemingly inevitable 'first tweet' tweet? Does s/he ignore the obvious and awkwardly, just, what? Start? Interested in how other people handled it, we found a website that let us type in the usernames of various writers, and see their first tweets. It was really entertaining, so we compiled a "Best Of" list containing some of your favorite author's first tweets.
Enjoy!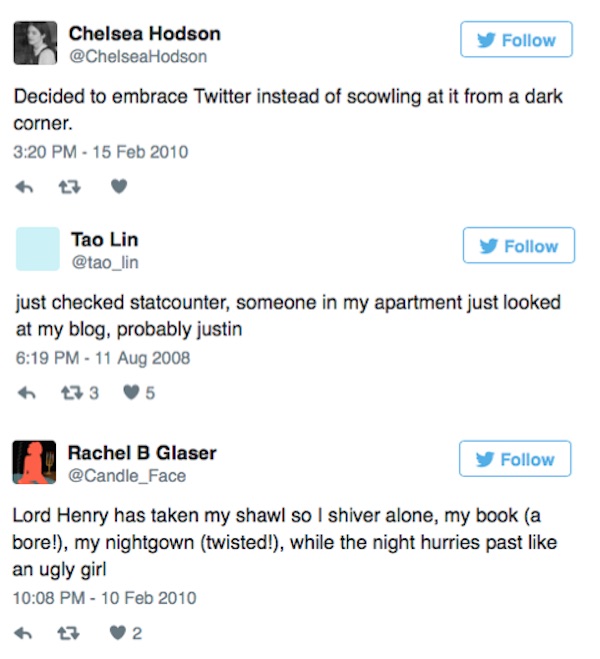 READ MORE >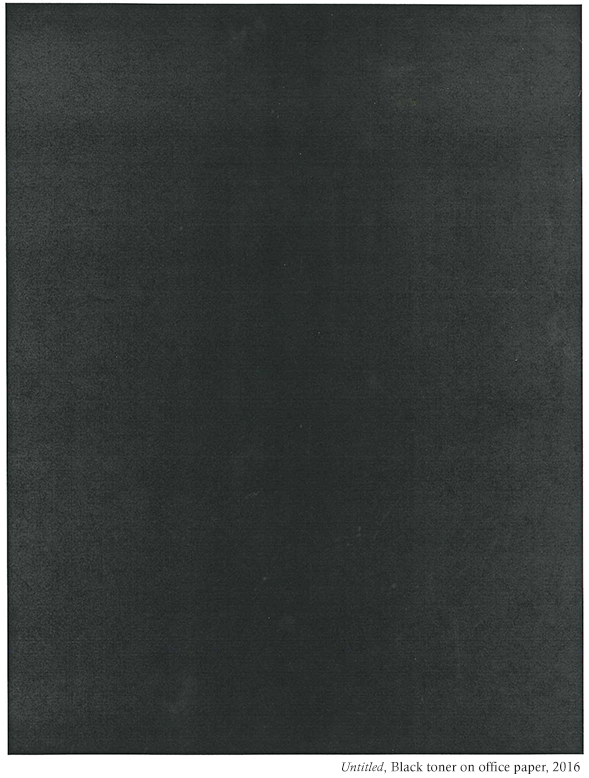 The IT field service agent handed me a sheet of paper covered in black. He had just installed a new printer and was showing me the test print. I asked him why not just print out a standard document instead of wasting all that ink. He said that was the standard printing test: an exhaustive print that employed the maximum breadth of the printing area. It was still warm. I came close to thanking him, but that seemed sentimental. The nuances were sensual. It looked like a reproduction of a minimalist black painting. Or a painting itself. I could smell a blog post.