brian evenson
Ed vs. Yummy Fur

by Brian Evenson

Uncivilized Books, 2014

Rating: 10.0
A comic like Chester Brown's Ed the Happy Clown isn't one that's easily discussed in polite company. It's replete with scatology, hyper violence, and vomiting penises that look like Ronald Reagan. "[I]t's hard to recommend Yummy Fur or Ed the Happy Clown to just anyone without offering a few caveats/qualifiers/warnings," writes Brian Evenson. Nonetheless, the book is worth talking about—even more specifically, the journey from mini-comic to "a graphic-novel," which is what Brian Evenson does with incisive detail in Ed vs. Yummy Fur or What Happens When a Serial Comic Becomes a Graphic Novel.
Brian Evenson is the perfect critic for the first installment of Uncivilized Books's Critical Cartoons series (which also promises a book of criticism on Carl Barks's work on Donald Duck comics—now available for preorder). As an author renowned for fiction and scholarship that bridges the gap between high- and low-brow cultures—after all this is the author of both Altmann's Tongue and two Dead Space novelizations—Evenson lends a sense of legitimacy to Ed the Happy Clown as he meticulously examines Chester Brown's work. Comic books—especially alternative mini-comics—are seldom the subject of serious literary criticism. I can go on and on about the injustices of the Ivory Tower-ensconced literary elite, but Evenson does this with far more aplomb throughout the work, deploying asides questioning the very nature of a "Graphic Novel" versus a comic book or "a graphic-novel" as well as quotations from other critical greats such as Douglas Wolk (although Evenson's dissection of Wolk's previous criticism of Chester Brown also becomes a point of contention in Ed Vs. Yummy Fur).
Brian Evenson contends that Chester Brown's early work—albeit as crass as possible—is important because it redefines an entire genre of sequential art. Evenson places Brown within the same pantheon of deconstructive, comic book auteurs Grant Morrison and Alan Moore, but what's even more notable than Evenson's thesis is his own redefinition for what literary criticism can do. Criticism encourages a level of scrutiny that, ultimately, raises the original work up, regardless of its individual merit, and this is exactly what Evenson has done.
Brian Evenson on his summer reading…
***
First of all, if this is the third summer that you've convinced yourself that this summer that this summer you're really going to read Infinite Jest instead of just pretending to read it, it's time to burn the book. The first summer it really could have happened. Last summer, even, it could have happened, but by this time the jest is on you. You're better off reading:
Bough Down by Karen Green (Siglio Press)
Her moving, powerful and haunting book about her husband Wallace's suicide and its aftermath.
Troublers by Rob Walsh (Caketrain)
This is one of the strongest, funniest, and oddest story collections I've read lately, the kind of book to give you faith in the form again. Well worth the attention.
The Ballad of Ballard and Sandrine by Peter Straub (Subterranean Press)
This is a sharp and strange little novella. If you can't find the Subterranean Press edition, it's $2.99 for Kindle or in Issue 56 of Conjunctions.
Reposted from Facebook:
***
Advice for Future MFA applicants:

On a more serious note, now that I've almost read through this year's batch, here's the advice I'd give off the top of my head to future MFA fiction applicants. Most of the applicants were interesting people and trying hard and it's deeply appreciated, particularly when I'm reading so many applications. I don't think any of the applications I read this year had a single malicious bone in their body. But here are a few things that I would want to be told if I was thinking about applying. Please feel free to steal, revise, mutilate, or dispute:1. Turn in your very best piece of fiction. This really, really matters to me, more than anything else. If I love a piece of writing, I will fight for it, and am willing to overlook a multitude of other sins.

2. Better to turn in one shorter excellent piece than a good piece and one bad one. Don't turn in work just to max out the page limit. And if you're finding yourself trying to cram all sorts of things into the page limit by changing the font and single-spacing, then step back and take a deep breath and think again.

3. Don't try to pretend you're something you're not. Most of you don't, and those of you who do don't do it maliciously, but just kind of slowly convince yourself into it as you write and rewrite your application. Look, it's easy to tell if you're faking. So don't fake.

4. Be honest, but "we're dating and getting serious" honest rather than either "First date honest" or "Now that you've proposed, here's all the stuff you need to know about me (like the fact that I killed my first wife)" honest. You can and should talk about your struggles and successes and trials and etc., but in moderation.

5. In the personal statement, write about yourself in a way that allows us to get a real sense of you and the way you are now, right now, and where you're going. If you feel you have to go back to childhood to do that, that's okay, but if I go away with a better sense of how you were when you were in 2nd grade (or whatever) than how you are now, that's not good.

6. Read interesting things and learn how to talk about them in interesting ways. Read, read, read. And read eccentrically. Take chances. There's no reason, no matter what your job or your circumstances, that you shouldn't be reading an interesting book every week or two, and that'll do a great deal for your development as a writer and as a person. It's okay to let us know what books led you to writing, but better if we find out what books you continue to go back to and who you're interested in now.

7. Don't pretend to have read something that you haven't read. Don't google the faculty at a program and then try to include a line in your personal statement that suggests what their book is about. This rarely works, and as a result usually does more harm than good.

8. We're interested in knowing what makes you unique, but within reason. And even if you have a great set of experiences and are incredibly interesting and we'd love to have an 8-hour long coffee with you to learn about your experiences running Substance D. from the American camp to the Norwegian camp in Antarctica, if your writing sample isn't good enough you won't get in. There comes a time when you need to choose to work on the writing instead of getting life experience as a carny.

9. If you already have an advanced degree, you have to explain convincingly why you want to get another, and why we should give this opportunity to you rather than to someone else. If you already have a PhD, we need to be convinced that this is the right thing for you and for us, and that you're not just collecting degrees. But, honestly, the default acceptances for MFAs is usually (but not always) someone who doesn't yet have an advanced degree. We've taken people with advanced degrees in our program, but it's very much the exception rather than the rule.

10. If you already have a book out, same thing. Are you serious about improving your writing or do you want to treat this as a sort of an artist colony? If the latter, well, I'd suggest an artist colony: they'll feed you, and we usually won't. If I get the impression that you want to get the MFA mainly to have a teaching credential, that can be one or more strikes against you.

11. MFA programs make mistakes. We don't always see the potential of people, which may be partly our fault and partly your own. Do everything you can when you put together your application to make sure that the fault is on our side rather than yours. But also remember: any really good program ends up with many more people they'd like to admit than they actually can admit. When it comes down to that final cut, it's very very hard, and we'll have to let people go who, ideally, we'd love to have come. So, if you don't get in, don't take it as a judgement. To our shame, we've turned down many great writers before, and probably will again. But fingers crossed that it won't be you…

Good luck!
Best,
Brian
Blake Butler
—
1. At Examiner, an interview with Vanessa Place on L.A., Stein, La Medusa, etc.
2. At Flatmancrooked, an interview with Brian Evenson on nihilism, Kafka, film, etc.
are live and listed now, with this year's final judge Brian Evenson.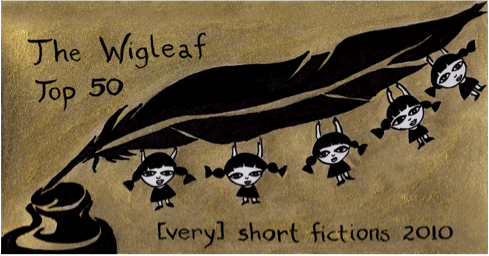 1.) The University of Indiana's main library sinks one inch per year. Why? The engineers forgot to calculate the weight of? [Go ahead, lovers, guess]
2.) Badass Pub Crawl in LA. What do you say to Aimee Bender while drunk? "Yo! Can I stumble into, vomit on every reviewer so lazy as to compare you to Ray Carver, Aimee? ? Can I be like your anklet monitor, Aimee? Just near you? I like the way you spell your name." Crash.
3.) "true originality doesn't exist anyway, only authenticity" Bullshit meter?
4.) An interview with Carole Maso (Brian Evenson on the inquiry machine). This is old, OK. "HTML is a blog, what is this old shit, yo?" Blah blah. Go lift weights in the shower, so you can sweat yourself and clean yourself simultaneously. Now you're in the future. So chill-axe.
5.) This Heide Hatry shit is bloody and controversial so just be careful and don't swoon on me. (We all know pigs are smarter than dogs [don't get me started on cats] but pigs taste great, right?] Etc. Etc. Yawn. Slurp. Etc.
httpv://www.youtube.com/watch?v=fyHq26xJ5as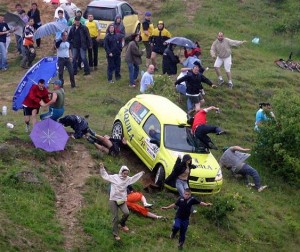 Smart blog post on experimental short story by Charles May.
When Donald Barthelme's first collection of stories, Come Back, Dr. Caligari, appeared in 1964, critics complained that his work was without subject matter, without character, without plot, and without concern for the reader's understanding. For Barthelme, the problem of language is the problem of reality, for reality is the result of language processes.