coffee house press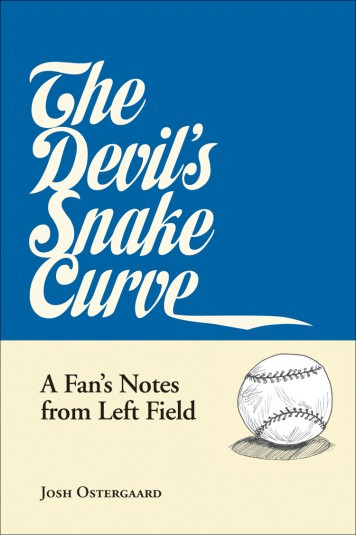 Last night the Kansas City Royals won their tenth game in a row, which should make my friend Josh Ostergaard pretty happy. He's a Royals fan from way back, and that comes out in his new book from Coffee House Press, The Devil's Snake Curve. The 256-page alternative history book is made of five chapters with titles you might not expect to find in a baseball book, such as "War" and "Nationalism." These chapters are broken up into short sections, which also have titles. The first is "Kansas" and the last is "On the Beach" and along the way there are hundreds more, like "Cud," "The Value of a Soldiers Life," and "Another Take on Hair."
These nonlinear sections weave through numerous subjects, sometimes about the roots of baseball and baseball traditions, sometimes about the strange cast of players and owners. Josh also writes funny anecdotes about his own experiences playing the sport, and the socio-political incidences that have occurred related to the game both in the US and around the world. War comes up a lot, and not just in reference to Abner Doubleday playing rounders in 1861 (or whatever). This is a serious book, heavily researched, and complicated. In fact, referencing the Royals' current success is misleading, given how little attention Josh pays to the scoreboard compared to the game as cultural soporific or propaganda machine.
It's interesting how many ways the book is characterized. Publishers Weekly listed it in its Top 10 for sports books while Shelf Awareness called it "a backdrop for American political history." Epoch Times said it's "a kind of Fargo of baseball books" (?). I like Eula Biss's comment, who said it's "like a box of eclectic baseball cards about our country and our culture—curious, compelling, and disturbing in turn." 
You worked on this for years and years, right?
I started writing in late 2004. I remember flying to Amsterdam that Christmas to visit my sister and taking on the plane a pile of old newspaper clippings about Lew Burdette, the Braves pitcher who was good at beating the Yankees. But I think the genesis of The Devil's Snake Curve was the year before, during the months leading to the Iraq war. Like millions of other people I was against what was clearly a war of choice in Iraq, and even in the New York Times there was enough doubt about WMD and about the lack of connection between Iraq and 9/11 that it was obvious our country was about to go off the rails. During those very same months, The Field Museum, where I worked, hosted an exhibition called "Baseball as America." I went through the exhibit many times, and enjoyed it, but the more I thought about it, the less I was able to reconcile the mythology of the sport and of our nation with the incessant warmongering. Then we started bombing Baghdad. The Devil's Snake Curve is my attempt to reconcile the darker aspects of American history with the ways professional baseball has been represented. That old cliché about the Black Sox—"say it ain't so"—well, that's how I feel, but with regard to the ways the sport has been used as a public relations vehicle for war during the past decade.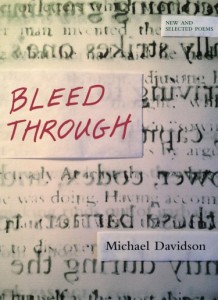 Bleed Through
by Michael Davidson
Coffee House Press, Dec 2013
256 pages / $17.95  Buy from Coffee House or Amazon
"Perhaps having power is like having images." If the concentration of images behaves gravitationally, then may we be approaching a point of collapse? Sure are a lot of pictures out there these days. The basic law of structure formation in the universe is collapse. And perhaps 'having' images is an affliction linked to memory, that trick of consciousness which allows humans to substitute pronouns like me and I, us and you, into the visions that bubble up during the increasingly rare moments during which one is not in a state of interface. It seems we have ever more such 'moments' to cope with. One inverse outcome of the surveillance state is we now have a population which is pumping images into circulation as never before. Michael Davidson's career retrospective Bleed Through resists this proliferation as a collection and yet accedes, on a poem-to-poem basis, to the idea that even an initially smooth distribution of matter will fall in upon itself. Images are conflated with words, and disintegrate from line to line, blurring across the sparsely punctuated sentences, as in Ready to Hand:
…it feels like ochre, a middle
in which a memo
is written, black crows
perch on the ledge
a small man below
becomes an object
and I seize it, it
comes off in my hands
like a handle
where there had been an intention
not to hurt
but to effect change
I wrote out the words
as though placing my hands
on a throat
it felt soft
and the blood was familiar
like middle C…
Davidson is well aware of a kind of useful violence latent in the process of reference as a professor of English, but in his poetry he seems to allow himself a moment of reflection. The title suggests that whatever is released by trying to grasp a scene, thing, or person is vital residue, but that the writing itself is in one sense confinement of the energy that suffuses the subject. Confinement here is a communal condition, and materializes as poetry, as criticism, and as image, in ways that are transparent about leaving something out. The 'leaving something out' is critical to allowing the subjects room to breathe an air of impossibility, which is what makes these poems semblances of life as a professor. A group of new poems is called 'Bad Modernism', scenes 'between rationalism and whatever is left out'. The subjects that dwell here, in the most recent poems, generally resist being totalized, by way of their gentle intrusions into, and unexplained exits from, the world of each poem. While Davidson's poetry is often grouped with the language movement, this is probably a bit inaccurate. While sometimes upending grammarians and often explicit about the pitfalls of language, a lyric relationship is still often present, if immaterial. His major output has been criticism, not poems, over the last decade, and this collection, although this collection is hailed as 'A book we have needed for a very long time'. I don't think there's any literature vital to our survival as a species, but I'm a pessimist unlike Ron Silliman. A grouping of things –systems, signs, speakers– will eventually not exert enough pressure outwards in aggregate to support its superstructure, and this is when collapse is imminent.
The collection spans thirty-five years of poetry, and narrows the work down to a single volume, so it is a well-contained environment. The distribution of the pronouns he uses changes as the reader moves from the older to the newer books, and recently the second-person singular has populated like wildfire in zones that used to be by and large by a first-person, and permutations of the third person. One of Davidson's new and previously unpublished poems, The Friend, closes when "even the pronoun is laced with lime / as you pack it, ball and powder, / into a long gun, fire / and the report knocks you dead." The friend in question turns away from the I, and dances gavottes on his back with his wife, turning the narrator into a piano of doubt. But the piano starts to sound like the same melodic register after some time. The same philosophical problems are sounded out via collage. Sometimes sounds of the program of inclusivity and access, sometimes reports that knock someone dead, but always the distant thunder of personal catastrophe bound up with the language of violence and questions about reference, as in the chilling 'Before the Event':
In the sex light
he meant a street lamp
she glowed over roiling water
spread along a passage
from him to her
in the street the cars
rolled along the pavement,
he thought
to point her out
among the stars
her womb a cup
his cock the handle
simple blackness
with a plan
like a man about to
mean something.
This poem displays a high correlation between sexual violence and some of the essential components of anglo-american language philosophy which has risen to power in the academy in the aftermath of Wittgenstein. Davidson's objections to the way of living prevalent in the current academic labor force are present in different ways throughout the collection, although he has been affiliated with UC-San Diego in some capacity for over 30 years. Language poetry at its worst draws attention to its own ineffability while lording the power of the maker in a snide, academic way.There exists no image that contains the pain of having one's home ravaged by a storm. But one can have so-called 'philosophical' interests and admit to being powerless before them. Language poetry at its best seems to perform a collapse of the rules of its system for a user of the language. Davidson's work is filled with such moments of open vulnerability before the operations of the various systems. After one listens to so much loud music, deafness falls, but once everything is pictured what will become of the shadows?
[Andrew Ervin is still the author of Extraordinary Renditions, coming this fall from Coffee House Press and which Publisher's Weekly recently named their "Pick of the Week."]
Since February, when this original Word Spaces feature ran, I have decided to move back to Philadelphia. I thought it might be interesting to look at what happens when one's writing area is dismantled, when it stops being what it is. It's kind of cool and kind of terrifying at the same time.

Here are the crop circles that the buckling stacks of milk-crate bookshelves left in the rug.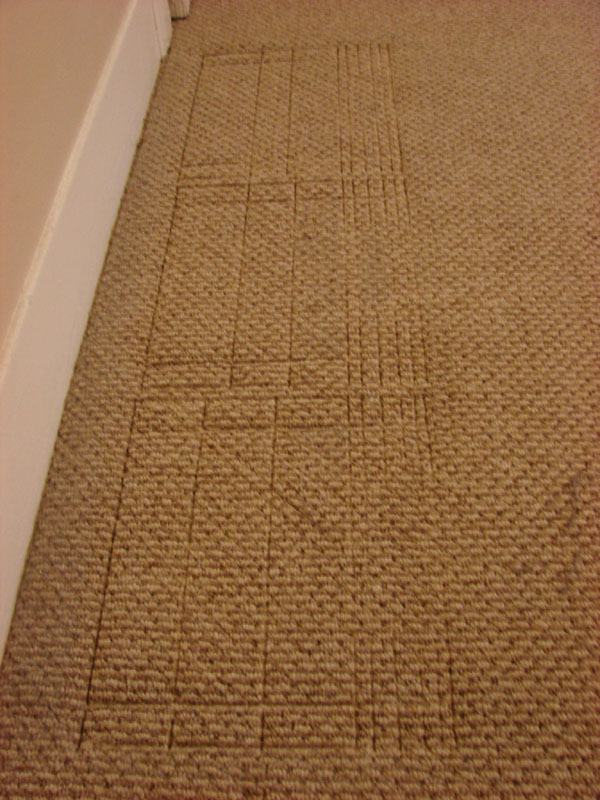 Just got a galley of Brian Evenson's new collection 'Fugue State,' coming out in July from Coffee House Press. I haven't felt this giddy about a book in a while. As with each Evenson title that comes out, I feel he reroutes not only the terrain of what is possible in fiction, but my own mind and method of writing: the power of new blood page by page.
In the spirit of this, and because I'm so excited about it I can't help not, I'll be exploring the book and reviewing it or commenting on it story by story, between longer posts on my own blog, and over here, at Giant, sharing my favorite sentence from each story, beginning now, with the first piece in the collection, 'Younger,' which kicked off the book in massive, terrored form, if in a more subtle and understated way than Evenson's past might have predicted, maybe even more so, for it, terrifying.
In this way, we'll lead up to the release of the book in July slowly and then continue with posts thereafter with the book in people's hands.
Here's the sentence:
They weren't getting anywhere, which meant that she, the younger sister, wasn't getting anywhere, was still wondering what, if anything, had happened, and what, if anything, she could do to free herself from it.
I love the repetition in the short segments here, the repeating and recursing tonalities, but also the mental loop of the logic therein, the sentence trying to figure what it is saying out while it is saying which as a pocket in the story, about being locked in a moment of a life, hit full on in its pacing, with the kind of abstract but right-there verbiage and at-your-throat but aimed away construction that seems so difficult to nail, and yet which Evenson is unarguably a master.
My full post on the story itself is now live here.
More info on 'Fugue State' here.
Preorder 'Fugue State' here.
More all in thereon to be continued…