creative nonfiction
The other day, one of my students asks me where oil comes from. I am helping him with an article about climate change and the oil industry that he was supposed to summarize for the previous week's assignment. English is his third language and the one he struggles with the most, so we are sitting at his desk after dismissal going through his article line by line.
I'm surprised that he asks me that, where oil comes from, and then I'm ashamed at my own surprise. He has no reason to know the answer.
I could tell him that where I grew up, the drumbeats of the oil rigs were as familiar as the sound of my own heartbeat, or that my first school had an oil derrick next to the swing set, caged in with a barbed wire-topped fence and locked with heavy chains. READ MORE >
Sean Lovelace
—
I am presenting the concept of creative nonfiction to intro writing students tomorrow. They will write their first exercise. Should I tell them to use qualifiers–"Perhaps, my mother said…" "As I remember it…"–or should I tell them to respect the reader: the contemporary reader obviously understands that CNF is flawed memory using flawed words.
Creative Nonfiction is putting together an anthology of blog posts from the past six months that give body to the form as form. They are looking for nominations for inclusion. Here is more info & how:
Recently, the NY Times' Paper Cuts blog ran an interesting piece about whether or not a blog could rise to the level of literature (

http://tiny.cc/thr48

). Their answer, ultimately, was no, but the editors at Creative Nonfiction (

www.creativenonfiction.org

) are trying to remove this "less-than" tag many ascribe to the form. For the past three years we've been featuring blog posts in our publications, and 

we are currently seeking narrative blog posts to reprint in our next issue (#39: Summer Reading; forthcoming July 2010).




What we're looking for:  Vibrant new voices with interesting, true stories to tell. Posts must be able to stand alone, 2000 words or fewer, and posted between November 1, 2009 and March 31, 2010. Deadline for nominations is 12 pm EST, Monday, April 26, 2010.



Glad someone is doing this. Help them make it hard.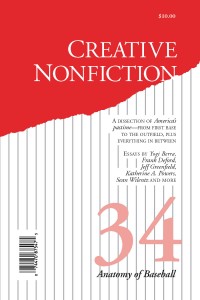 Right now Creative Nonfiction Magazine is putting together their next volume of Best American Creative Nonfiction, which is a print annual honoring, well, creative nonfiction.
This year they are looking to include a series of 'best blog writing,' which seems like a cool idea, and they are seeking nominations for good posts for their consideration, which anyone can nominate with a small amount of effort by putting in a couple of lines of info at their website.
If you are interested in nominating, here is some info, I nominated the best recent post I could remember from a friend's blog, you should as well:
BEST OF THE BLOGOSPHERE

This may come as a surprise to some, but here at CNF, we consider
narrative blogs an extension of the creative nonfiction
genre–they're innovative, exciting, honest, and popular. Blogs are
so popular, in fact, that it seems as if everyone has one:
politicians, movie stars, even the Godfather behind Creative
Nonfiction <http://www.leegutkind.com/blogs/>
.
As some of you may know, CNF has been collecting and publishing the
best of the blogosphere since the the inception of our annual The
Best Creative Nonfiction series. And while Volume 2
<http://www.creativenonfiction.org/cnfshop/product_info.php?products_id=122>
makes its way to bookstores and subscribers, CNF is already fast at
work compiling blogs for Volume 3–due out Summer 2009. But this
time, we're doing things a bit differently.

We want you, the reader, to nominate the blogs you love.

We re looking for: Vibrant new voices with interesting, true stories
to tell. Narrative, narrative, narrative. Posts that can stand alone,
2000 words max, from 2008. Something from your own blog, from a
friend s blog, from a strangers blog.

The small print: We will contact individual bloggers before
publication; we pay a flat $50 fee for one-time reprint rights.
Deadline: October 31, 2008.

To nominate, click here
<http://www.creativenonfiction.org/blog_nomination.html>