Daily Rumpus
If you're on the Daily Rumpus mailing list, then you already know that Stephen Elliott wasn't kidding when he promised to send a letter every single day. He writes about whatever's new on the Rumpus, or on his mind lately, or if he maybe needs a place to crash in the UK. They're all fine and good, as daily mass emails go, but his most recent missive really stood out to me. He seems like he's really firing on all cylinders right now, and so his letter is reproduced in full after the jump. After you read it, you'll probably want to go to the site and sign up for the mailing list, so you too can get nifty notes like this every day. READ MORE >
Look alive, kids. This sweet mother is coming to NYC on May 30th, and we've got a pair of tickets to give away. First read the flier and get yourself all worked up, then I'll tell you how you can win.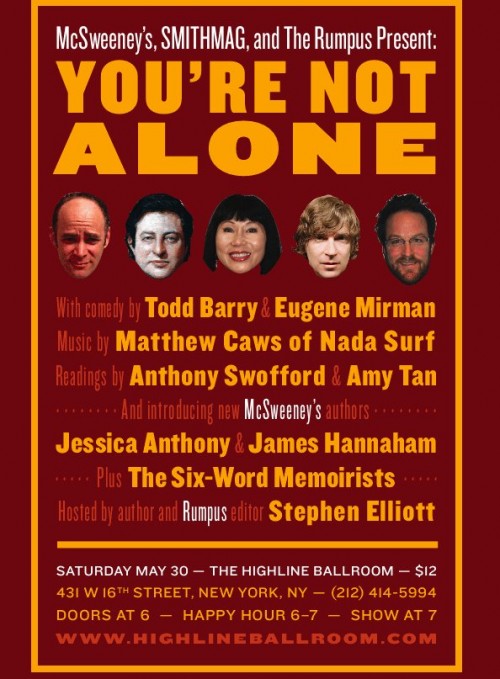 So okay, you might have noticed that one of the event sponsors is SMITH magazine, the force behind last/this year's bizarrely wonderful Six-Word Memoir phenomenon. And the last time I blogged about the Rumpus it was about their "Last Book I Loved" column (which, btw, now has its own index page, so you can see all the entries in the series). So let's make this easy as sin- if you want the pair of tickets to this event, you need to write a six-word "Last Book I Loved" entry and leave it in the comment thread on this post. Book title and author's name don't count against your word limit. Also include a way for me to get in touch with you, or else don't forget to check back here tomorrow to see who won. The contest will be open all day today, with entries closing at midnight EST. Good luck.
Over at The Daily Rumpus they're publishing new poems for National Poetry Month. So far they've got Daphne Gottlieb and Dawn Trook, but keep checking back to see what comes next. Also, YouTube clip of Tobias Wolff singing a song with John Darnielle.
from "the end of the county cheese princess' reign" by Daphne Gottlieb


After I was crowned, I visited the next baby born
and brought a cheese basket with fruit.

Fruit has no princess so I became
the fruit ambassador as well
on a moment's notice.