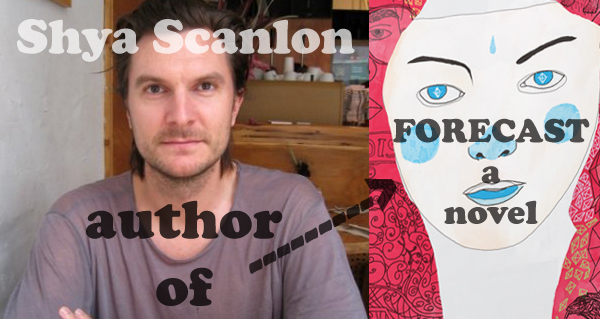 PART 1 OF THIS INTERVIEW AT HOBART
Once upon a time, there was a journal called Monkeybicycle. There is, of course, still a journal called Monkeybicycle, but there used to be one, too. And way back when, one of the guys editing that journal was a guy named Shya Scanlon of Seattle, Washington. And one day I sent a story to Monkeybicycle. And then I waited a while. A while. But, hey. He took it. When the story appeared, it was an issue of Monkeybicycle that flipped over and became and issue of Hobart—a journal I was unfamiliar with at the time. I am now their interviews editor. Small world.
Shya Scanlon's latest work is a novel called Forecast, which he initially serialized online, each of the 42 chapters on a different blog or journal. Forecast now has a print publisher, Flatmancrooked, and should be available mid-November. I know a bit of the early history of the book, having been a friend of Shya's throughout the writing of the book and beyond, so I asked him a little about it and his other prose work.