indie presses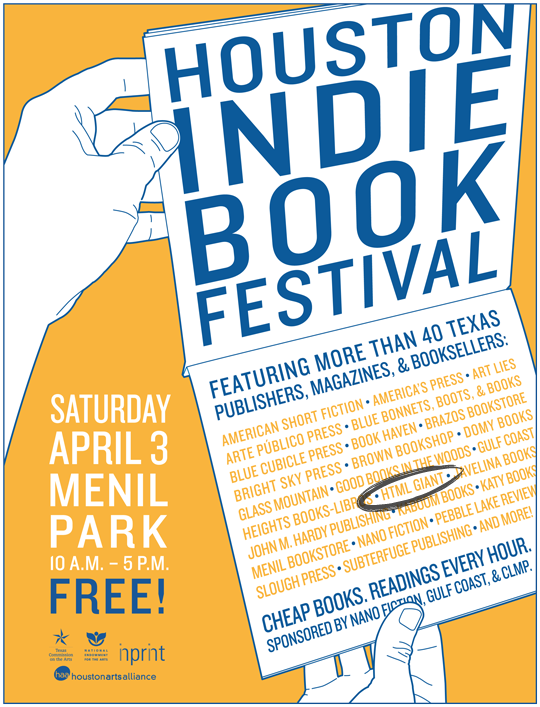 For the good folks of Texas and Louisiana, if you're looking for a good time that involves books, the Houston Indie Book Festival this weekend is very much that good time. Readings, books, writers walking around in hip clothes with sunglasses on.
It's at the Menil Park, which means you'll also be just steps away from the Maurizio Cattelan exhibition, which is just as free and awesome.
From 10am-5pm Blake and I will be near a table with the HTMLGIANT name all over it. We have copies of some small press books to sell (credit cards accepted, even Discover!), and I'll likely have my son with me, who will sign all of your chests with cookies and boogers.
Stop by and hang out. I'd like to shake your hand.
UPDATE: Ryan Call is going to be there!
The economy doesn't look good, but I have a plan.
I have $6 left in my PayPal Account Balance. I used to have more money, but I used that money to purchase many things: the first issue of The Open Face Sandwich, a chapbook from Octopus Books, some subscriptions to literary journals, Shane Jones' novel from Publishing Genius, and stuff like that.
I would like to give away that $6 to someone or some press or some journal or something. It is not a lot of money, I understand, and I would like to receive something in return, preferably a chapbook, or a book, or some other neat trinket. I know that is a lot to ask for.
The idea is that I could then read that chapbook or journal back issue or whatever and talk about it in another post to promote literature and the economy and capitalism and other American things.
I guess this is like a reverse auction?
I am interested in these places:
Jaguar Uprising
Paper Hero Press
FuturePoemBooks
Ugly Duckling Presse
Chiasmus Press
Future Tense Books
Black Ocean Press
I am going to stop listing things, because it is time for bed. I realize that $6 might not cover the full cost of whatever. I hope that is not an insult. It is all the money I have right now in the account. At least someone will make a sale?
At least one unit will move, I guess?
I am also up for suggestions? Please, tell me about a cool thing I can read that I might have missed, preferably something that looks nice and I can touch in a nice way as I read it.