HTMLGIANT / Ryan Manning
Justin Taylor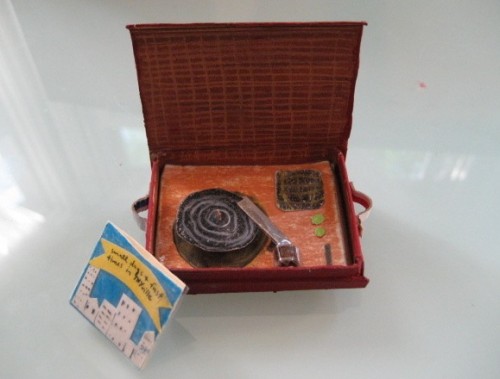 There's a new issue of The New Yinzer out. TNY is a Pittsburgh-based online lit journal, and the summer edition is guest-edited by Claire Donato, a poet whom we've loved on here before. (1 love, 2 love.) It's a very strong issue, featuring several essays and selections of visual art (see Matchbox Museum piece, above). Here's a taste of what's inside (the journal is designed as a split screen with the TOC on the left and content on the right, obviating the need for linking to individual pieces)-
Katy Henriksen  (essay) – "Handmade Books: Or, My Answer to an Increasingly Digital and Mass-Manufactured World." A good bookbinding awl has a rounded, wooden handle for cradling in the palm of your hand and a sharp point at the end of the metal rod for piercing. For the Cannibal stitch we needed four holes in each signature, two an inch apart an inch from the top, and two an inch apart an inch from the bottom, making the total of holes punched for the issue exactly 4,000.
Brian Foley (poem) – "Older at Night." It could be a photograph / We both live in.
Claire Donato & Jeff T. Johnson (curated gallery) – "Matchbox Museum." Being resolute against all others in going forward, being not the moss, being the mess side by side. We're current.

Matthew Savoca (essay) – "A Zen Essay in Which Nothing is Accomplished." I want to get as many online literature writers as possible to buy Powerball tickets together, in the same way that many business people who work at offices do.
Blake Butler (short-short) – "Accident." Her gums and tongue were scorched with symbols.
Ryan Manning (photographs) – "Sky Polaroids."
And, oh yeah, I'm in it too- a few erasure poems and a short "thesis statement" on the practice of erasure. But my favorite thing in the issue, at least thus far, are Ryan's photos.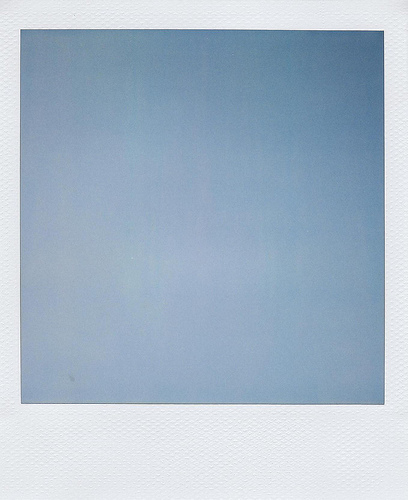 Uncategorized /
9 Comments
August 13th, 2009 / 9:12 am
Jereme Dean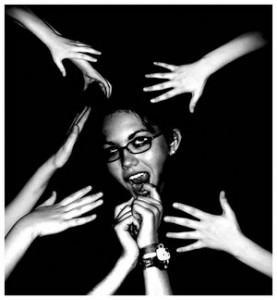 Ryan Manning is a persona only able to exist in the 21st Century blogosphere. His attention whore antics, flagrant theft of authors and sexual innuendoes have been filling the blog rolls since my first introduction to blogs almost 2 years ago. Amazingly, Ryan has never been called out for his behavior. I think people dismiss him as the little brother who is slow in mental capacity and clumsily claps his hands when excited.
He's not a retard. He's a narcissist. Here's a blurb from http://www.narcissisticabuse.com/ :
Narcissism is categorized as a personality disorder by the mental health profession.  It is referred to as NPD or Narcissistic Personality Disorder.  Few are ever diagnosed because few go to therapy.   Narcissism is not high self-esteem, but a condition where the typical narcissist suffers from

Preoccupation with hiding real or perceived flaws
Overestimation of  importance, achievements, talents and skills
Maladaptive attention seeking behavior
Inability to empathize with others
Excessive anger and shame in response to criticism often resulting in rage

The narcissist will often manipulate others, especially partners, to control them.  Projection and blame are hallmarks of this manipulation.  It is estimated that 85% of narcissists are males.
The sole item missing from the narcissistic abuse website definition is a picture of Ryan looking smarmy.
I will address each attribute with an example after the break.
Mean
/
137 Comments
December 1st, 2008 / 5:13 pm
Shane Jones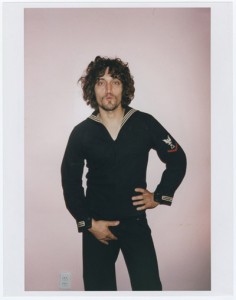 I asked Ryan Manning why he was interviewing so many people and he said "I don't know" which is classic Ryan Manning.  
His new blog/site is called THUNK and it's a nice big chunk of interviews with people like Tao Lin, Zach German, Kendra Malone, and lots lots more.  
I especially enjoyed the response Ryan got from Marc Mez:
"man your questions really suck, nevermind it's a big waste of my time, but thanks."
It's not a waste of time.  Check it out here.
Uncategorized /
No Comments
October 19th, 2008 / 3:28 pm
Jimmy Chen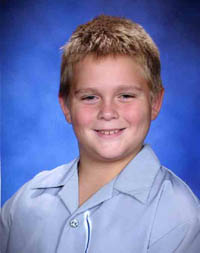 Anyone who has surfed blog comment trails throughout the 'literary online community' will most likely have encountered Ryan Manning's eerily omnipresent comments: 'the asian [insert semi well known cultural figure].' For some, this is infuriating; for others, it's brilliant Avant-garde. I personally fall near the former category, though I will admit I grew a soft spot for him after seeing his beautiful photos on his flickr.
Another odd trait about Mr. Manning is that he changes his blogger profile almost daily, obsessively creating then deleting blogs (hence no links, as I can't find them). His blogs are either cryptic one-post references to Tao Lin (from whom he got his 'the asian blank' shtick), strange videos, or stranger whatevers. One thing is clear: for Ryan Manning, the age of blogging is conceptual terrain for 'rhetorical obscurity' as a form of narcissistic celebrity.
Think of Paris Hilton, Ryan Seacrest, the latter phases of Britney Spears, who are seen everywhere and held in the imaginations of everyone, yet who don't really do anything. Britney goes to Jamba Juice and the world goes wild. Manning goes 'units are moving' and he's got 4000+ profile views. (As of late, he's appropriated another Tao Lin phrase 'units are moving,' which he's successfully beating to death.) I'm not suggesting that our dear Ryan Manning is futile or obsolete, only that the content of his 'celebrity' is empty, wherein most likely lies self-aware rhetoric.
He lives in Virginia, per his blogger profile. I let myself believe there's some truth to him. His polaroids of the sky as seen from a pedestrian demise are indeed lovely. He chooses the palest days, such that the 'image' is mere light. In short, he edits the spectrum of useless days. I highly doubt the absence of content in his images is merely existential. He's probably making some other clever point, I bet.
Author Spotlight
/
7 Comments
September 28th, 2008 / 12:50 pm