the collagist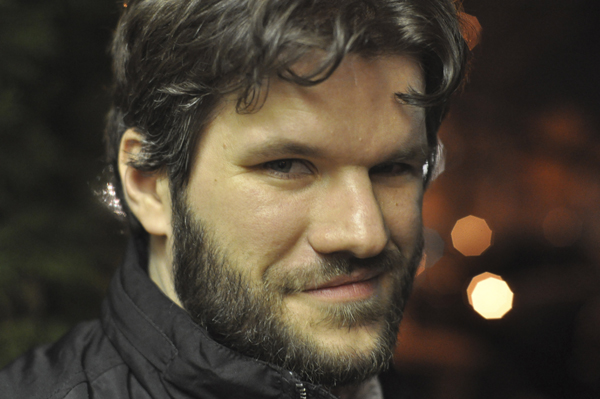 Last year saw the release of the first full length work by a much buzzed and discussed and well admired presence both online and in print, the seemingly inexhaustible Matt Bell. Between his countless writing projects, his editorship of The Collagist and role on the masthead at Dzanc Books, to relentlessly blogging and spreading the word all over the place not only about his own work, but scads of other, I don't think there's anybody who would argue Matt Bell isn't an enormous lodestone-type presence for the independent press world, and always on the prowl.
Over the past few months, Matt and I exchanged a bunch of emails, some days apart, some weeks, in the midst of all this, conversing about the book, How They Were Found, Matt's fortitude and unwavering ambition, process, sound, and many other things of the word.
BB: So, as a collection, How They Were Found represents a pretty wide arc of time and writing for you, yes? I remember "A Certain Number of Bedrooms, A Certain Number of Baths" from Caketrain several years ago being a story that was probably the first of yours I read and was like Yes, this man's mind: there is aura here. I think I'd actually read all of the stories except one perhaps in journals since then, and was really impressed in the reading of them as a whole object how they really seemed to comprise a sense of a whole, even over such a course.. I wonder how it feels now to you to see all that time represented in an object, and if the parts as parts became different to you once they were assembled into that body? Also, how did you go about figuring out what stories from that time should go into the book and what should be left out?
MB: The time span of How They Were Found is a weirdly elongated space, because while I wrote "A Certain Number of Bedrooms, A Certain Number of Baths" in 2006–looks like I did the first draft in March of that year–I didn't write any of the other stories in the book until 2008. The next earliest is "Hold on to Your Vacuum," written in January of that year, and then "Ten Scenes from a Movie Called Mercy," written a month or two later. Staring six months later, say August 2008, I wrote all of the rest of the stories that are in the book, meaning that ten of the thirteen were written between August 2009 and May 2010. So in one sense the book took me five years to write, and in another I wrote the bulk of the book in eight or nine months. The truth is probably that it was both, and that what I didn't realize was starting with "A Certain Number of Bedrooms" just took a couple years to play out. What I remember of writing that story is that it came out almost effortlessly, in a way almost nothing does now: I had a first draft in a single day, and while it took a while to polish it–I literally just stopped, in some ways, since I tweaked a few sentences between the galleys and the final of the book–but ninety or ninety-five percent of what's in the final version is in the first. It was something new for me, different than what I'd done before, and while I'd like to say that writing that story instantly helped me get to where I could write the rest of the stories in the book, it didn't. I didn't write anything else like it for a long time, didn't even know enough to recognize how different it was from what else I was doing.
Ken Baumann
—
Great Sheentences: "I  don't have burnout my gearbox. I just go." and "Everything after but is dial tone." Joyce and Beckett, respectively. And Jean Cocteau said this: "It is excruciating to be an unbeliever with a spirit that is deeply religious." He sleeps with a good mask, behind the click. And Mike Meginnis made something huge, ASCII, and goodly terrifying looking: Angband, or His 55 Desires.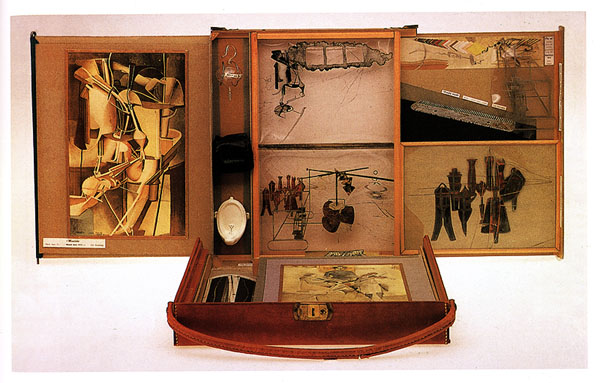 I decided to take a look at The Collagist as a whole—or, rather, a whole created by the sum of its parts, the magazine as collage that lives so smartly up to its name.  It's true that perhaps any literary magazine could be considered a sort of collage, as it layers story and poem and visual and sometimes sound to produce a bigger picture. And yet not many literary magazines choose their pieces with the consideration a collagist uses to cut out his shapes, to determine the colors of the paints she'll layer. The Collagist is one of my favorite literary magazines because the choosing is intentional, is meticulous, is precise. The chosen few pieces generate an intentionally tight edit. The name of the magazine, I'd guess, was not chosen on a whim, but as a sort of statement of purpose. The Collagist's contents are widely varied in style and substance but are not random; like the best collagists, I believe editor Matt Bell uses every story, every review, every poem and excerpt and reprint and even the bios as a layer to build, to create something greater than the pieces themselves. The magazine as the work of art.
Many of my favorite artists worked with collage at some point. Georges Braque, Robert Motherwell, Jim Dine, Robert Rauschenberg, Louise Nevelson, Marcel Duchamp—they all created work that was layered, that intensified as it grew and spread and collected and fragmented and shifted meaning from piece to piece and space to space. With wood, with paint, with newspaper, with found objects, with paper, with photos—and in the case of The Collagist, with words. Like collage artworks, each issue of The Collagist seems to swell and grow, the consequence of addition. The thread running through is not a theme per se, but a meaning you build yourself. A customizable puzzle. Deliberate yet obscure, fuzzy as close-up pixels in its larger clarity.
1 : Introduction
The Collagist comes in with a beautiful image of what looks very much like paint blooming in what was until now pristine water or paint thinner. This is the page's header, and it's about as visually rich as the journal gets. The header-bloom becomes the journal's emblem, and this emblem is usefully repeated at the bottom of the page. (It would be nice if that bloom could double as the journal's identity icon, replacing that generic isometrically-projected black box — I haven't tested whether or not the size restriction will allow it.) If you click on the tiny little bloom at the bottom of the page then you'll be returned to the top. The rest of the site is just as simple and understated, lending itself primarily to the stark and clear presentation of the works themselves, nothing distracting.
Kellie Wells's "Gaythal Dethloff, Mother of Murder" is a chatty story, in love with its own telling. Every description is exaggerated, dialogue is over-stuffed with podunky turns of phrase, actions are out of place but never really all that absurd. It's like the costumer and the choreographer went to different schools. It's a story that, while not always arresting, nonetheless lives and breathes with you if you let it. Like a puppet, it's dead until you learn to move its strings and make it dance.
The story is essentially a monologue with witnesses. The first five hundred plus words are given over to describing the setting and the size of the characters. Before you've had a chance to forget, you're reminded these are two of the tallest women in the world, and this is one of the fattest. There's almost a kind of physical comedy in the constant repetition. By the time Gaythal tells how her good son, Nestor, became a serial killer, physical descriptions are largely unnecessary. As you read Gaythal's monologue, you imagine it coming from the bed-ridden mouth of Jabba the Hutt. It feels like a bold move to front-load a story the way Wells does, to segment it so severely, but really it's nothing new. Mark Twain's tales are hinged in a similar fashion.
Nestor, once a great soup-kitchen chef, becomes a great murderer fulfilling his friend Ezekiel's prophecy. Nestor kills and kills and kills. The murders, of course, come with a twist. Not a typical sicko, Nestor is doing his victims a favor. He kills Ezekiel to ratify him as a true prophet. He kills suicides so they can still get to heaven. Eventually, he ends up in jail.
Having given up her story, Gaythal shrinks in size. This all seems simple and straightfoward. We zoom back out of Gaythal's monologue, back into our narrator's thoughts, and, with her, feel a little let down. Gaythal's had this bed-shaking, gospel-singing possession-like experience, but nothing really feels settled. Into the void of non-resolution comes a fun question: Are we dealing with ghosts? Is all of this more bizarre, more foreign than the initial description prepared us for? Without her brother's love, the narrator is sure she'll remain gigantic for eternity, but does she really mean eternity?
She says, "without being able to witness the faith of my one apostle ebb, I fear I am a lifer, Johnny-punchclock to the end of time. Without Obie, I am doomed to endless enormity. Without my brother's love to engirdle me, I am an over-sized eidolon, hopeful opiate, just another reluctant cosmoplast roaming the backroads of the universe in search of the adoration of a sacrificial boy."
Now, that's hardly proof of ghosts, I know, but what does it mean?
Maybe a better question is why can't I accept that maybe the narrator is just really sad she lost her brother, really alienated by her size, and desperate to find someone willing to worship her once more?
Here's a confession: I look for metaphors in real life, like how maybe the way people tie their shoes under their desks represents their baser instincts, suppressed in corporate life. As a reader, writer, double-ended-candle-stick-burner, too often I look for metaphors about the effect or state or future of online literary publishing. I am a twenty-something luddite, reaching through the din of electronic narrative to find a reason not to ignore it, a reason why the 'pages' of the world wide web should affect me just as much as the 'pages' of real-life-paper-cutting-dog-ear-able books.
The first time I read Andrew Borgstrom's "571 Points," it disguised itself as a metaphor for internet literature. Each line translated into another answer, another echo for my interminable questions.
"We walked our final street like mathematicians writing poetry with our bare bodies." Math! I think. Computer programming! Zeros and ones, and this website I am reading, when boiled down, stripped to its elements is all numbers, formulas, becoming poetry before my eyes. I begin to read faster as I become fluent in Borgstom's particular language of mathematics and poetry.
"I did not purposefully hide the flyer…My subconscious purposefully hid the flyer because it hides all flyers and not because it has anything against riding in free hay." Of course it did! I cry, how could one recognize the posters or billboards or informational tomes that really mattered if one did not allow their subconscious to consciously hide the flyers, the pop-ups, the free hay of internet activity? To steer away from the PoetryHourlyDigest or Best-Flash-Fiction-Of-the-Second email alerts.
"We searched for horseshit in the road," he writes and I know that anyone skimming the Internet for clarity or truth or just a god-damned answer to a basic question of how-to or how-come understands this ancient quest.
"I managed to say nothing in thirty-three syllables." Blogs! Twitter! What I write all the time without pretending it is literary while still trying to decide for myself where the line is drawn. At least he is self-aware, though? He knows he is saying nothing. Commenter 56  has no such self-awareness.
But alas, "Where had all the horseshit gone?" Now he is supplementing the percentage of cotton in her shirts–nay, supplementing the lack of venerable online writing with writing of his own, his own contribution. He is too deep in the horseshit to smell it. Or has he transformed the horseshit into manure?
"You kept adding water to dilute the flavor. We figured everything had a solution." Water….dilute…solution. Wordplay. Satisfying. Short-lived.
Towards the end, he is eating his words. "You taught me how to spell interminable. I dog-eared the page. I ate the page." Not the page he wrote, but that he adopted. That he learned and understood. And here I get tongue-tied. This is no metaphor. This is a racquetball court with no one's footprints on it but everyone he has never loved. This is a super-sad-fictional-love-story. On the internet. One that has made me reach into my own needs to create within it a metaphor for what I needed to be explained the most at the moment I read it. What is more literary than that?

One of the things we're most interested in doing with the LMC is looking at both print and online literary magazines. Much is made about whether or not great writing exists online and every other month we'll try to answer that question as we read a new issue of an online magazine. The first online magazine we'll be reading is The Collagist, edited by Matt Bell and published by Dzanc Books.
The Collagist is published on the 15th of each month and features a mix of fiction, poetry, novel excerpts, essays and reviews.
Patricia Lockwood created an illustration of one line from Sean Kilpatrick's The All Encompassed Drowned.
James McGirk wrote a reflection on Czar Gutierrez's Bombardier.
Mike Meginnis wrote a comprehensive analysis of the assembly of New York Tyrant 3.2.
We had a live chat with New York Tyrant editor Giancarlo DiTrapano. Sorry you missed it. Drinking was involved, as was music by The Smiths, and many unsolved mysteries were solved.
Alex V. Cook wrote a reaction to the letter Breece D'J Pancake wrote but did not send to his mother before his 1979 suicide.
On the Google Group, we've been talking about matters of gender, women's writing, why women don't submit, how to read experimental work and Matt Bell's An Index of How Our Family Was Killed. There's more, but you have to join to know.
Speaking of Matt Bell, next we are reading the November issue of The Collagist, which debuts on 11/15. At the end of the month, we'll do a live chat with Matt and who knows what will happen.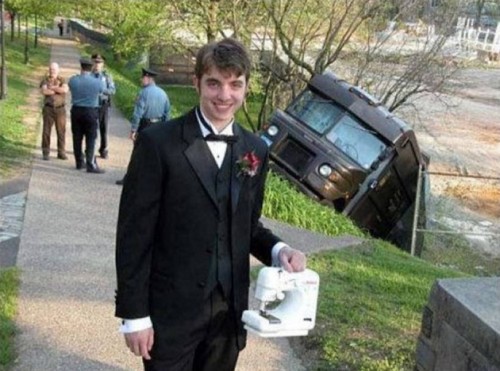 How do you know you are a literary magazine?
I can't say your name.
The Collagist makes me think about psychics and those cold case TV shows everyone apparently adores.
Pleiades sounds like a big important word, a cocktail party sort of term, joined with Richard Wagner or whatnot, a god or a sculpture in an ornamental garden, so I usually let someone else say it first, and then I just do a little intellectual chuckle and repeat whatever they say.
Dogzplot looks like it's hard to say but really isn't.