Friday, June 7th, 2013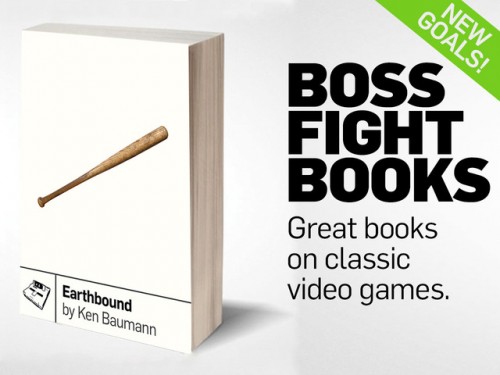 Gabe Durham is starting up an incredibly cool new press called Boss Fight Books that will revolve around creating great books about classic video games. The launch titles will be Earthbound, Galaga, Super Mario Bros. 2, ZZT, and Jagged Alliance 2 with a great lineup of authors from a variety of backgrounds. These include Ken Baumann,  Michael Kimball, Anna Anthropy, Jon Irwin, and Darius Kazemi. I recorded a two minute video short with short clips for each of the games to commemorate and celebrate the news, as well as a reminder of how cool each of the titles were. I got goosebumps just recording/playing Earthbound again! As their Kickstarter surpassed initial expectations, it's happening for sure, though you can still get in on the action and help them reach their stretch goals by clicking the link below. The first of the books is coming out near the end of the year and there's a lot more of the details on the link. The book covers look beautiful and you can check out what the press will be about directly from Gabe Durham and Ken Baumann on the Kickstarter page. And of course, make sure to check out the books when they release, as well as the games themselves!
More info on the Kickstarter Page.
Some info directly from the site:
The Series:
Each of the books will take a critical, creative, historical, and personal look at a single classic video game.Some books will be about the history of the game's creation, some will focus on particular elements like level design, story, and music, some will investigate the subculture that has formed around a game, some will bring in outside art, science, and media, some will have a strong autobiographical element. Many books will be a combination of all these things.
The Format:
All the books will be available in paperback and ebook (all formats), and sold both directly from our site and from other major online bookstores. Each book will be numbered, collectible, and will look great on your shelf together.