May 2010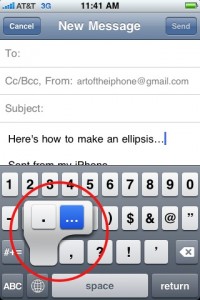 A couple nights ago, I went to this experimental improv music thing in Toronto, which was all sorts of interesting, but that's really neither here nor there. During intermission, this irrelevant artist was showing off to a friend of mine about his most recent publication, which was about, get this: the ellipsis.
He made the argument that the ellipsis gives readers authority over both text and author, they can "fill in" what the writer "left out." Unfortunately, he didn't think I was "anyone," so he never engaged me in conversation, more or less just looked at me like I was a moron, if anything. But he made an impassioned argument to my friend about the ellipsis gives the reader control, let's them take back the text from the author-narrator, that anything can happen within those three little dots.
Whereas I didn't pick a fight with this guy then—I was tired, it was hot, the show was in an old church for Christ's sake—I can pick one with him now, online, where I'm safe.
Ellipsis: The omission of one or more words in a sentence, which would be needed to complete the grammatical construction or fully to express the sense (OED).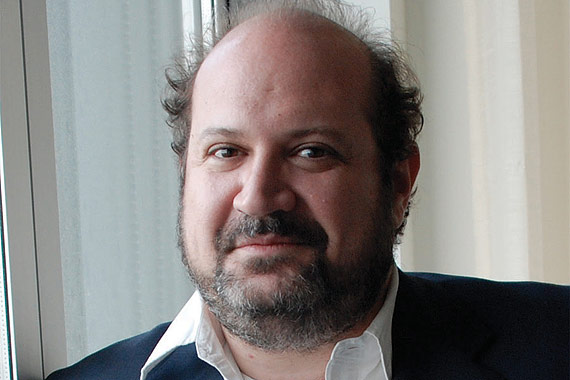 You missed Sam's live reading but you can pick up his new book, The Ask, now. And you best.
Ryan Call
—
A few more prizes (stuff from Juked, Artifice Magazine, Future Tense Books, Melville House, and Muumuu House) have been added to the prize packages for our 20 Under 40 Pick 'Em Contest. The deadline to enter is 11:59pm on June 1st.
1. Two new Dorothea Lasky poems at The Awl!
2. 500 people with shovels relocate a sand dude at Ubu!
3. Interview with Kevin Sampsell at Rain Taxi!
4. Jesus christ!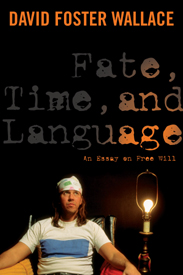 Ok, the book length interview was interesting, and the uncompleted final novel in near-form makes sense (and is compelling, even in its incompleteness), but this, this, is exploitation, and a bad idea:
Columbia University Press is publishing David Foster Wallace's undergrad thesis next year? [more info at GalleyCat].
Undergrad thesis? I'm sorry, I love the man, and I am interested in marginalia of great minds, but this to me seems not only too much, but just incorrect. Undergrad papers, particularly ones called things like Fate, Time, and Language: An Essay on Free Will, are almost always embarrassing, and even if they have some merit, don't really belong in a body of work, unless, you know, the author is alive and willing to OK that thing to come into the world. It hadn't cropped up since his college years for a reason.
Though I am sure I will purchase and read it (as seems their point here), I think this is a big shame on you waiting to happen. God knows if anyone ever saw what I wrote as undergrad I'd want a fork in the eye, even if I was gone. I can't imagine that there are many who wouldn't. Clearly, from the design of the cover of this, these people have no taste. Let a man rest.
In three hours I will own a house. There will be a room to write in. A word space of my own. There will be books in this room and a big blue French farmhouse table. There will be a comfortable chair and sunlight. The sounds of birds outside the window. A big hawk's nest in the tree above. There will be college students next door, and sometimes I will think about how new their lives are as I write, how unformed creatures begin to take form and find shape. There will be coffee. I will make lamps out of the glass jars I've been collecting for a year. I will live alone with my pets in this house. At night, it will be quiet, and sometimes I will cherish the silence.
Sometimes I'll wonder what I'm doing there in my new writing room, all the luxury of selfhood skating away.
Sometimes I'll be afraid.
What scares you about writing?
httpv://www.youtube.com/watch?v=Nvxwf1jxdaM
And in ever so slightly better times…
httpv://www.youtube.com/watch?v=V14PfDDwxlE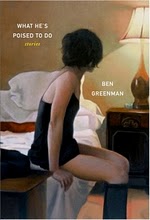 Check out Letters With Character, a site that publishes letters written from people to fictional characters, running in connection with Ben Greenman's forthcoming and beautiful new collection, What He's Poised to Do.
Here's the beginning of one to Gertrude Stein's Blue Coat:
Dear Blue Coat,

Why are you guided guided away, guided and guided away?
Uncategorized /
5 Comments
May 27th, 2010 / 12:14 pm
Brian Foley
—
via thethe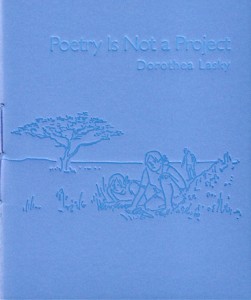 I once heard a scholar use the term "project" as he introduced another poet at a reading. He went on and on: "Her project echoes Dickinson's project [blah blah blah]." The comparison seemed fine, but I wasn't really sure the poet in question really had a "project" per se. Nowadays, poetry critics and scholars often refer to an entire body of work by one poet as a "project," but I don't think poems work that way. I think poems come from the earth and work through the mind from the ground up. I think poems are living things that grow from the earth into the brain