April 2014
A D Jameson
—
What's the scariest book you've ever read?
Or, what book are you most afraid to read?
Visual artist Naiza H. Khan was born in Pakistan in 1968. And though her career has circled the globe (she has held positions in the US and UK, and came up in the Ruskin School at the University of Oxford) Pakistan remains central in her artistic imagination. A new monograph out from ArtAsiaPacific gives an exciting look at twenty-five years of Khan's compelling and explicitly feminist work. READ MORE >
Comments Off

on Naiza H. Khan, from ArtAsiaPacific, 2013
April 24th, 2014 / 12:00 pm
Cool poem-video of "High-Fives" by Ben Mirov from his poetry collection Hider Roser, (Octopus Books). The video was directed and produced by Dan Lichtenberg: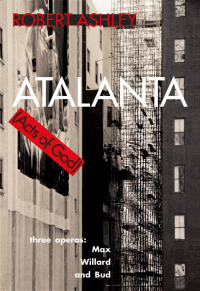 Atalanta (Acts of God)
by Robert Ashley
Burning Books, 2011
208 pages / $25.00 buy from Amazon or SPD
24. When I began this review Robert Ashley was alive. In light of his death, I feel a compulsion to redraft and make these twenty-five points address something more. I want to talk about seeing Foreign Experiences and Lectures to Be Sung performed, about composition and improvisation, contemporary opera, and the intersection of music and language. Ashley's work is full of good discussions. I'm attracted to the just-some-dude delivery style and storytelling aspects in the operas. One of my composer pals can't follow the stories at all, and seems obsessed with the involuntary speech in Ashley's work. Ashley's work is so dense, and there are so many lessons that I take away from his work as a performer and writer. It's hard to limit the discussion, especially given this kind of retrospective appreciation and the span of his work.
Inequality continues to take dramatic new forms, evolving and building on itself at the speed of transaction and at an inconceivable scale with a voided structure that can be more easily compared to a feudal economy than an economy of the 20c Post War period of American power.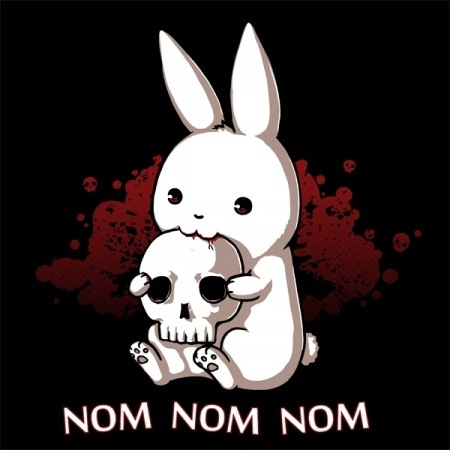 April, because of National Poetry Month, is a traumatic ordeal of a time for me.
A prevailing, I guess, part of me thinks "What a total bunch of fucking bullshit"– and for the past few years all April long I'm in a grouchy stupor-rage making snide and mean remarks, pissing on anything even remotely "poetry," and relentlessly posting up pictures of beached whale carcasses.
And yet–a part of me identifies with this impressive cadre and camaraderie of poetry munchkins gathered squawking and encouraging and reassuring each other on the cliffs of poetry each April because, well, it must be a good thing. It must be, right?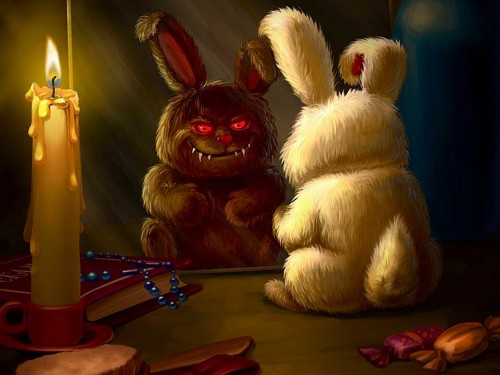 And so this year I've decided to face the disturbing contraries of my soul and the way they bristle and soft-feather up at National Poetry Month by setting up, as any good Caesar of the soul, some death matches. And in each case the death match will consist of a "for" and "against" stance fought out between two of my friend surrogates. And in each case I'll stand up above the fray with thumb at the ready.
******
And, the first death match is between Reb Livingston and Jereme Dean.
******
NaPoWriMoHoHoHo
by Reb Livingston
What's ruining/killing poetry this month? Well, it's April so that must mean the culprit is National Poetry Month. Or so claims my anti-NaPoMo poet pals on social media.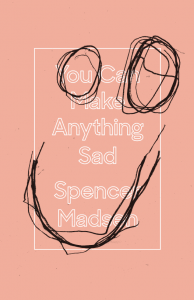 You Can Make Anything Sad
by Spencer Madsen
Publishing Genius, April 2014
90 pages / $10 Preorder from Publishing Genius
Spencer Madsen's latest book, You Can Make Anything Sad, seems to be a response to a question Spencer asks himself within the poems he writes: Who am I and what am I doing? The poems constantly shift in image, but seem to stay in a general area of themes and moods. He plays with his voice, and style, to create something that feels very much completed, while at the same time quite fragile and open. It's sincerely insincere, approaching the mundane as if it was wondrous, and the wondrous as if it was mundane.
I move back to Facebook, I type:
If you feel an aversion to me and I don't feel an aversion to
you, please don't feel an aversion to me.
I think about how my parents had hoped for more.
I think about letting them down constantly.
I think, at least I'm not a murderer.
Mostly because murderers are very ambitious.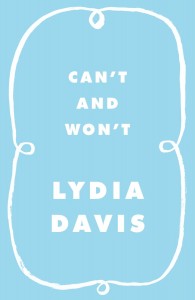 Can't and Won't
by Lydia Davis
Farrar, Straus and Giroux, April 2014
304 pages / $26  Buy from Amazon
Lydia Davis' Can't and Won't is the latest offering from an author who, over the past few decades, has consistently confused notions of genre within literary fiction. A writer mostly of short fiction and a translator, notably, of Proust and Flaubert (whose letters supply the language for one series of pieces in the book), Davis is as at home with the authors of the late-twentieth century French avant-garde as she is with those of the nineteenth-century high-realist novel. As they do in all of her books, her stories work with minutiae of language and experience that are broadly accessible in ways that cannot be called simply conventional or experimental.
from When Empurpled: An Elegy
XI.
Amazing how every home be a
haunted house with gables like
the deadliest of sins and witches
tied to Corinthian pillars pilasters
splintered like firewood hahaha
how my flesh be the heretic and
my body be bewitched and how I
will be the one to burn it like a
smoldering pile of embers a
moist cigarette pinched between
the lips of all loneliness O
astonishing how a leaf does fall
as does the long night moon after
the winter solstice when people
sleep in pursuit of solace of love
longevity and lowliness lowly as
those angels fallen from the
graces of God as does fall a leaf
from the canopy of our habitat
inherited from the bravest of us
human beings being human
seeking refuge in Allah from the
devil the rejected my poor
harmless child protecting you
from those who seek to have you
dead I take refuge bat at hand and
ask you O God my hearer you
mighty man near my homeland O
my thy might and thy power you
are not incapable of seeking
refuge speeding far beyond this
world in perforated lines that
from the desk of elsewhere go
and and and
AndAndAndAndAndAndAndAn
dAndAnd I swear to God that we
will not forget the dead who walk
among us useless and flailing
marinating autumnal colors
crumpling beneath our feet
birthing a pattern a rhythm a
dirge for the fallen anyone of
everywhere some supportive
setback or burial of the
bloodened continues to beg for
the forgiveness of God no power
but in God no pedestrianization
but in this place this place of
overpopulation and carbon
monoxide inhaled deeper and
deeper down daintily now down
from my ancestors down the field
of fever dreams coming to
fruition flourishing amongst the
flowers the seeds of promise
planted for the sake of a
prosperous land and your
crumbling cookie eyes and your
museum mouth opening wide
wolfing down disintegrated tape
loops on holiday the most
difficult task of all so far insofar
as not yet having had the chance
to get to know any individual
having taken leave from the
crowded marketplace of the
world with this thunderous
swarm of pedestrians all about us
all everywhere and at once upon
a time in the remotest reaches of
a darkened village miles and
miles beyond where we now
stand there stood a harrowing
house with a roof steeply pitched
and cornices sated and columns
of a certain Greco variety
attempting to embody the ideal of
rationality the revival of some
fantasy and in this house there
lived and burned a homely harlot
at home with omens and without
a name O God to live and burn
without a name to bear to wear
upon one's shoulder as if it were
a badge an expression of
nationalism of identity of the
mythical ideal of rationality of
solace of love longevity and
lowliness lowly as those angels
fallen from the graces of God but
I O I am calling off all falls from
grace and I O I will stop words of
I into stir the stirring of the
melting pot like the melting flesh
of floundering witches flailing so
uselessly amongst the flowers the
seeds of promise like the seeds of
everything I could be but
mmmmmmaybe may not be just
as be proven false cannot be
proven false just as it cannot be
proven false that every dog be a
god and every god be begotten
and every body be bewitched and
every home be a haunted house
hahaha!
Bio: Matt Margo is the author of the book-length poem When Empurpled: An Elegy (Pteron Press, 2013) and the poetry chapbook what i would say (Peanut Gallery Press, 2014), among other works. He edits the blog experiential-experimental-literature and the magazine Zoomoozophone Review.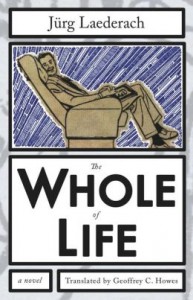 The Whole of Life
by Jürg Laederach
Dalkey Archive Press, Jan 2014
300 pages / $15  Buy from Amazon or Dalkey Archive
Waiting for the publication of Jürg Laederach's The Whole of Life, out now from Dalkey Archive Press, I revisited his very funny and hip 1990 Semitext(e) collection, 69 Ways to Play the Blues. Laederach is a one-time enfant terrible of Swiss literature (he writes "I'll be called a young writer until I'm eighty,") and his work epitomizes boomer cool. A devotee of Jazz and Downtown Music, Laederach made several trips to NYC during the 1980s. 69 Ways was written on the third trip.
Laederach is an avowed devotee of improvisational music:
69 Ways crackles with wry observations. On Bleecker Street: I am Bleecker Street, "that intersects and eschews any rude display of house numbers."
On the view from Swiss cemeteries: "To a majority of the inhabitants of Switzerland, death, not Lake Geneva, brings about a marked improvement in their standard of living. Great pains are taken to see to it that graveyards have a "view" they are thus conceived with a strong sense of landscape and perspective."
When authors get hungry: "All he could do was point a shaky finger at a sandwich and growl."
The Whole of Life shares this offbeat cool. Framed as a sort of messy first-person, the plot follows a Swiss everyman, Bob Hecht, (endearingly called "My boy Bob Hecht" a la Charles Mingus: Beneath the Underdog) as he navigates mid-century industrial Europe.
The book is very funny and sprawling. The ethos of improvisation is most noticeable in Laederach's pastichework. Different styles and references are co-opted and incorporated as a sort of self-analysis. In one section, a year of unhappy cohabitation is narrated as a boxing match. In another, he parses out the existential implications of deleting a Jewish character from the text. He has persistent dopplegangers, including a pair supposedly co-writing his memoir. The text falls into stage directions. And technical directions: "PAN F Perceptol min 68 F 10 ASA 25 DIN 15 Microphen min 20 C 4 ASA 64 DIN 19 or 68 F 5 650 ASA DIN 29 with reduction to 125 … The kind of prose we can expect in the future." But through all this, he maintains a detached cool.
Comments Off

on The Whole of Life by Jürg Laederach
April 18th, 2014 / 10:00 am