HTMLGIANT / melissab
Melissa Broder
I'll start! Then you show me yours, in the comment box, if you want.
1) How often do you find that you stay online longer than you intended?
Rarely
Occasionally
Frequently
Often
Always
2) How often do you neglect household chores to spend more time online?
Rarely
Occasionally
Frequently
Often
Always
3)  How often do you prefer the excitement* of the internet to intimacy with your partner?
Rarely
Occasionally
Frequently
Often
Always
*haha, 'excitement'
Web Hype
/
20 Comments
November 29th, 2011 / 1:50 pm
Melissa Broder
Bookstore
The bookstore was on top of another store
at the corner of a busy street. I walked up the stairs
and was met by God, a middle-aged woman
with blonde hair and glasses. God told me to take
my time looking around her father's store. The
store had not been in operation for several years.
Who's God's father? I wondered. No one ever
talked about him. It was once a fine store that sold
rare and out-of-print books, she said. It now sat
dusty, and soon the building would be sold. A
lot of organization is needed, I said. She agreed.
I picked up a white and brown plastic clip-on
earring off the floor and put it on. It looked like
the kind of earring my mother kept in her jewelry
boxes, so I made a mental note to find the other
one straight away. But something drew me to the
back of the store, even though I didn't want God
to think I planned to steal the earring, which
must have been worth a lot of money. I walked
past bookshelves, which were in varying stages of
disarray and stopped at a corner shelf near the back
exit. There I found a navy blue ledger. When I
opened the ledger I saw a list and then I saw my
name and signature and the date—January 11,
1993. That's me, I said to God who was now standing
beside me. Yes, she said, I knew you'd come back
for it. And then she walked to the front, leaving me
alone to figure out exactly what I had come for.
Kathryn Mockler is the author of the poetry book Onion Man (Tightrope, 2011). Her writing has been published most recently in Rattle, Joyland, and CellStories. Her short films have been broadcast on TMN, Movieola, and Bravo and have screened at festivals such as the Toronto International Film Festival, Palm Springs International Festival, and EMAF. Currently, she teaches creative writing at the University of Western Ontario and is the co-editor of the UWO online journal The Rusty Toque.
Sunday Service
/
2 Comments
November 27th, 2011 / 12:00 pm
Melissa Broder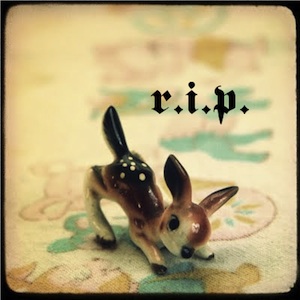 Deer (1350 AD – November 22, 2011 AD) — Deer dropped dead of exhaustion this morning after a celebrated career as a poetic muse, chapbook cover model, ambassador for the bands Deerhoof, Deerhunter, Antler, Deer Tick and Deer People, and beloved 2-term mayor of Etsy–from which he launched a tote bag endorsement deal. Deer is reported to have had identity struggles lately, exhibiting bizarre behavior, including attempted arson of a microbrewery and allegedly asking a group of poetry MFA students "How many of you bastards actually encounter deer on a regular basis?" — in response to which one of them handed him a limited-edition letterpressed broadside. Deer is survived by wolf, bear, tree, squirrel, fox, sparrow and owl. Memorial services will be held in Amherst, Portland, Oakland, and of course, Brooklyn.
Power Quote
/
27 Comments
November 22nd, 2011 / 12:52 pm
Melissa Broder
Mt. Rushmore Poem
Six thousand pounds of dynamite
for the father of my country.
A chisel for God's messenger, detained.
A hammer as his cue:
Washington: Bring the money.
Jefferson: It's soft.
Borglum: Move behind Washington, and Roosevelt, back.
South Dakota: It's odd here.
Italy: It's old.
Michelangelo: That's freedom: a new face in an old place.
Han Solo: I know.
I stood at the rail, put a quarter in, and received my 90 seconds
set aside for detail:
Theodore, sweating,
Tom staring off at the hills.
Abraham, in absentia,
George, chest out.
Susan B. Anthony (at home): All rise for the Federal Boys Club.
Roosevelt (to tourist): Take the fucking photo.
Jefferson (erected): Leave your likeness where they worship.
The stationary viewer clicked closed, and mother
led me to Crazy Horse in-progress. I looked at the mountain,
the face emerging from it, then the plaster mockup
on the boardwalk by the gift shop.
Ziolkowski (on his death bed): Do it slow. Do it right.
He has been honored by the U.S. Postal Service
with a 13-cent stamp.
Michael Lala grew up mostly in the western United States and Tokyo, and studied writing in Michigan. He is the author of the chapbooks [fire!] ([sic] Detroit, 2011) and Under the Westward Night (forthcoming, Knickerbocker Circus New York, 2011), and he curates Fireside Follies, lives, and works in Brooklyn. mikelala.com.
Sunday Service
/
3 Comments
November 20th, 2011 / 11:00 am
Melissa Broder
TORCH SONG: HOLY DAY
Our woman of black knees
in the dirt she is singing
sweetheart spit your teeth
into my hand and for you
I will play the finest rattle
•
The gossip about god was
he's a woman drinks rotgut
no camisole sees the veins
in his husband's eyelids says
hallelujah this is all my fault
TORCH SONG: SLUMGULLION
We come from low country we say
when thunderheads growl that's god
talking to himself when lightning
strikes your mother down in a field
that's god saying I've got a question
•
The furrow belongs to the crows now
no last stalk no cornhusk doll to march
through town and hang from the door
of the landlord who says shut her out
should the wheat ghost come to yours
TORCH SONG: CHANTEUSE
Hair teased out like a flame
an old standard (for the crowd)
got a feeling cause I'm blue oh
lord it disgusts me heartache
all this spectacle and prayer
•
There are nights I suspect
I will find you your fingers
sear at the tips a music box
in your hands your refrain
will no one turn this crank
Torch Songs is a collaboration between poets Allyson Paty and Danniel Schoonebeek. Colliding the form of the torch song in American music with the aubaudes of ancient Japanese female poets, each torch song is formed by joining together two five-line poems that the poets write in response to each other.
Allyson Paty is from New York. Her work has appeared or is forthcoming in Tin House, The Awl, DIAGRAM, Boxcar Review, and elsewhere.
Danniel Schoonebeek's work has appeared or is forthcoming in Boston Review, The Rumpus, Tin House, Publishers Weekly, and elsewhere.
Sunday Service
/
5 Comments
November 13th, 2011 / 11:00 am
Melissa Broder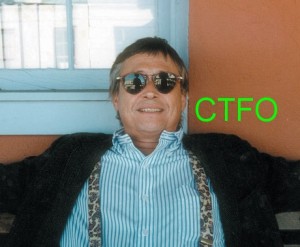 If Paris Review Daily is running some of your shit…
Don't say: I am going to be published in The Paris Review!
Say: Paris Review Daily is running some of my shit.
If your boyfriend is printing out copies of your poems and distributing them around Portland on his fixed gear bike…
Don't say: I have a book coming out!
Say: My boyfriend is printing out copies of my poems and distributing them around Portland on his fixed gear bike.
If your agent is showing your novel to Melville House…
Don't say: It's all happening for me!
Say: Nothing. Or maybe post a picture to fbook of your baby looking at its first tree, because somehow that is less annoying.
If you're still talking about Breece D'J Pancake…
Don't say: Breece D'J Pancake.
Say: Ryan D'J Breakfast Taco.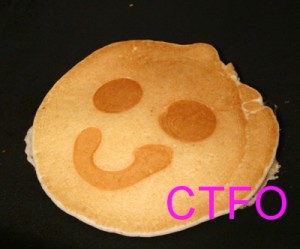 If you just wrote 10 million words of your novella…
Don't say: Just hammered out 10 million words of my novella!
Say: Let's go see A Very Harold & Kumar 3D Christmas.**
If you (or your protagonist) are engaged to be married…
Don't say: My fiancée.
Say: Anything else.
If you (or your protagonist) are a sophomore in college…
Don't say: During the Spring of my Sophomore year,
Say: Anything else.
If you really dig a book…
Don't say: This book is a gut-punch-face-ripper-offer-slayer-thrasher.
Say: Anything else.
**Please! No spoilers, folks. Really excited for this.
Vicarious MFA
/
40 Comments
November 10th, 2011 / 11:50 am
Melissa Broder
Money Bin
I got a tattoo of God. You can't see it
but it's everywhere. If I seem out of it,
do the math. I was put on earth.
And then you were, making up your feet
as you went along. New thinspo clanks the spank
bank. New emoticon makes a Holocene.
If you want to get in shape you have to jog
your memory of Euclid. Jesus built
a ship in a ship shape and said
there's plenty of loaves in the sea.
Some Idaho you turned out to be.
Some money bin I, a rich duck, swim in!
The coins of you in my feathers like water
off my back. I count each red cent of you.
Now the rain with its funny money din.
The rain beats a tattoo of God any day.
Michael Robbins's first book of poems, Alien vs. Predator, will be published by Penguin in April 2012. His poetry has appeared or is forthcoming in The New Yorker, Poetry, Boston Review, Fence, and elsewhere. He is currently Visiting Assistant Professor of Poetry at the University of Southern Mississippi.
Sunday Service
/
45 Comments
November 6th, 2011 / 11:00 am
Melissa Broder
Technology
/
29 Comments
November 1st, 2011 / 7:02 pm
Melissa Broder
The Olden Days
Spirits make THE THUMP.
Have you ever felt THE SHAKE.
Walking backwards on the Bridge of Names.
Even when I was not holding your hand.
Spooky boys laughing in the lake.
Have you ever been to the VERY BOTTOM?
Bad things happening in those woods.
I was not holding YOUR hand.
The dead face kills me again.
I am on the kitchen floor.
You are on the back road.
WAIT.
Where were we.
Running backwards on the shaking Bridge of Names.
–Lauren Ireland
What It Feels Like For a Girl
We are poco a poco, becoming witchy on a need-to-know basis. Our elders foist their little bottles of enzymes on us. Life experience naturopathy. In their presence, we do strange things: drink ginger and vinegar lemonade, lie down on the floor for past life regression. A few drops of oregano oil in a shot glass filled with water and, as with a dab of wasabi, come clear sinuses. Left alone again we find it's a little too quiet and we forget the difference between good and bad bacteria. We get scared. Intend to meditate and stretch, to host a dinner party sometime soon.
–Krystal Languell
Lauren Ireland grew up in southern Maryland and coastal Virginia. She is the author of two chapbooks: Sorry It's So Small, from Factory Hollow Press, and Olga & Fritz, from Mondo Bummer Press. She lives on Alabama Street in San Francisco.
Krystal Languell was a semi-finalist for the 2010 University of Akron Press Poetry Prize and a finalist for the 2011 National Poetry Series. Her first book, Call the Catastrophists, has just been published by BlazeVox Books.
Sunday Service
/
4 Comments
October 30th, 2011 / 11:00 am