HTMLGIANT / Film
Ken Baumann
11 degrees and snowing. The weather and its children–snow, slush, wet shoes, stung faces–frames Sundance. As much as I'd like to say I acclimated, I didn't. But the weather does amplify a sense of frenzy & camaraderie already present for the sake of the namesake: movies. People go to see movies, buy movies, sell movies–share movies and share themselves. And, yes: if you don't have passes, know that you should wake up at 6am or earlier every morning to stand in line for hours at the box office, just to find out that you can only get tickets to 2 (max) of the 5-8 movies you wanted to see. There was a guy, first in line, who camped out at the box office for the night only to be beaten to the punch for tickets by someone who paid faster (cash). Devotion.
So there is a madness to the festival. It is worth it. I met filmmakers–actors, writers, directors, producers–I highly respect, and had leisurely conversations with them. All were warm, all were happy to be sharing. I saw six films in four days and a night, three of them great. It was thrilling.
The title above comes from a line in Enter The Void–one of the characters is describing a DMT trip. I stayed away from the DMT, but the festival, all gathered & gleaned, is a very specific and inspiring drug and gauntlet.
Okay. Here's what I thought of the films:
Behind the Scenes
&
Film
/
33 Comments
January 28th, 2010 / 7:49 pm
Blake Butler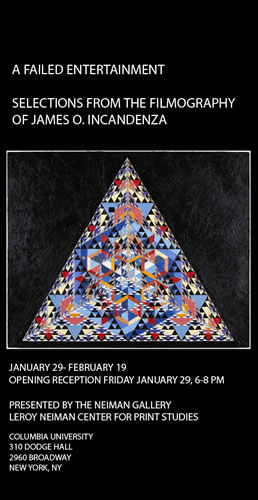 Guess I gotta start making plans again to go back to NY:
The Gallery at the LeRoy Neiman Center for Print Studies Presents:

A FAILED ENTERTAINMENT
Selections from the filmography of James O. Incandenza
Exhibition Dates: Jan 29 – Feb 19th
Opening Reception: Friday, Jan 29th, 6-8 pm
Film Screening to take place during opening reception.

Included as a footnote in Wallace's novel is the Complete filmography of James O. Incandenza, a detailed list of over 70 industrial, documentary, conceptual, advertorial, technical, parodic, dramatic non-commercial, and non-dramatic commercial works. The LeRoy Neiman Gallery has commissioned artists and filmmakers to re-create seminal works from Incandenza's filmography.
Film
/
31 Comments
January 11th, 2010 / 5:44 pm
Nick Antosca
So I interviewed Michael Haneke about his new film
The White Ribbon
, which just opened in the United States and won the Palme D'Or at Cannes last May.
You know Haneke, I think:
Cache
,
Funny Games
,
The Piano Teacher
,
Code: Unknown, Benny's Video
… yes, you know Michael Haneke.
Perhaps you even agree with me that he's one of the world's greatest living directors.
We did the interview in a hotel in midtown Manhattan. He was slender and well-dressed with a beard the color of Malamute fur. As others have observed, he's disarmingly pleasant in person—even jolly. If he weren't so thin, he could be Santa Claus.
Even if you're prepared for it, it's remarkable to note first-hand how the cruelty, despair, humiliation and horror of his films have no counterpart in his demeanor.
Actually, more than anything, he seems professorial.
Our Q & A is below. I've condensed some of my questions and remarks to streamline/clarify, and so you don't have to read as much from me, but I've preserved just about every word Haneke said, intelligibility of the tape allowing. His English is fairly good, but unless otherwise noted, he's speaking through a translator.
*************
Nick Antosca:

Are you afraid to die?
Film
&
Massive People
/
25 Comments
January 4th, 2010 / 10:08 am
Christopher Higgs
At the 1982 Cannes Film Festival, Wim Wenders set up a camera in room 666 at Hotel Martinez and asked a few directors to answer the question: "Is cinema a language about to get lost, an art about to die?" Their answers became a documentary called Room 666. I wonder how you might answer this question if it were reworded to focus on literature…?
Godard
httpv://www.youtube.com/watch?v=3hdAcxvQrUs
Antonioni
httpv://www.youtube.com/watch?v=H_RrzoyzolM
Film
/
16 Comments
December 30th, 2009 / 12:33 pm
Adam Robinson
what the hell is this?
I like it.
**Update**
Oops, I drunk posted. Watching the video again this morning, I just realized that if it was in English it would be the sort of "Adult Swim" crap that I really hate. Since I don't understand it, though, I am more inclined to like it.
Which is a thought that I think can be extended to writing this way: sometimes I get the feeling that bad poets are taking a marginal idea and, unable to make it better with vivid language (or a better idea), they make do with making it unintelligible.
Unlike that video, though, I don't like poetry to be unintelligible. Why not? I guess the difference is that it's a lot of work to read a poem, and I don't trust poets. (That said, sometimes I want a poem to be oblique and abstruse, ridiculous, meaningless, unintelligible, even.) (Ha.) **End Update**
Behind the Scenes
&
Film
/
14 Comments
December 27th, 2009 / 4:05 am
Nick Antosca
And here's Denby's list of the best movies of the decade. The only ones that I really love are There Will Be Blood and Caché (even if it's probably in my top 20 rather than top 10).  He also includes The Diving Bell and the Butterfly, which I had extreme difficulty sitting through.  I don't care if the movie is about a guy who's lost the use of his body and can't even really open his eyes.  I don't want to spend the first twenty minutes looking at a lens smeared with Vaseline.
My list, which you should feel free to dismember, is after the jump.
READ MORE >
Film
/
325 Comments
December 16th, 2009 / 3:09 pm
Blake Butler
"and now this headache is getting stronger."
David Lynch explains why he turned down George Lucas's offer to direct Return of the Jedi.
Film
/
47 Comments
December 14th, 2009 / 11:31 pm