HTMLGIANT / Alexandra Chasin
Janice Lee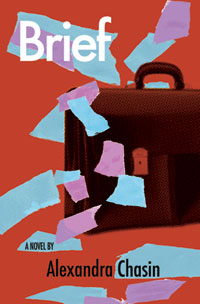 Brief
by Alexandra Chasin
Jaded Ibis Press, 2012
Paperback: 180 pages / $15  Buy from Jaded Ibis
App Novel / $4.99  Buy from iTunes Store

Just as the pre-digital ancients looked for answers in the stars, coffee grounds, or Sunday astrology columns, today's mystics look to computer-generated spam, glitch-art, and captchas. With its cold modernist rationalism, literature appears to be a doomed secular medium between these two pseudo-spiritual realms, with books on track to be its tomb.
Neither monkey nor machine, how can The Word survive when challenged by the cybernetic? Alexandra Chasin's novel/eBook/iPad app Brief is one New Media experiment in literary life-support. Fusing a shizo-analytic modernist screed ala Deleuze and Guattari and Phillip Roth with endless graphic combinations possible via simple computer programming, the work ends-up a high-Modernist mess worthy of gallery exhibition—which might be fine, if such a venue weren't the protagonist's target of ire.
In the iPad app version programmed by Scott Peterson, over 34,000,000 images randomly combine and drop into the text. Most of the image-to-text-pairings are misses, doing little to assist the narrative—a 180-page courtroom defense by an art vandal named Inqui (gender indeterminate). Arguing a plea of temporary insanity, Inqui tells the story of their formation from pre-natal to brief stint at art criminal.
It was the Nuclear-Era cultural inundation of violence that drove T.V. Casualty Inqui to scrawl "KILL LIES ALL" on Picasso's Guernica, an act copy-catting of Tony Shifrazi, who turned the publicity from the act into a career as an art-dealer. The narrative is not so deterministic as to say that an unjust world caused Inqui to commit their crime, but Picasso's famous authorial deference to the Nazis is implied. Who vandalized Guernica? You did.
Like an infinite game of semiotic Battleship, the arbitrary placement of randomly-generated images has a few inevitable hits, but does little to assist the pros. One hopes for some visual puns to match Inqui's frequent wordplay, instead the combinations are mostly ugly and uninteresting. An image of Barney Rubble lugging a stone-age television set appears twice, with two separate pictures of nothing generated within the tube. On several other pages, tiny indistinguishable little snippets are dropped-in like Exacto-sliced scrap. On another page an anachronistic frat boy vomits.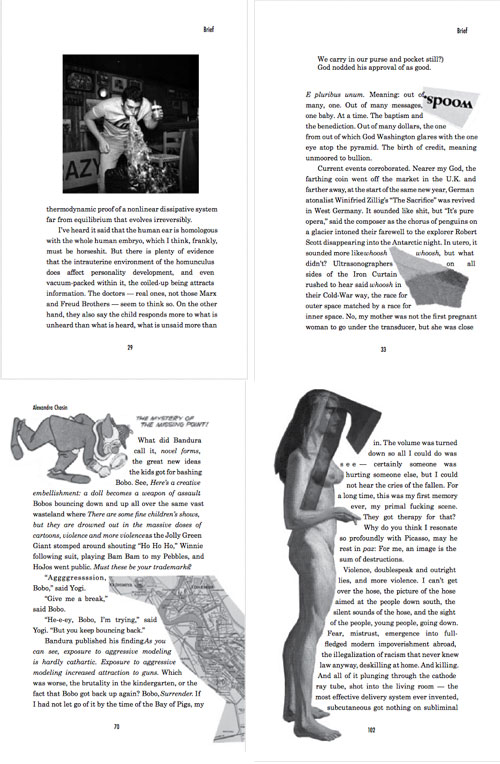 Is this a joke on the iPad owner? Maybe for today's irony-inundated cultural consumer, intentioned art is too heavy-handed? Perhaps this dull app is itself a type of vandalism of the text? If so, not enough—despite having lost control of their agency Inqui firmly controls the text, and their droning is never obscured.
Reviews
/
1 Comment
September 9th, 2013 / 11:00 am
Christopher Higgs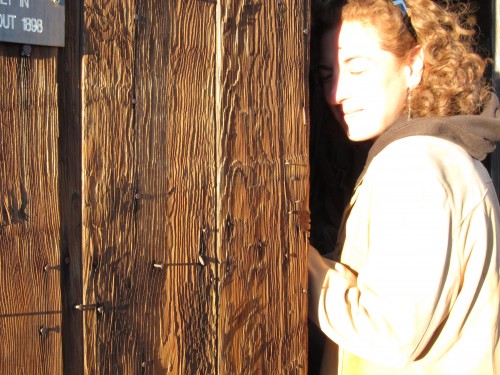 Alexandra Chasin is the author of Kissed By, a collection of short innovative fictions (FC2) and Selling Out: The Gay and Lesbian Movement Goes to Market, a nonfiction/scholarly book (St. Martins).  Chasin's creative work has appeared in print in Unsaid, Hotel Amerika, Post Road, AGNI, Denver Quarterly, and Chain, and online in Exquisite Corpse, elimae, Diagram, and Big Other, among other places.  Relevant bibliography for this piece includes inclusion in Wreckage of Reason: An Anthology of Contemporary XXperimental Prose by Women Writers, edited by Nava Renek.  Chasin has a PhD in Modern Thought and Literature from Stanford, and an MFA in Fiction Writing from Vermont College.  She teaches at Lang College, The New School, and currently serves as Co-chair of the Literary Studies Department there.
Random
/
15 Comments
March 28th, 2011 / 1:37 pm
Sean Lovelace
11. Alexandra Chasin at the always glow zoran rosko vacuum player.
2. Question: Is Andy Warhol's art on the moon?
19. Fady Joudah interview over at Willow Springs.
Nevertheless, it is just the idea that you store something you don't want to throw away, your sense of existence—you store it and ignore it. Only when you move from that house do you check what you left in the attic and see what you want to take with you or throw away.
5. The words inside were solid, but the cover for Oxford American 2010 Best of the South sort of annoys me. Some type of Euro-model riding on the back of her adolescent brother? Is it the toy gun? The Tide clean T-shirt? Or the airbrushed/possibly perfectly placed strand of horizontal hair on her head? Something. It doesn't click for me.
Author Spotlight
&
Massive People
/
No Comments
June 8th, 2010 / 11:27 am
Ryan Call
I'm happy to share the ninth post in our Word Spaces feature: 'Details' by Alexandra Chasin. Alexandra Chasin is the author of Kissed By (FC2 2007), a beautiful collection of unique texts, as she likes to call them, well worth your time. Her writing has appeared in Denver Quarterly, sleepingfish, West Branch, Phoebe, and online at DIAGRAM, Exquisite Corpse, and elimae. She currently teaches at The New School. For more about her, please see her bio at the FC2 site.
A few notes before the feature: 'Details' is Alexandra Chasin's response to our standard prompt: take a picture of your writing area and write a couple paragraphs about it. In her email to me, Alexandra had said she wanted to try something a bit different. Great, I said.
Then I received the twenty-five photos and the accompanying text a few weeks later. As I clicked through the emails, looked at the photos, read the text, I could not help but think about Kissed By. The book made more 'sense' to me, at least my reading experience of it. Looking at 'Details,' I feel as though I know Alexandra Chasin a little more, which is a nice feeling, I think.
So I hope you enjoy the post as well and give some serious thought to picking up Kissed By. Reviews can be read at The Quarterly Conversation (my review), and here at The Short Review. You may also watch a video of Alexandra Chasin from the 2008 &NOW Festival of Innovative Literature and Art here.
Word Spaces
/
24 Comments
March 29th, 2009 / 1:22 pm
Matthew Simmons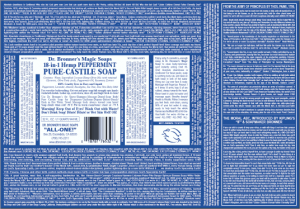 I road the bus to work this morning, and 1) listened to Disintegration Loops by William Basinski and 2) read a random story from Kissed By by Alexandra Chasin.
The story was called "They Come From Mars" and in one of those all-too-common moments of synchronicity, that story is essentially a disintegrating language loop. It contains only—until its surprise ending—four letter words. (No, not profanity.) There are twelve words a line. The font is Courier, I think, which is a monospaced (fixed width) font, so all the words are the same size.
What begins as an incantatory: They come from Mars they come from Mars…gives way to a discussion of the arrival of visitors from Mars. Chasin abbreviates. "There" and "their" become "ther." When we speak, we abbreviate without realizing it, and she uses that to her advantage. "Suspect" becomes "spec." (Unless she means "expect," but, she uses that ambiguity to her advantage as well.)
The long columns of twelve word, monospaced lines, the paranoia in the prose (they come from Mars, for Heaven's sake!), the flatering, disintegrating prose loops—it reminds me of Howard Finster a little, outsider art. The text on the bottles of Dr. Bronner's Peppermint Soap.
And, as I said, it dovetailed nicely with the Basinski, a recording of a long, old tape loop repeating and repeating and repeating and slowly falling apart moment by moment in such minimal steps, you miss it.
Blake sent me this book. Thanks, Blake.
Author Spotlight
/
7 Comments
October 10th, 2008 / 1:30 pm