HTMLGIANT / ca conrad
Mike Young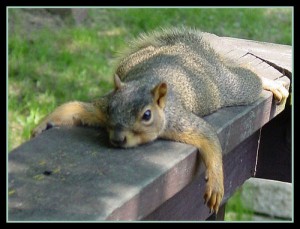 You know that crazy old internet will quickly become a substitute for that lumbering old sun, and I is in the reeds of readyhood. First I will read Drew Kalbach's spot-the-freak-on essay "Information grab, or what the internet is doing to my poems" over at Actuary Lit, which says which poems are lazy (more lazy poems, please!):
"He's not being, he's just nudging and winking. That's how your poems are lazy. I mean, that's how my poems are lazy, while they comb through, collect, materialize, and instantiate themselves. These poems are block quotes without the HTML tags. Even when I'm expressing myself, really expressing my innermost feelings and desires, all of which are unique and special and totally worth experiencing, even when I'm doing that I'm stealing from someone else: their form, their words, maybe just some cadence that I heard. Is this just a restatement of intertextuality? Maybe, but intertextuality doesn't pay enough attention to ctrl+c and ctrl+v. Three finger movements are enough to steal anything. Is that how lazy your poems are? I mean, my poems aren't lazy so much as they point their fingers at anything but themselves."
No points for harrumphing about "lazy" poetry until you read the entirety of Drew's essay and the stuff he links to (I mean c'mon, think how hard your thermostat would work before it would make a comment).
And then shifting gears: great poems and stories in the well-designed new Beetroot (are circles the new white space in web design?), which I dunno if my favorites in there are lazy or not, even this new positively connotated idea of "lazy," but they are full of travel and danger and white particle that part like Jello and adzuki beans and bird riding and pee filtering and nobody's body doing the body things your body does.
So those are some things you can read, and how you should look when you read them is like the squirrel that I found doing a Google image search for "lazy winter animal poetry."
Web Hype
/
No Comments
November 13th, 2013 / 3:15 pm
Mike Young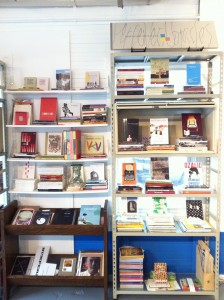 If you want a pumpkin donut at Dunkin' Donuts, your window is limited, and you're in it. Ditto for your opportunity to win crazy awesome books and records and whatnot and help out an amazing space a parking lot away from the Dunkin' Donuts on Route 9 in Hadley, MA. Yes, I'm talking (as we've talked before in this starscape) about Flying Object.
Flying Object: a poetry mecca, an old firehouse, a place where you can play ping-pong in the rain, where you can smell at a first edition Blood Meridian, where you can drink lemon seltzer and wine and eat olives and cheese and cookies as fast as you can while secretly fuming at me for eating way more than my share of olives and cheese and cookies, where 300+ artists/writers/musicians have done their thing, where there are giant green mechanical things that cut shit and letterpress very impressively—and now where you can win prizes from 50+ presses and places for basically drinking money.
On October 13th, Flying Object is celebrating two years of being alive. Is there a party? Yes, there is a party featuring performances from CA Conrad, Ben Hersey, and Dorothea Lasky (who will be telling fortunes). As part of the celebration, they're raffling away a shit ton of prizes. From so many presses. So much good stuff. You can see not even all of it in the picture  up there, so after the jump is an insane list of donors and even more pictures. (Uh, a lot of pictures).
Award winning poets have gone on private record as being concerned that their partners went overboard in collecting donations for the raffle, and said partners have concurred that they probably went overboard—but what do you care? What you care about is there is so much cool shit to win. And all you have to do is donate $5, $10, or $20 and you have a really good chance to win a lot of cool shit.
It doesn't matter where you live. FO will distribute your raffle tickets evenly among the prizes. Then they'll mail you what you won. How about that for a party? Read the list of donors under that READ MORE. Look at the pictures there too. Dude, you're going to win something. Don't let me stop you. Happy birthday, Flying Object. We love you. READ MORE >
Contests
&
Events
&
Web Hype
/
2 Comments
October 10th, 2012 / 11:54 am
Janice Lee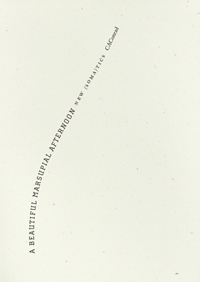 A Beautiful Marsupial Afternoon – New (Soma)tics
by CA Conrad
Wave Books, April 2012
240 pages / $18  Buy from Wave Books or SPD
From The Right To Manifest Manifesto:
"The most idle-looking pebble will suddenly match any hunger, any rage. Suddenly, and will be realized at no other speed than suddenly."
Suddenly is a speed – in as much as it awakens us to see a constancy we've stepped out from. This is in large part what I suppose we all look for in literature or art of any sort.  Conrad's book is something sudden – however not in the sense of a sudden rush of fear or panic or power or adrenaline or lust. It's more of the suddenness we feel in finding wind – or sensing even ourselves as sudden, to a tree or some thing. The subtlety of this sort of suddenness is residual and it goes along with you and for things. I like to think the book gives a newness to that which one has assumed to be known, or figured.
Conrad's book is sinuous too. Each Somatic exercise is on a black page with white font, each poem, having been written in response to an exercise, is on a white page in black font. The modality is soothing, but keeps you thinking for polarities – in negations/negatives, as that of a photograph.
Reviews
/
No Comments
June 18th, 2012 / 12:00 pm
Janice Lee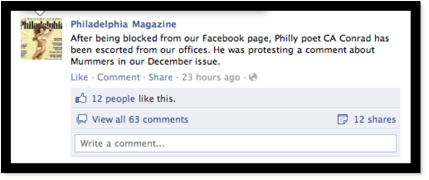 There's a lot of talk currently surrounding a recent article in Philadelphia Magazine and the public confrontation between the publication and CA Conrad.  In the magazine's December "List" issue, the Philly mag devoted one list to things the city would be better off without, i.e. "10 Things We Need to Get Rid Of" (seemingly available in print only).  Included on the chopping block was the city's long-running tradition of the Mummers Parade.  The Philadelphia poet disapproved, claiming that the Mummers was a street level, middle class event dear to the city, its history, and its people and that the magazine was exercising a characteristically elitist, classist, 1% attitude.  He first voiced his complaints on the Philadelphia Magazine Facebook page requesting they apologize to Mummers.  The magazine's online editor eventually blocked him from commenting, which resulted in Conrad visiting the office to speak with the magazine personally and subsequently being removed by security.  You can begin to follow the story with the editor's PR-ish letter on CA Conrad's comments and behavior, then move to CA Conrad's account of the event and his being escorted out of the office building.  I would also encourage you look at the comments made by the public on these articles and the action on the magazine's Facebook page; the majority seems to be supporting Conrad.  Some are especially outraged that editor Tom McGrath (as a Philly culture editor) didn't even know who CA Conrad was, or that the magazine would Facebook-flaunt that Conrad had been removed from their offices.
Personally, upon just hearing this story, I admire Conrad's determination to voice his opinion, objecting to and requesting dialogue about the magazine's choices.  His walk to the Philadelphia Magazine's offices on behalf of a cultural tradition or group of people he values is a tangible, powerful act.  I like the artist like this, refusing to be safely contained as the Philadelphia Magazine attempted to do in denying Conrad visibility on Facebook or in an office, instead requesting he write an e-mail (which basically doesn't exist in the public realm).  I think his choice solidifies the role of the artist or poet in his/her city.  He expanded the immediacy and impact of his voice by committing the physicality to back it.
But this event also raises a lot of questions for me about the responsibility of an artist or individual to their community, about the visibility or method of communication being given, taken, or denied here, etc.  I'd love some thoughts as this sinks in.
***
Katie Smither is an artist and writer living in Austin.  She works at the Harry Ransom Center at the University of Texas and does a lot of things on the side, or strike that and reverse it.
Random
/
39 Comments
December 3rd, 2011 / 12:00 pm
Blake Butler
There were a bunch of these in this issue of Fence a while back, which I have since read 4 or 5 times. Basically Conrad lists instructions (from very far gone to very direct) on experiential episodes to cause a text. They are pretty hilarious and wild in and of themselves. In getting ready to write a post about them, I realized he posts them regularly on a blog (or used to) (Soma)tic Poetry Exercises.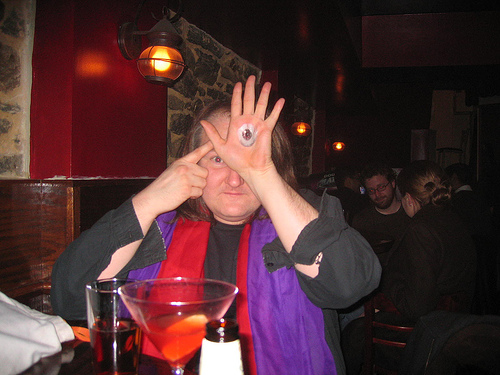 Here's an example:
Go to your local graveyard, spend some time searching for a spot to sit. Find a spot where no one will pester you, you're busy, you're here to write poetry, not to be pestered with small talk! When you have found your spot sit down on the ground. Take time to look closely at ALL OBJECTS at your feet, in the trees, etc. Find three objects, one of them on the ground, or at least touching the ground: your feet, a grave marker, tree trunk or roots, etc. The other two off the ground in a tree, a building, but make them things which are stationary so you can stay focused on them. Draw a triangle between these three objects. Focus hard on the contents of your triangle, keeping in mind that the ground object you have chosen connects to the dead. Imagine your triangle in different forms of light, darkness, weather, and seasons. Imagine someone you love inside the triangle dying. Imagine yourself inside it dying. Gather notes in this process, take notes, as many notes as you can about how you feel and what you feel. Then PAUSE from these notes to focus again on your triangle, THEN write QUICKLY AND WITHOUT THINKING for as much time as you can manage. Often it's these spontaneous notes which dislodge important information for us. DO NOT HESITATE to write the most brutal things that come to mind, HESITATE at nothing for that matter. Take some deep breaths and think about death by murder, war, cancer, suicide, accidents, knives, fire, drowning, crushing, decapitation, torture, plagues, animal attacks, dehydration, guns, stones, tanks, bombs, genocide, strokes, explosions, electrocutions, guillotine, firing squads, parasites, suffocation, flash floods, tornadoes, earthquakes, cyanide, poison, capital punishment, falling, stampedes, strangulation, freezing, baseball bats, overdose, plane crashes, fist fights, choking, etc., imagine every possible form of death. Take notes on your feelings for death at this point, DO NOT HESITATE. Now, TAKE ALL YOUR NOTES, and using THE FILTERS "QUICKEN" and "EMBLEM" shape your poem.
Not all of them are that brutal. Some are about carrots and bananas.
Heavily recommend checking the rest of these out, and perhaps putting them to use? Bloodfun.
Also, if you haven't read CA's The Book of Frank, make it a priority.
Author Spotlight
/
9 Comments
October 22nd, 2009 / 11:55 am
Blake Butler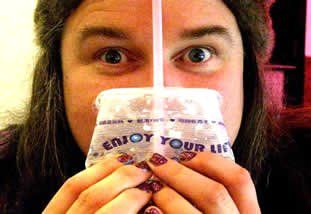 Rauan Klassnik recently lived through and posted up an interview with http://rauanklassnik.blogspot.com/2009/05/eating-kafka-etc-interview-with-ca.htmlCAConrad re his wonderful book of poems The Book of Frank. http://BOOKofFRANK.blogspot.com
After all the dust had settled and all the fluids dried (blood, cum, sweat, disgust and hate, etc, etc) they went at it again.
Here, then, is the 2nd interview : Eating, Kafka II
This is the Bio that CAConrad provided:
CAConrad is the recipient of THE GIL OTT BOOK AWARD for The Book of Frank (Chax Press, 2009).  He is also the author of Advanced Elvis Course (Soft Skull Press, 2009), (Soma)tic Midge (Faux Press, 2008), Deviant Propulsion (Soft Skull Press, 2006), and a forthcoming collaboration with poet Frank Sherlock titled THE CITY REAL & IMAGINED:  Philadelphia Poems (Factory School Books, 2010).  CAConrad is the son of white trash asphyxiation whose childhood included selling cut flowers along the highway for his mother and helping her shoplift.  He invites you to visit him online at http://CAConrad.blogspot.comand also with his friends at http://PhillySound.blogspot.com
Author Spotlight
/
2 Comments
May 13th, 2009 / 5:42 pm