ca conrad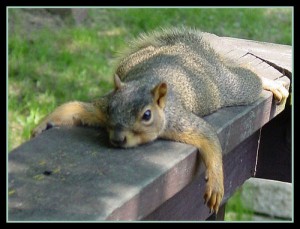 You know that crazy old internet will quickly become a substitute for that lumbering old sun, and I is in the reeds of readyhood. First I will read Drew Kalbach's spot-the-freak-on essay "Information grab, or what the internet is doing to my poems" over at Actuary Lit, which says which poems are lazy (more lazy poems, please!):
"He's not being, he's just nudging and winking. That's how your poems are lazy. I mean, that's how my poems are lazy, while they comb through, collect, materialize, and instantiate themselves. These poems are block quotes without the HTML tags. Even when I'm expressing myself, really expressing my innermost feelings and desires, all of which are unique and special and totally worth experiencing, even when I'm doing that I'm stealing from someone else: their form, their words, maybe just some cadence that I heard. Is this just a restatement of intertextuality? Maybe, but intertextuality doesn't pay enough attention to ctrl+c and ctrl+v. Three finger movements are enough to steal anything. Is that how lazy your poems are? I mean, my poems aren't lazy so much as they point their fingers at anything but themselves."
No points for harrumphing about "lazy" poetry until you read the entirety of Drew's essay and the stuff he links to (I mean c'mon, think how hard your thermostat would work before it would make a comment).
And then shifting gears: great poems and stories in the well-designed new Beetroot (are circles the new white space in web design?), which I dunno if my favorites in there are lazy or not, even this new positively connotated idea of "lazy," but they are full of travel and danger and white particle that part like Jello and adzuki beans and bird riding and pee filtering and nobody's body doing the body things your body does.
So those are some things you can read, and how you should look when you read them is like the squirrel that I found doing a Google image search for "lazy winter animal poetry."
Web Hype
/
Comments Off

on "Really expressing my innermost feelings and desires, all of which are unique and special and totally worth experiencing"
November 13th, 2013 / 3:15 pm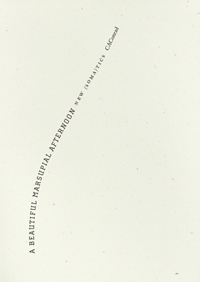 A Beautiful Marsupial Afternoon – New (Soma)tics
by CA Conrad
Wave Books, April 2012
240 pages / $18  Buy from Wave Books or SPD
From The Right To Manifest Manifesto:
"The most idle-looking pebble will suddenly match any hunger, any rage. Suddenly, and will be realized at no other speed than suddenly."
Suddenly is a speed – in as much as it awakens us to see a constancy we've stepped out from. This is in large part what I suppose we all look for in literature or art of any sort.  Conrad's book is something sudden – however not in the sense of a sudden rush of fear or panic or power or adrenaline or lust. It's more of the suddenness we feel in finding wind – or sensing even ourselves as sudden, to a tree or some thing. The subtlety of this sort of suddenness is residual and it goes along with you and for things. I like to think the book gives a newness to that which one has assumed to be known, or figured.
Conrad's book is sinuous too. Each Somatic exercise is on a black page with white font, each poem, having been written in response to an exercise, is on a white page in black font. The modality is soothing, but keeps you thinking for polarities – in negations/negatives, as that of a photograph.
Comments Off

on Looking At and Working Through Beautiful Marsupial Afternoon by CA Conrad
June 18th, 2012 / 12:00 pm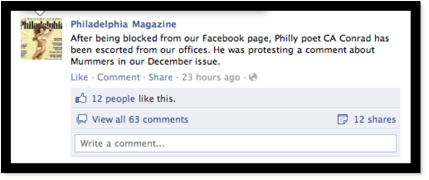 There's a lot of talk currently surrounding a recent article in Philadelphia Magazine and the public confrontation between the publication and CA Conrad.  In the magazine's December "List" issue, the Philly mag devoted one list to things the city would be better off without, i.e. "10 Things We Need to Get Rid Of" (seemingly available in print only).  Included on the chopping block was the city's long-running tradition of the Mummers Parade.  The Philadelphia poet disapproved, claiming that the Mummers was a street level, middle class event dear to the city, its history, and its people and that the magazine was exercising a characteristically elitist, classist, 1% attitude.  He first voiced his complaints on the Philadelphia Magazine Facebook page requesting they apologize to Mummers.  The magazine's online editor eventually blocked him from commenting, which resulted in Conrad visiting the office to speak with the magazine personally and subsequently being removed by security.  You can begin to follow the story with the editor's PR-ish letter on CA Conrad's comments and behavior, then move to CA Conrad's account of the event and his being escorted out of the office building.  I would also encourage you look at the comments made by the public on these articles and the action on the magazine's Facebook page; the majority seems to be supporting Conrad.  Some are especially outraged that editor Tom McGrath (as a Philly culture editor) didn't even know who CA Conrad was, or that the magazine would Facebook-flaunt that Conrad had been removed from their offices.
Personally, upon just hearing this story, I admire Conrad's determination to voice his opinion, objecting to and requesting dialogue about the magazine's choices.  His walk to the Philadelphia Magazine's offices on behalf of a cultural tradition or group of people he values is a tangible, powerful act.  I like the artist like this, refusing to be safely contained as the Philadelphia Magazine attempted to do in denying Conrad visibility on Facebook or in an office, instead requesting he write an e-mail (which basically doesn't exist in the public realm).  I think his choice solidifies the role of the artist or poet in his/her city.  He expanded the immediacy and impact of his voice by committing the physicality to back it.
But this event also raises a lot of questions for me about the responsibility of an artist or individual to their community, about the visibility or method of communication being given, taken, or denied here, etc.  I'd love some thoughts as this sinks in.
***
Katie Smither is an artist and writer living in Austin.  She works at the Harry Ransom Center at the University of Texas and does a lot of things on the side, or strike that and reverse it.