J. A. Tyler

In the first post in this series, I outlined Viktor Shklovsky's fundamental concepts of device (priem) and defamiliarization (ostranenie) as presented in the first chapter of Theory of Prose, "Art as Device." This time around, I'd like to look at the start of Chapter 2 and try applying it to contemporary writing (specifically to the New Sincerity). As before, I'm proposing that one can actually use the principles of Russian Formalism to become a better writer and a better critic.
Justin Taylor
—
Checked in with the Faster Times Books Page lately?
Clancy Martin has been writing a column about love and lying.
Lincoln Michel will add monsters to any classic novel or novels of your choice, if you are willing to pay him to do it.
And Rozi Jovanovic has interviewed J.A. Tyler of Mud Luscious press.
'experimental' is often overused and really doesn't mean much to readers / writers anymore because of its constant use. for me, it means something that I haven't seen before, something that hits me as profoundly different – that is why I tend towards describing our work as violent / beautiful / pulsing – I want a text that shatters, that buries me in its lines. and I suppose too that I use 'experimental' or sometimes 'innovative' in order to scare away the exposition-heavy writers, those who spoon-feed actions / events as if readers are not smart enough to discover what a text is doing. I look to the work of james chapman as well as his fugue state books, jesse ball and blake butler, those writers who aren't afraid to omit the narrative details in favor of descriptive tones and overall voice, those works that reach into me without pandering, hand-holding, without guiding me as if I am blind.
Big fun. Don't miss it.
Comments Off

on Faster, Faster, Faster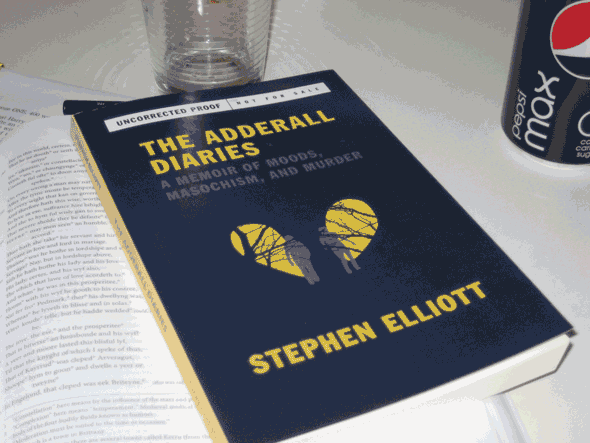 A month ago, both J. A. Tyler and I wrote Stephen Elliott and asked to be included as destinations for an advanced copy of his forthcoming book, The Adderall Diaries (which you can still do). We were instructed to read the book within a week and mail it to the next person on a list of readers. While it was nice reading The Adderall Diaries for free this way, thanks to the generosity of its author, any sort of information we can recall about the book is likely flawed or just wrong. The book has left us, and is with other people now. Neither J. A. Tyler or myself have any way of verifying any specifics referenced in our conversation.