johannes gorannson
Christmastime is the best time. There are sparkly lights and cute reindeer and cute snowmen and cute songs, and so on. There's also a lot of gifts to be given, which is great, especially if you like books and things, as I do. Alas, almost all Western culture subjects won't get any gifts from Santa at all, as they only care about their Twitter feed, their sexuality, and leading a "grievable life" so that this doesn't happen to them. But for those thoughtful boys and girls who don't go around kissing dead Nelson Mandela's tushy, they should expect estimable presents. These are the ones I want:
Gossip by Samantha Cohen: Gossip can be malicious and harmful, so everyone should do it.
Cunt Norton by Dodie Bellamy: While the cannon is actually quite commendable, so is cutting, which is what Dodie does to one of the Norton anthologies.
Salamandrine: 8 Gothics by Joyelle McSweeney: According to Diane Sawyer, those divinely deathy Columbine boys "may have been a part of a dark, underground national phenomenon known as the Gothic movement and that some of those Goths may have killed before." So…
Begging For It by Alex Dimitrov: This boy was the subject of some criticism for his appropriation of some kind of AIDS-related art. But AIDS is silly, and Alex is sort of cute.
Butcher's Tree by Feng Chen: Her Spork book, "Blud," was really cute and sassy, so these poems probably will be as well.
Our Lady of the Flowers, Echoic by Chris Tysh: Jean Genet was a violent, cutthroat boy, and I want to see Divine and Dainty Feet in verse.
Haute Surveillance by Johannes Goransson: Johannes read an excerpt from this at the first and only ever Boyesque Reading (also featuring Peter Davis, Tyler Gobble, and me). It was violent, stylish, and totalitarian.
The Memoirs of JonBenet by Kathy Acker by Michael du Plessis: JonBenet Ramsey was cute and tragic. This year, she published a collection of rhymes for my cute and thoughtful Tumblr, Bambi Muse. I want to see how Michael portrays the pageant princess.
The Mysteries of Laura by Andrea Quinlan: It's a collection of poems that are Victorian and gothic, which is to say it's Charlotte, Emily, and Anne Bronte and Dylan Klebold and Eric Harris.
Mother Ghost by Casey Hannan: I like ghosts.
Thank You for the Window Office by Maged Zaher: He once composed a very pleasing poem about Paris Hilton.
Since the outside is important too, you should be decking a delightful outfit while you wait for Santa to come. For girls, picking out what to wear isn't arduous at all, as all girls should wear what they should wear all the time, a babydoll dress, a big but elegant hairbow, and ballet flats. For boys, choosing the correct clothes is much more vexing. Most boys hold the opinion that tight jeans and an ironic top are stylish. But this isn't so. Style should have meaning. Boy in the vintage Supersonics Shawn Kemp jersey, can you inform everyone who Shawn Kemp is? Are you aware that he once showed up to the Cavaliers training camp as an unacceptable fatty? No, you're not. Style, like literature, must have meaning. So, while anticipating Santa's arrival, all boys should wear a meaningful outfit, like the one that I am: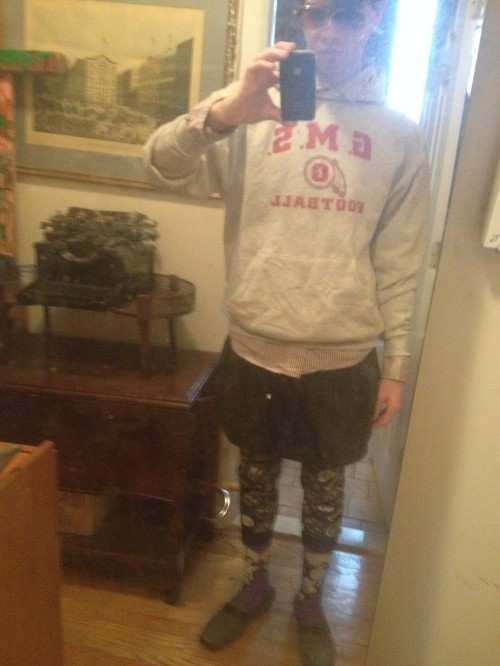 Sunnies because eyes should be kept secret.
Basketball hoodie that I stole from a friend, because basketball players are like monsters.
Purple-striped dress shirt because it's proper.
A skirt because boys should wear skirts.
Skull-and-crossbone pants because they're deathy.
Werewolf purple socks to match the purple dress shirt.
Buckled shoes because they're proper too.
Rauan Klassnik
—
– – watch this imagining it's Janey Smith!!
– – watch this imagining it's Johannes Göransson!!
– – watch this imagining it's Alt Lit in toto!!
(just kidding… just kidding)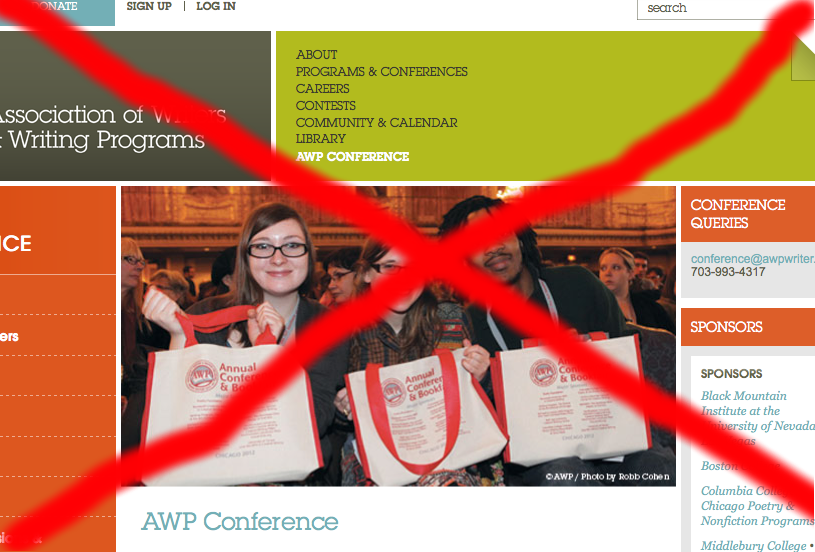 There shouldn't be an AWP. There should only be one if it would result in me meeting Gina Abelkop. She is the publisher of Birds of Lace, a press that publishes books about girl groups, adventurous twins, and girls who justify murder in high school essays. Most Birds of Lace books fulfill one of the primary attributes of literature: They transmute the reader to magical, mysterious worlds of death, babysitters, and big hair. Gina and I could meet for tea (or vanilla cupcakes). We could discuss trenchant topics, like the veils in Meadham Kirchoff's Fall 13 collection or Disney princesses. Why, we could even mosey to a Disney store (if there are Disney stores in Boston) and she could purchase an Ariel doll (because she's a girl) and I could purchase a Buzz Lightyear doll (because I'm a boy). It'd all be rather idyllic. But according to the grapevine Gina won't be attending this year. So I won't either, which is fine, since the AWP is as disgusting as gay people, straight people, bisexual people, and Brooklyn.
On their site, the AWP claims to be "the largest literary conference in North America." But the AWP has little relation to literature. Only around one percent of the attendees make literature. There's just a tiny fraction who formulate texts that are monstrous and divine – that, like those German boys, possess the grit and glamour to wage war on basically everyone on the globe. As for the rest – the 99 percent of AWP people – they are not poets and they are not composing literature. They are not concerned with epic Emily Bronte or moody Frank O'Hara. They are a product of typical middle class capitalism, or, as Karl Marx says, "the bourgeois." According to Karl, the bourgeois live off others' labor. They acquire value through accumulation. As the bourgeois stockpile products their worth increases. This renders them reliable upon the proletariat who must toil night and day with very little rest to keep up with the insatiable, indiscriminate bourgeois.