Kyle Minor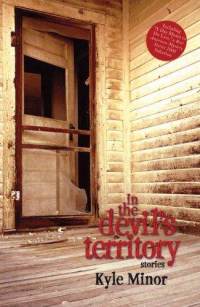 In the Devil's Territory
by Kyle Minor
Dzanc Books, 2008
220 pages / $16.95 Buy from Dzanc Books
Rating: 6.5
With In the Devil's Territory, Minor writes primary characters who are to a one religious, but none who testify to supernatural events and miracles in their own lives, in part (it seems) to depict certain of them as areas of as much suffering as anywhere else, and where the traditional Christian lifeline, perceivable congress with God, has been cut and redirected through churches and church schools. He favors a multi-part story that shifts between perspectives to attempt "real story" triangulation ("A Day Meant to Do Less" and the title story). Characters each see a small part of a larger story, and the coordinates to which their narratives point is where the reader gains understanding they lack. Minor has a mind for simple, effective arrangements, which occasionally require narrational contortions to suit.
Thank you for joiningus for the exclusive HTMLGIANT webcast of the Marathon Reading of Barry Hannah's posthumous Long, Last, Happy: New and Selected Stories. If you were a winner of one of the giveaways from Grove/Atlantic or Square Books, please email your home address to kyle (at) kyleminor.com, to claim your prize.
More information about Barry Hannah at: Wikipedia, Vanity Fair, Boston Phoenix, New York Times, and Mississippi Writers Page.
Order a copy of Long, Last, Happy at: Square Books of Oxford, Mississippi (Barry's hometown bookstore), Powell's, Amazon, B&N, or Grove/Atlantic.
Today's readers were Kyle Minor, author of the short fiction collection In the Devil's Territory, and Nick Bruno, a senior fiction writing undergraduate at the University of Toledo.
This reading is courtesy of Grove/Atlantic and the Estate of Barry Hannah. The webcast was not recorded or archived.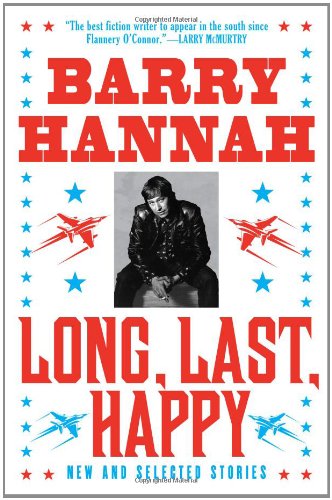 Matthew Simmons
—
After a long hiatus, my friend Bryan and I have gathered enough material for a nice few months of updates for our prayer narrative web journal, On Earth As It Is. First up, HTML Giant's own Kyle Minor.
A new major book review section is about to open, at… the Wall Street Journal?
Jeff T. Johnson's got an essay on "The New Hybridity" at Fanzine.
Castro thinks Ahmadinejad should stop slandering the Jews. You can add that to the list of things Castro and I agree about.
Mathias Svalina has been writing Book Proposals for Broadway Books. From "My Year on a Moving Sidewalk":
This book will be popular among readers who enjoyed such books at Mary Roach's Stiff, Mary Roach's Packing for Mars & the City of Portland, Oregon's downloadable pdf "SIDEWALK REPAIR MANUAL: How to Repair and Maintain a Sidewalk."
Bianca Stone has a new chapbook coming out. Someone Else's Wedding Vows is now available for pre-order from Argos Books.
Tender, imaginative, wry and wise, the poems in Stone's first collection take the reader from the bottom of the ocean to the orbit of the moon.  In between, the geography of the heart is mapped lyrically and unexpectedly.
Not a lot to complain about in that description, is there?
At the Faster Times, Kyle Minor absolutely loses his shit over Amelia Gray's Museum of the Weird. I stopped pretending I could follow what he was talking about somewhere toward the middle, but the upshot seems to be that he likes her book very, very much.
And finally, as if you needed me to tell you, the launch event for Richard Yates is at BookCourt tonight. It begins in about ten hours, which means that I am going to leave my house in a few minutes to head down there and claim a seat.
Last week I mentioned that I had asked Kyle Minor (author of In the Devil's Territory, Dzanc 2008) to participate in a public conversation about our differences of opinion vis-à-vis literature.  He was kind enough to take me up on the offer.
HIGGS: Let me start by saying thanks for taking time to discuss a topic I know we are both passionate about but approach from different angles: the creation of prose.
MINOR: We've been discussing it for a long time. I'm glad to finally do it in a more public manner.
HIGGS: Prose writing, for me, is first and foremost a form of art.  I have this commitment to preserving the autonomy of art, i.e., art for art's sake, which I think you don't share with me.
MINOR: I agree that prose writing is a form of art. I also believe that it is a form of communication, and that on the other side there is a reader. I don't think that the writer who believes in the reader is necessarily acceding to the tyranny of some particular imagined reader. But I do think that, for me at least, literature started in reading, and one of the things I aim to do when I write is to deliver to the reader pleasures akin to the pleasures that other writers delivered to me.
HIGGS: So when you sit down to construct, are you consciously thinking about the reader?
Uncategorized /
72 Comments
March 15th, 2010 / 11:23 am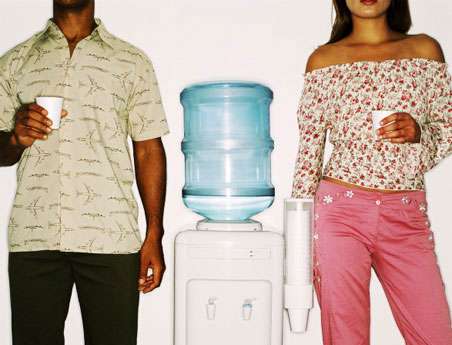 Top of The Rumpus today is our own Alec Niedenthal on Kevin Sampsell's A Common Pornography.
Homeboy-in-chief Kyle Minor wrote a massive piece on "A Kidnapping in Haiti" that went up yesterday. You should make time for it.
Ronnie Scott, editor of The Lifted Brow (which we've been excerpting all week here) has a long interview with Jonathan Lethem.
Also, New Yorkers, don't forget that the Giant/Rumpus Event is tonight at Broadway East.
Love!